The new indoor, wired Nest Cam is available today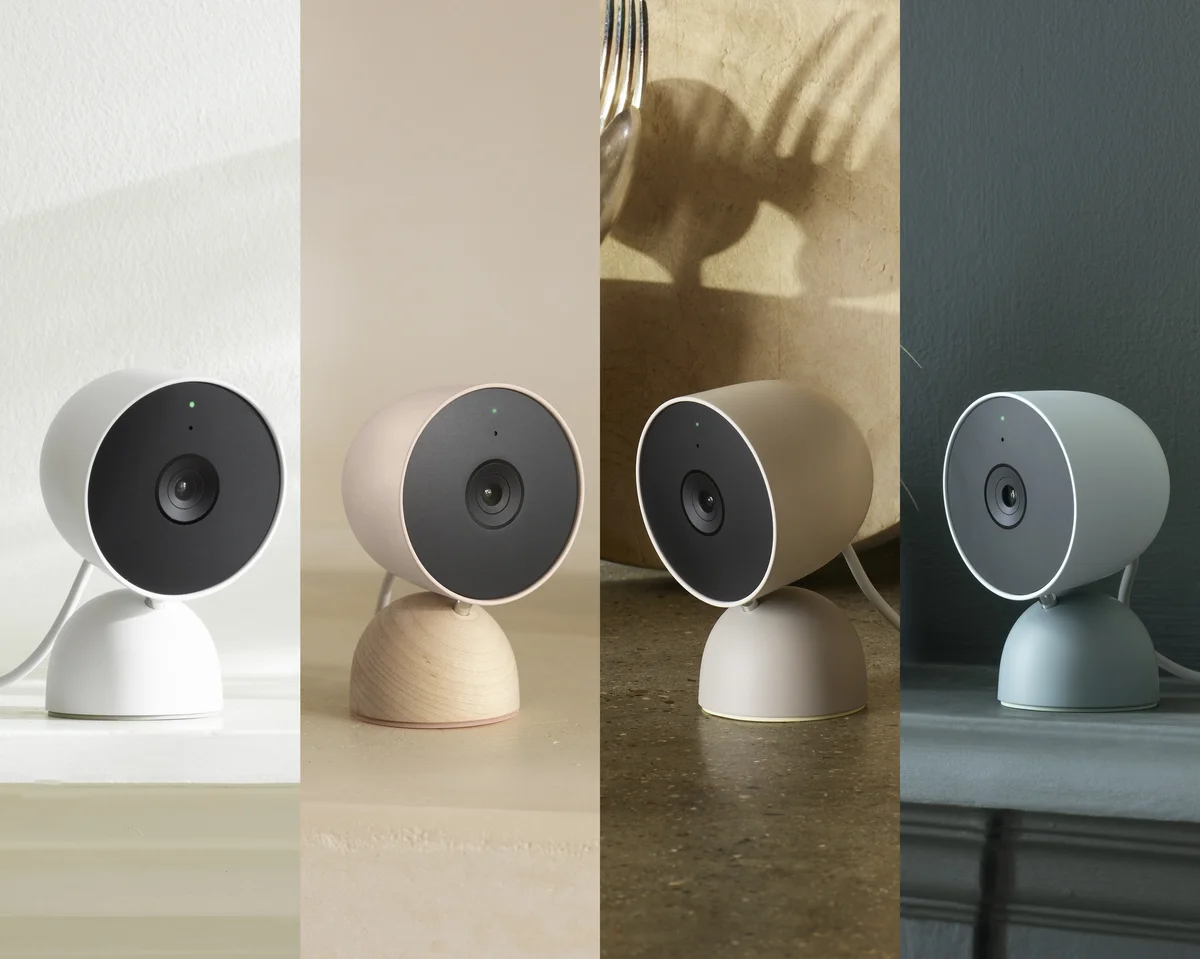 Meet the second-generation Nest Cam (indoor, wired): a wired camera that helps you keep track of what's going on inside your home and matches your unique interior decor. Starting at $99.99, it's our most affordable Nest Cam ever. It has an adaptable design for tabletops or walls, and it comes in four colors: Snow, Linen, Fog and Sand with maple wood base ($119.99). 
The new Nest Cam has 10 times more machine learning power than the previous generation, enhanced HDR video quality, and processes events on-device, which makes for more accurate and timely alerts. It can detect people, animals and vehicles, only sending you alerts for what matters most. We've also included three hours of event video history and the ability to create Activity Zones (which help the camera focus on the important places in your home). All of this works without the need for a subscription. Nest Cam also has local storage backup to help with reliability: If your Wi-Fi goes out, it will keep recording and upload your clips to the Google Home app when service returns.
Nest Cam is built specifically for the Google Home app, where you can view and control your camera anytime. You can choose which notifications you want to receive, set up Activity Zones and view your whole home history across your compatible devices, like displays, thermostats and new Nest Cams and Doorbell. A Nest Aware subscription expands your event video history to 30 days, and a Nest Aware Plus subscription provides 60 days of event video history and 10 days of continuous video history. Both subscriptions also come with Familiar Face detection to help your cameras identify people you know.
We designed this Nest Cam for the many ways you can use an indoor camera. To show you just how versatile it is, here's how members of the Nest team are using it in their own homes.
Isabelle Olsson — Director, Design for Home

I installed my Nest Cam (in Sand with a wooden base) in my kids playroom. It naturally fits in with my wood shelving, and for the first time, I was comfortable installing a security camera in our most precious space. Being able to check in on my kids without interrupting their play is such a great, delightful experience.

Félix Senepin — Product Manager

I have my Nest Cam set up in my living room so I can keep an eye on my dog when I'm out or in a different room. She finds the sofas to be quite comfy…even though she's not allowed on all of them. So I created Activity Zones on those sofas, and set up alerts for animal detection there. Whenever she decides to take a nap in the wrong spot, I can talk to her through the camera. I'm glad the cable it comes with is pretty long so I could put it high on a piece of furniture and get the whole room in the field of view.

Sung Bai — Industrial Design Manager

I think about two things when I place an indoor, wired camera in my home: Is there an area that needs to be monitored and protected? And is there a place where the camera will fit naturally with everything else in the room? We have our Nest Cams in the office, living room and main bedroom. They're on a shelf in the office, side table in the bedroom and we move the one in the living room around. The cameras all face doors or windows and handle backlighting well, so the video is always easy to view. Plus, we enabled Home & Away Routines so they turn off when we're home.

JJ Nold — User Experience Design Manager

We placed our Nest Cam in the entryway of our new home. We mainly use it to keep an eye on who is coming and going when we're away, but it's also a great way to keep track of what our three cats (Bacon, Mac and Cheddar) are up to.

George Hines — Software Engineer

I've placed my Nest Cam in my favorite part of my home: It keeps  a watchful eye on my "Evil Mad Scientist's lair" (aka,  the garage). It's reassuring to know it's on the job 24/7, making sure  no one is messing with my toys (aka, vintage bicycles and computers, which I fix up in my spare time) — and it can see clearly out the open garage door.

Rue Song — User Experience Designer

We placed our Nest Cam Indoor in our living room to keep an eye on our dog when we're out. We can see through the app that she mostly just naps, but occasionally we'll use the built-in speaker and mic to remind her that our baby's stuffed animals aren't her toys. It works every time!

Andy Hengel — Product Manager

I put one of my Nest Cams inside my workshop and installed it with the built-in wall mount. A few family members have a key, so it's nice to know when tools go walking out the door. It also provides extra security since the workshop backs up to an alley, but so far the only intruder has been a wayward squirrel when I left the door open one afternoon.
Make the new indoor wired Nest Cam your own — it's available today on the Google Store and at select retailers.