A new way to video call with Google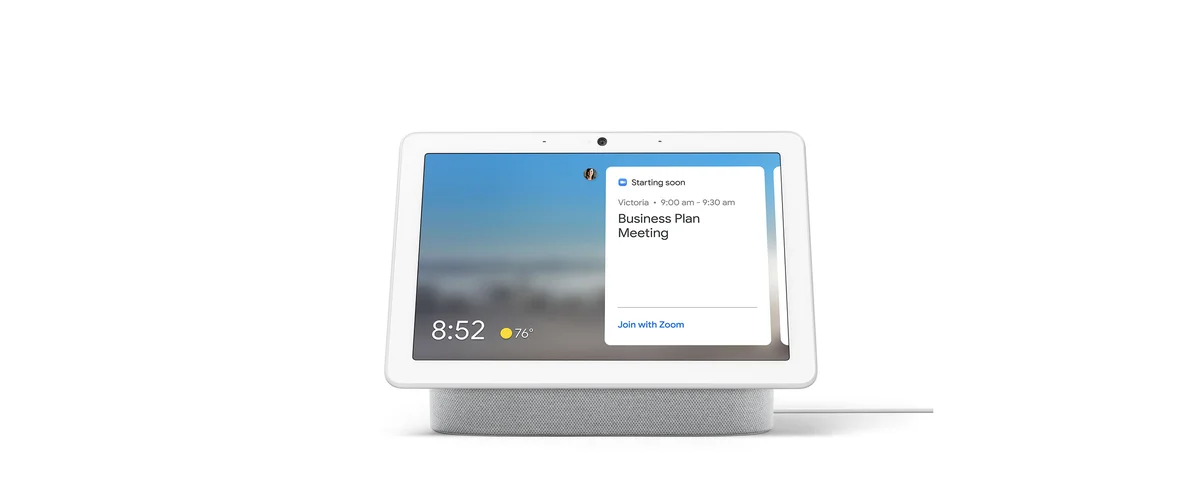 Like many people, I went through my fair share of "quarantine trends." I baked all kinds of bread and organized a closet or two. Plenty of activities momentarily kept my interest over the last five months, but one thing that isn't going anywhere? Video calling. While I miss visiting in person, for me, the next best thing has been video calls. Nest Hub Max and Google Assistant already offer a host of ways to stay connected with Duo and Google Meet. And soon you'll have one more option to use the video calling service of your choice: Zoom is coming to Assistant-enabled Smart Displays, including Nest Hub Max, by the end of the year.
We want everyone to be able to keep in touch while staying safe, and that's why we want you to be able to use the video calling option of your choice. Here's a quick run-down of some of the various ways you can use your Nest Hub Max and Google Assistant to stay in touch: 

Gather for group calls
It's easy to start or join a group video call on your Nest Hub Max. You can say "Hey Google, start a meeting" to connect with up to 100 people with Google Meet, and soon, anyone with a Zoom account—whether it's free or paid—will also be able to join a video call from their Hub Max or other Assistant-enabled Smart Display. With Meet or Zoom, you can easily move from one call to the next. To join your next meeting, say "Hey Google, join my next meeting" to easily connect to the next call on your personal Google Calendar. 
You can easily invite others to join your Meet group video call from your phone with the Assistant app for Android or iOS. Beta support for G Suite accounts is also available to sign up for at g.co/gsuiteassistantbeta. 
With Duo, simply create groups in the Duo mobile app and then ask your Hub Max, "Hey Google, make a group call," and tap on the Duo group you want to connect with. Don't have time for a call? Duo lets you leave video messages from your Hub Max: Just say "Hey Google, leave a video message for Linda," or send a video message from your phone for someone to see when they walk up to the Hub Max.

Put your VIPs on "speed dial"
Whether it's the people you call every day, or the contacts that you want handy at any time (like your dog walker or babysitter), household contacts are the new "speed dial." Once set up, anyone in your household can say "Hey Google, call Alex" or tap on Alex's name on your Nest Hub Max's household contacts list.

Communicate around the house with ease
You've always been able to broadcast a message across the entire house, but now ringing the dinner bell is even easier with broadcasting to a room or specific device. Say "Hey Google, broadcast to the study room, 'Dinner is ready!'" Or if you're headed home with tonight's takeout, you can let your family know you're almost there by asking your Assistant-enabled phone, "Hey Google, broadcast 'I'm pulling into the driveway soon.'"
Whether it's for work or play, we're here for your communication needs. And now you have even more options to stay in touch with Google.