5 new ways to add more to Google Wallet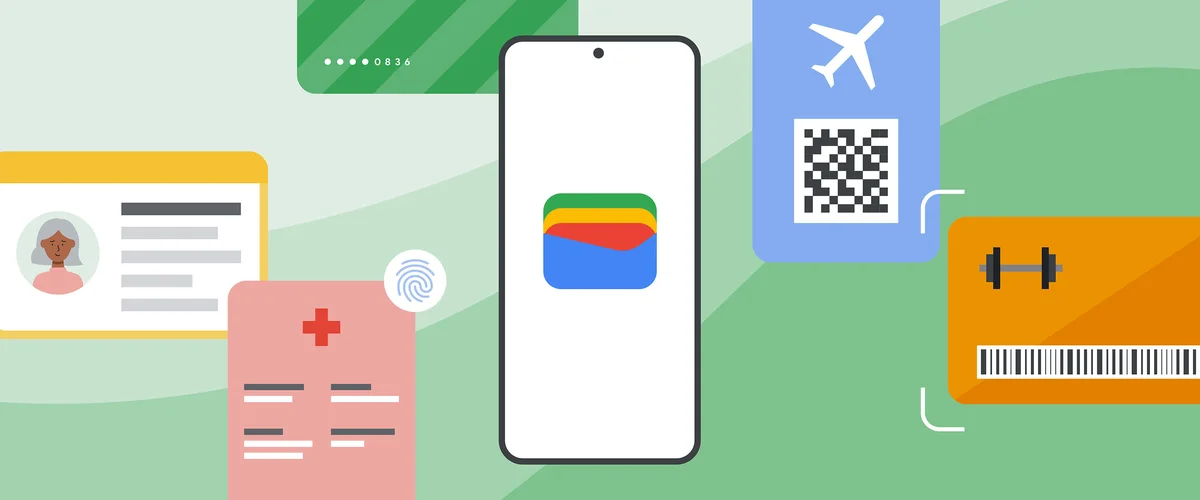 When we launched Google Wallet last summer, we set out to create a new digital wallet that prioritizes convenience, security and privacy. Most importantly, we wanted to build an experience that's accessible to anyone, anywhere. Here's how we've been working to make that vision a reality.
Easily save passes to Wallet from an image
One of my favorite parts of using Google Wallet is how much lighter my physical wallet has become. Items that used to take up space or weigh down my bag are now stored securely on my phone. We're taking that convenience a step further with new ways to digitize everyday items.
While Google Wallet already supports a wide range of pass types, there are passes that haven't always been easily saveable to your device. For example, I have a physical gym membership card that I use whenever I go to work out. It's small and can easily be misplaced, but since it has a barcode on it, I'll soon be able to simply take a photo of my card and create a secure, digital version of it in Wallet. Coming soon, this will work for any pass that contains a barcode or QR code, and is also helpful for passes like transit QR tickets, parking passes or e-commerce return QR codes.
Securely save health insurance cards and other private passes in Wallet
Something I've carried in my wallet since I can remember is my health insurance card. Now I can easily add that to Google Wallet as well. Google and Humana are developing a digital version of their health insurance card to save to Google Wallet. This will provide Humana's members a convenient way to access their insurance information swiftly and securely right from the palm of their hand. And in the U.K., people will be able to save their National Insurance Number to their Wallet from the HMRC app.
Unlike my loyalty cards or event tickets though, this one is a Wallet private pass, because it contains sensitive information. These passes include a "private pass" label in the card details to easily help you identify them. Additionally, these types of passes require you to verify it's you to add, view, and use them in Google Wallet. You can do this with your fingerprint, PIN, or other methods.
Save your ID to Wallet
We are working to make it possible to save your ID to your Wallet. Starting today, people with a Maryland ID or driver's license will be able to add their ID to Google Wallet on any phone running Android 8.0 or later and that has device lock enabled. In the coming months, residents of Arizona, Colorado and Georgia will join them.
Today Maryland-issued IDs saved to Wallet can be used at TSA PreCheck lines at select airports. Later this year, we will be rolling out more ways to use your ID in Wallet, like when booking a car with Turo or verifying your online accounts.
Quickly save passes to Wallet from Messages
Preparing for travel, whether for business or pleasure, can be a stressful experience. The worst feeling is getting to your gate or train and realizing you can't find your paper boarding pass or ticket. Coming soon, people who use Google's Messages app with RCS enabled will be able to complete their travel check-in process entirely in the Messages app. They'll receive their boarding pass or train ticket directly in their Messages app and from there, they can save it to their Wallet. We will begin rolling this out with Vietnam Airlines and Renfe, Spain's leading train operator. Similarly, restaurants can use reservation systems like TagMe to send reservation details to their customers that can be saved to the Wallet for future use.
Save your company ID and access badge to Wallet, and more
We are always working on new ways to help people around the world lighten their wallets even more, making Wallet more convenient while prioritizing security and privacy. For example, we will begin introducing corporate badges in Google Wallet later this year, giving employees convenient and secure access to buildings, cafeterias and more.
Additionally, we are enabling people in more countries to save local transit passes to Google Wallet. People in Germany can now save a Deutschlandticket purchased at select transit agencies to their Wallet and conveniently access all local public transport nationwide.
Since launch, we've rolled out Google Wallet across new devices and in more than 20 additional markets, bringing our global total to over 60, with more coming in the next few weeks. The convenience and security we've built into the Wallet experience is making it easier to go about our daily lives, and our goal is to bring this experience to as many people around the world as possible.