New ways to save, commute and manage money with Google Pay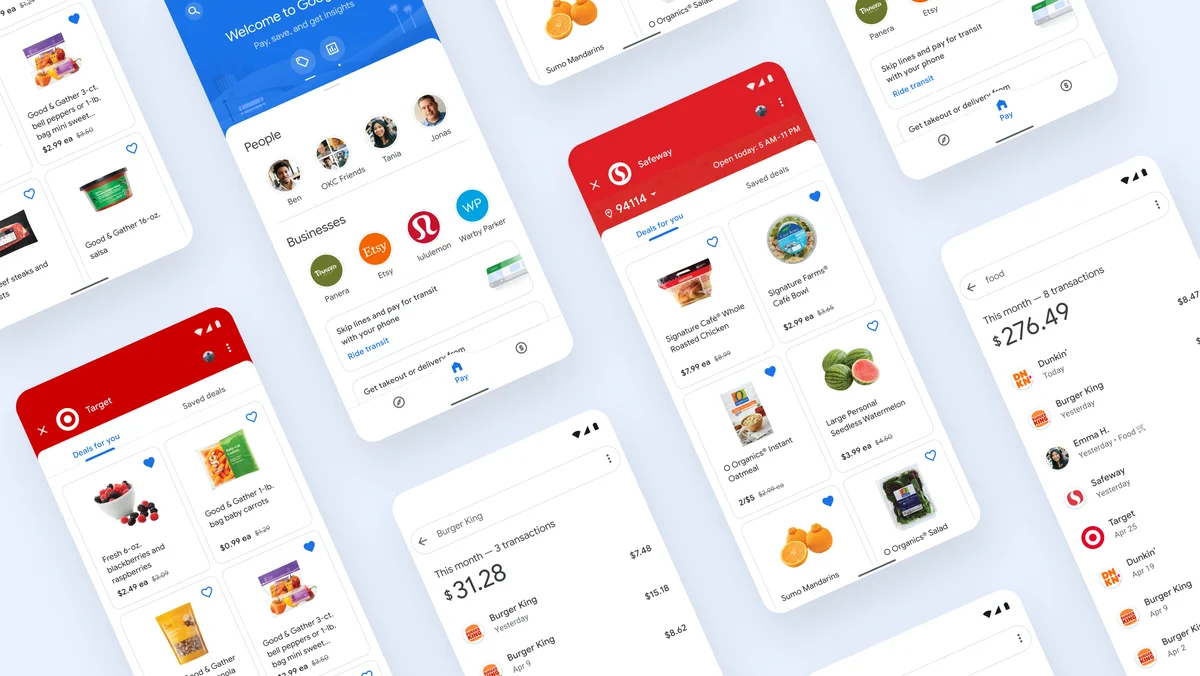 Last year, we launched a reimagined Google Pay to be a safe, simple and helpful way to pay and manage your finances. The app is full of ways to pay friends and businesses, save with offers and rewards and stay on top of your money. Today, we are announcing three ways to help you save money on groceries, pay for transit fares in more cities and better understand your spending.


Save at the grocery store
Small expenses add up, but finding ways to save on everyday items like groceries is one way to keep your budget in check. However, it can be a cumbersome task. Taking the time to look through coupons, finding the right offer, remembering to bring them with you or tracking down that promo code you saw online (where was it again?) can be tedious. 
We teamed up with Safeway to make it easy to find weekly grocery deals from the Google Pay app. You can find deals on thousands of items across more than 500 Safeway stores nationwide. You can also discover similar deals at Target stores nationwide.
Find weekly deals on groceries at Safeway and Target stores in the Google Pay app.
To find the latest grocery deals, search for Safeway or Target in the Google Pay app and tap "View Weekly Deals.'' If you've turned on location in Google Pay, soon the app will notify you of the weekly deals at Safeway and Target stores when you're nearby. 


Pay for transit with Google Pay in more cities
Google Pay already supports buying and using mobile transit tickets in more than 80 cities and towns across the United States. Starting soon, we are adding Chicago and the San Francisco Bay Area to the list. In order to bring mobile ticketing to more people, we continue to expand not only to large cities, but also to dozens of smaller towns across the country through our integration with Token Transit. 
Soon, Google Pay users on Android will be able to access transit tickets from the app's home screen. Tap the "Ride transit" shortcut and you will be able to purchase or add a transit card, top up the balance and pay for your fare. Once you purchase a transit card, there's no need to unlock your phone. Just hold it to the reader and go. In cities without readers, commuters can simply show their visual tickets on their mobile devices. 
Soon, you can access transit tickets through a new "Ride transit" shortcut.
See your monthly spending in just a few taps
The new Google Pay app was designed to help you stay on top of your money by providing a full view of your finances. Navigate over to the "Insights" tab for a view of your account balances and helpful insights on your spending, like upcoming bill reminders, weekly spend summaries or alerts when large transactions are made. 
As interest in social activities ramps back up, we are making it easy to keep a close eye on your spending. We recently added a fast way to see your spending by category or business. For example, if you search for "food," you will see the amount you have spent on food this month as well as a list of all your transactions related to food. You can get even more specific, for example searching for "burgers" or for a specific business like "Burger King." You don't have to worry about the tedious task of categorizing or totaling your expenses; Google Pay does that for you. 
Quickly see your monthly spending by category or business.
With features like saving on groceries, paying for transit and keeping an eye on your spending patterns all in one spot, Google Pay keeps helping you manage your everyday money tasks.