Celebrating the next generation of game makers on the Google Play Store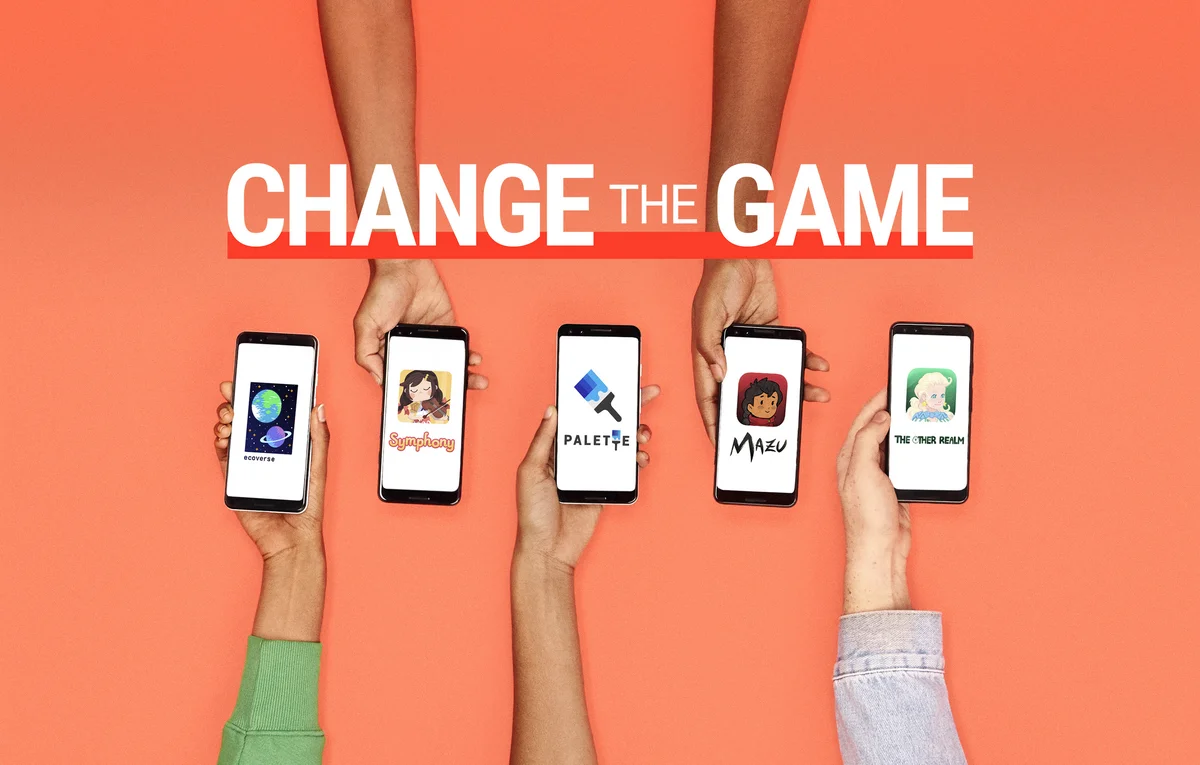 Today, the top five finalists of Google Play's Change The Game Design Challenge are launching their games in the Play Store. While half of mobile game players are women, they only make up 23% of the gaming creator industry. This is what inspired Change The Game to put on a challenge that would bring the next generation of female gamer makers' games to life. From a shape-shifting young girl navigating through the forest to an artist choosing the right color for their palette—these games were all imagined, written and developed by the winners of the Design Challenge.
Over the past few months, the winners have worked in partnership with Girls Make Games' development studio LearnDistrict and a team of artists, programmers and producers to build their games.
Want to know more about the top five finalists and their games? Learn about their inspiring stories below:
Grand Prize Winner: Christine, 17 years old, from Vancouver, Washington
Christine is the creator of "Mazu," a side-scrolling platform game about a young shapeshifter's journey through a danger-infested forest. As a long time gamer, Christine noticed early on the clear distinction between games made for girls and games made for boys. "As an aspiring artist in the gaming industry, I don't want to repeat this cycle of gender-based pandering in the future," says Christine. Her goal in developing a game was to create a memorable challenge that could be enjoyed by everyone, regardless of gender.
Dakota, 14 years old, from Encino, California
Dakota's game, "EcoVerse," is a series of minigames to clean, plant, and bring animal life to planets as part of the Galactic Restoration Team. "Many games center around destruction and tearing things down—what if I made a game about building things up and rebirth?" This question and a passion for living eco-consciously inspired Dakota to create "Ecoverse."
Lily, 14 years old, from Poplar, Wisconsin
Lily was inspired by emotions and eyes—two windows into the soul—to create "The Other Realm," a puzzle adventure game focused on self-identity. "The game is about looking at things through a different lens," she says, adding that "eyes can hold emotion that you might not necessarily notice." After being named a top five finalist, Lily is now exploring game design as a field of study to pursue.
Erin, 18 years old, from Freehold, New Jersey
Erin created "Symphony," a rhythm game which explores music as a means for a young girl to connect with her deceased grandfather to showcase the healing properties of music. Erin says that through practice and love of craft "anyone can become their own self-made prodigy." After participating in the Design Challenge, Erin is now interested in entering the gaming industry.
Lauren, 17 years old, from Birmingham, Alabama
Lauren's game, "Palette," simulates the eternal struggle of every artist: finding the right color. Reveal famous paintings throughout history by mixing different colors from a palette to match a target color. According to Lauren, "Change The Game taught me that the game industry embraces people with all interests, from musicians to programmers." Lauren now plans on pursuing a future in game development.
Learn more about Change The Game
and our mission to empower the next generation of game-makers.