4 ways to use your Google Play Points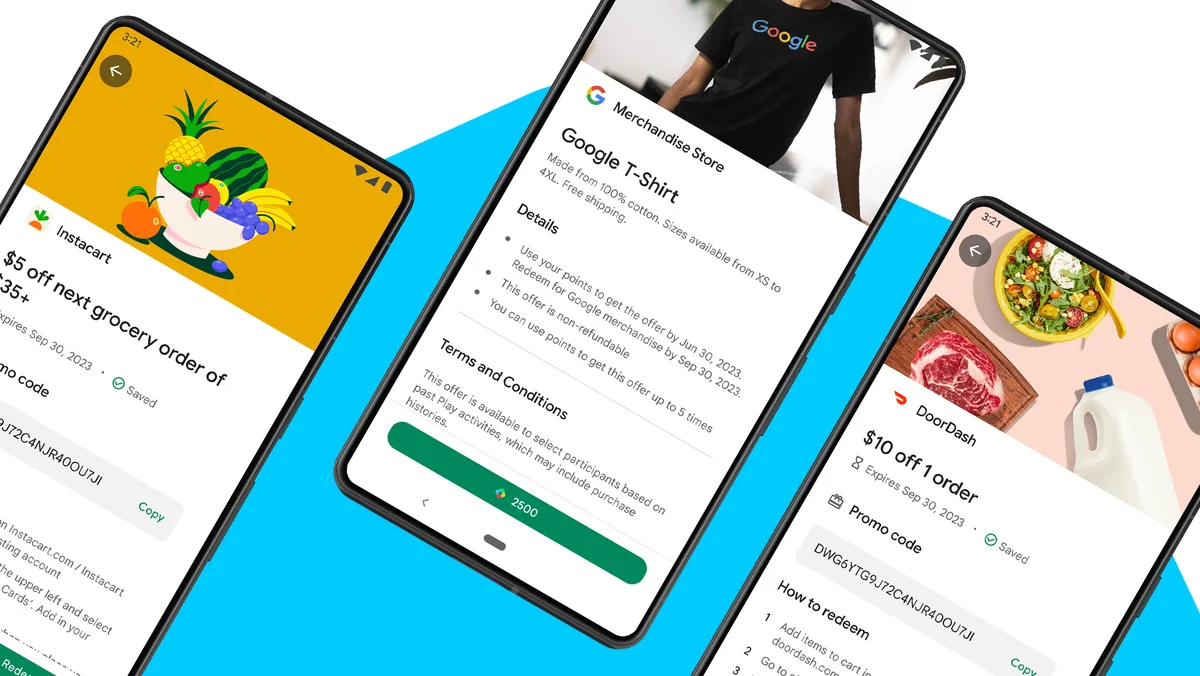 Google Play Points rewards you for all the ways you use Google Play, whether you make an in-app purchase, buy an audiobook or try a featured app or game. And since its launch in 2018, members have earned billions of Play Points.
Here are four ways you can redeem your points, including for Google merchandise and new offers from partners like DoorDash, Povo2.0 and Instacart.1
1. Explore other app offers
We work with partners around the world so you can redeem Play Points for offers in other apps. Right now, U.S. members can redeem points for $10 off their next DoorDash order and $10 off their next grocery delivery with Instacart. And soon, Japan members can redeem for 24 hours of unlimited data through Povo2.0.
2. Grab some Google merchandise
Swap your points for new gear. Starting today, U.S. members can redeem points for Google merchandise such as a t-shirt, sunglasses, a water bottle and Chrome Dino socks.
3. Collect in-game items and coupons
We partner with developers of some of the top apps and games on Google Play so you can redeem points for discounts and special in-game items like characters and tokens.
4. Get Google Play Credit
To keep exploring all that Google Play has to offer, redeem your points for Google Play Credit, which you can use to buy in-app products, apps, books and subscriptions.
To redeem your Play Points for offers in apps, merchandise and more, visit the Play Store on your Android device. Head to your profile at the top right of the Play Store homepage, tap "Play Points" and select "Use."