More 4K, more fun with Google Play Movies & TV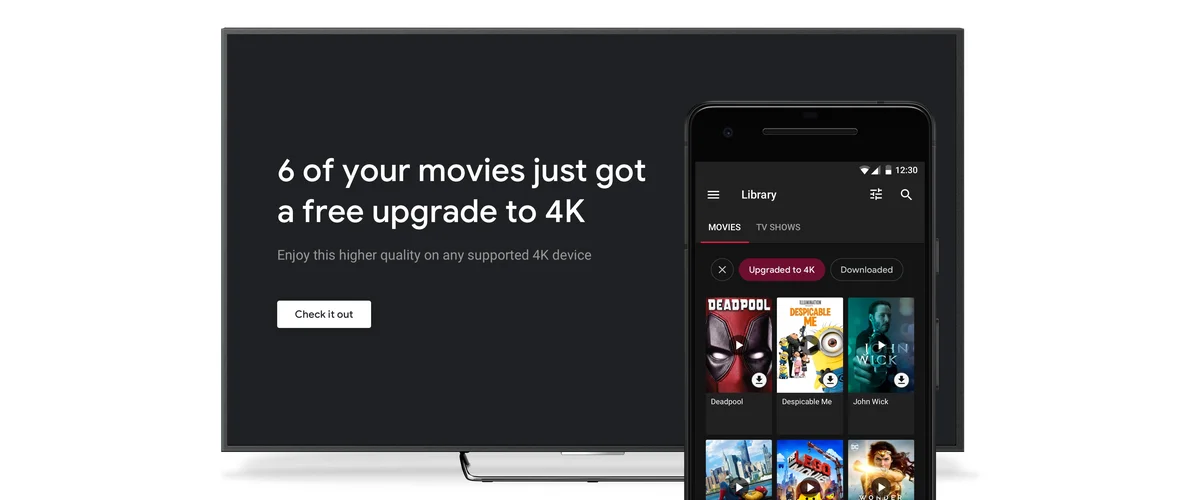 Movie nights just got better! Now you can enjoy your favorite movies in the highest quality possible on Google Play Movies & TV—without ever leaving your couch. 
Check out the full scoop on what's new in the U.S. and Canada:
Movies you own will automatically be upgraded to 4K, on us: When 4K titles are available from participating Hollywood studios, we'll upgrade your past movie purchases so you can stream in 4K, even if you originally bought the movie in SD or HD. It's all on us, just open the Play Movies & TV app and we'll let you know which titles have been upgraded.
Pay less for 4K movies: Starting today, most 4K movies on Google Play will cost you less, so you have more options to enjoy upgraded movies. Get started by browsing our top 4K titles.
Bring 4K to your TV: You shouldn't need to buy an additional device to watch your 4K movies on the 4K TV you already own. In addition to 4K Sony Bravia TVs, you can now watch in 4K using the Play Movies & TV app on most 4K Samsung Smart TVs, and we're working on adding support for LG as well.
Enjoy updated designs to our smart TV app: We've updated our app for Samsung, LG and Vizio TVs with a modern look and feel to provide a better experience.
We think watching in 4K should be a no brainer, so we're continuously working to make that a reality. With Google Play, it's now easier than ever for you to watch movies in the best quality possible, no matter which device you're using. And it doesn't stop here, we'll continue to make improvements so you can sit back, relax and enjoy your favorite movies, whenever and wherever.