12 tips to help you read more books this year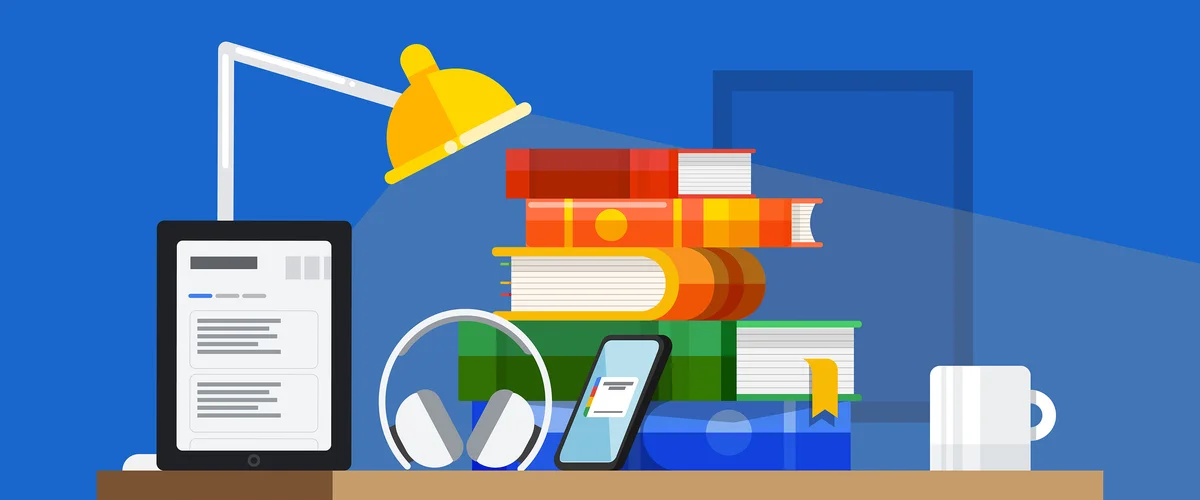 "How to read more books" became a breakout search term over the past five years, reaching an unforeseen spike in April 2022 and rising again with the new year. It's also a goal that might be surprisingly more complicated to pull off than it sounds. Between finding the time, choosing titles you'll actually want to finish and keeping track of your reads, it can be easy to get overwhelmed. But there are a bunch of Google tools that can help you hit the books now — and all year long. Here's how to read more books in 2023 and beyond with some help from Google.
Read and browse with Google Books
Google Books is a vast resource that can help you in every step of your reading journey, from accessing free books, to reviewing the books you've already read to keeping track of the (ever-growing list of) titles you want to read. Here are some tips for how to get started:
Browse Google Books' 10 million free books. The online library is home to more than 10 million free books, and plenty more than you can pay to access.
Preview books before buying. No buyer's remorse, thanks. You can use the "preview" option on a book's page in Google Books to get a sense of whether you'll like a certain title or author before you buy the book.
Use the "Similar books" tab for inspiration. On a book's page, there is a list of tabs you can choose from, including one for similar books. If you really love a book you've read, looking at the "Similar books" tab can give you some suggestions for other books that you might also enjoy.
And check out "Books for you" for other ideas. Cultivating your library helps Google Books make recommendations that are specific to your tastes and interests, which you can find in "Books for you" at the bottom of your library.
Officially schedule time to read with Google Calendar
It can be hard to incorporate any new activity or hobby into your routine. One thing that might help: Use Google Calendar to make it an official part of your day. Set "meetings" with yourself specifically dedicated to reading — this way you might be more likely to actually do it, and less likely to cancel on yourself.
Find your focus with digital wellbeing tools
Really losing yourself in a book often requires uninterrupted focus time — which can be tough to wrangle, especially with the lure of mobile phones and social media. Luckily, there are a few digital wellbeing tools available for Android and Pixel users that can help:
Flip it and ignore it. Enable Flip to Shhh, an Android setting that lets you activate Do Not Disturb mode just by placing your phone face-down on a flat surface.
Pause your apps. If you use your phone to read or listen to books, you can use Focus mode so that the only active apps are the ones you're using to read. And if you're reading from another device (or an actual printed book!), try pausing your most distracting apps and notifications.
Use a timer if it helps. If you need an extra push, you can use your clock app to set a timer for uninterrupted reading time. Start with 10 minutes a day if you're not sure how much time you can commit to a book. Then try 15, then 20 — whatever feels right.
Limit your time on other apps. Another way to make more time for reading is to use Android's digital wellbeing settings to limit how much time you're spending on other potentially more distracting apps. Those settings allow you to choose how much time you're willing to devote to any of those apps. Once you hit that number, you'll know it's time to read.
Use Google Play to find audiobooks
Listening to audiobooks absolutely counts as reading them. If you think listening to audiobooks is a better fit for you or your lifestyle than reading books visually, here are some tips for how to make that a more regular habit in 2023:
Choose from among Google Play's millions of audiobook titles. There are tons of free titles, too, including some well-loved classics. A new auto-narration feature available to publishers means there are plenty of audiobooks to choose from.
Grab the deal. Right now there's a discount where you can get $3 off your first audiobook — if you need some extra motivation to get listening.

Check out the abridged version. There are shorter versions of some audiobooks so you can get the entire story but save a little time, which might be helpful if you just want to try audiobooks out.