The winners of the 2018 Google Play Awards are ...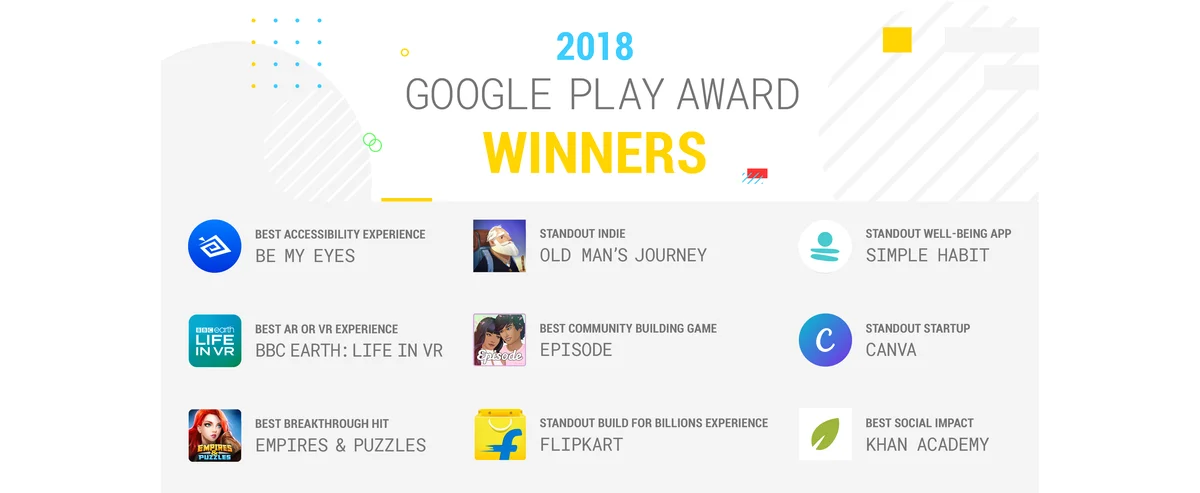 As Google I/O kicked off, we hosted our third annual Google Play Award ceremony to recognize the best apps and games on Google Play over the past year. These apps and games battled it out across nine categories, and proved not only to deliver delightful experiences to fans, but also have larger positive impact in their communities.
Congrats to this year's winners:

Standout Well-Being App
Apps empowering people to live the best version of their lives, while demonstrating responsible design and engagement strategies.

Best Accessibility Experience
Apps or games enabling device interaction that serves people with disabilities or special needs.

Best Social Impact
Apps or games that create a positive impact in communities around the world (focused on health, education, crisis response, refugees, financial health and fundraising functions).

Standout Indie
Games from indie developers that focus on artistic design, gameplay mechanics and overall polish.

Best Community Building Game
Games built to connect gamers, encouraging social interaction and community building.

Best AR or VR Experience
Apps or games offering highly engaging and immersive experiences with optimal use of ARCore or Daydream UI.

Standout Build for Billions Experience
Apps or games with optimized performance, localization and culturalization for emerging markets.

Standout Startup
Apps from new developers that offer a unique experience while achieving strong organic install growth.

Best Breakthrough Hit
New apps or games with excellent overall design, user experience, engagement and retention, and strong organic install growth.