That's a wrap! Recap 2022 with Google TV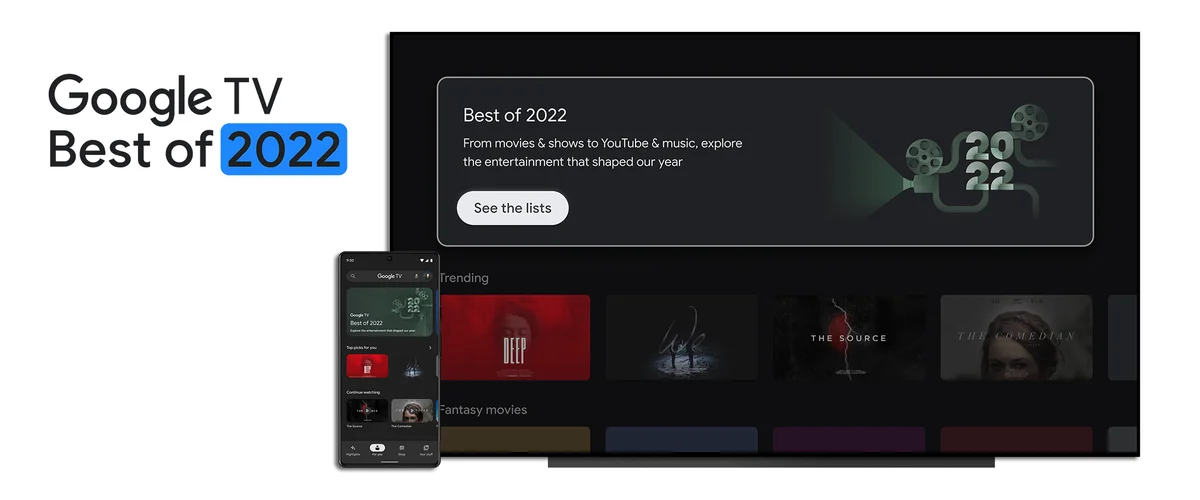 In 2022, millions of movie and TV lovers from around the world used Google TV to bring together entertainment from across their apps and find what to watch. As the year winds down, we're launching Google TV's Best of 2022 on Google TV devices and the Google TV app to celebrate the top movies, shows and music that shaped the world. Using viewing trends, we're taking a look back at what, when and how we watched TV this year. So what stood out?
This year, we had more ways to watch than ever before. The average household now has more than nine entertainment devices, so whether we're at home or on the go, we never have to miss a moment of our favorite entertainment.
Based on available internal data, on average there are 9.5 entertainment devices at home.
In 2022, we couldn't turn off action movies or miss a moment of dramatic shows. We also downloaded new apps to discover more content, and watchlisted our must-see hits so we'd never miss a beat.
We tuned in to honor the Queen and rallied behind our favorite team for live sporting events.
Based on available internal data, the top five live moments based on clicks include honoring Queen Elizabeth II, pro football, pro tennis, Coachella and Stagecoach music festivals
Hits like "Thor: Love and Thunder," "The Batman" and "Top Gun: Maverick" were top trending movies on Google Search. And favorite shows from around the world included "Killing Eve" in the United Kingdom and "A Private Affair" in Spain.
Top trending movies on Google in 2022, according to Year in Search data.
Starting today in the U.S. and coming soon to Japan, Australia and India, Google TV's Best of 2022 can be found on the "For you" tab on all Google TV devices, including Chromecast with Google TV, through January 3. Don't have Google TV? You can download the free Google TV app today to check out the Best of 2022 collection, available on Android and iOS.
For more information, check out our full infographic of Google TV data and trends.
*Metrics are based on internal data