Use Google TV to create your perfect holiday movie queue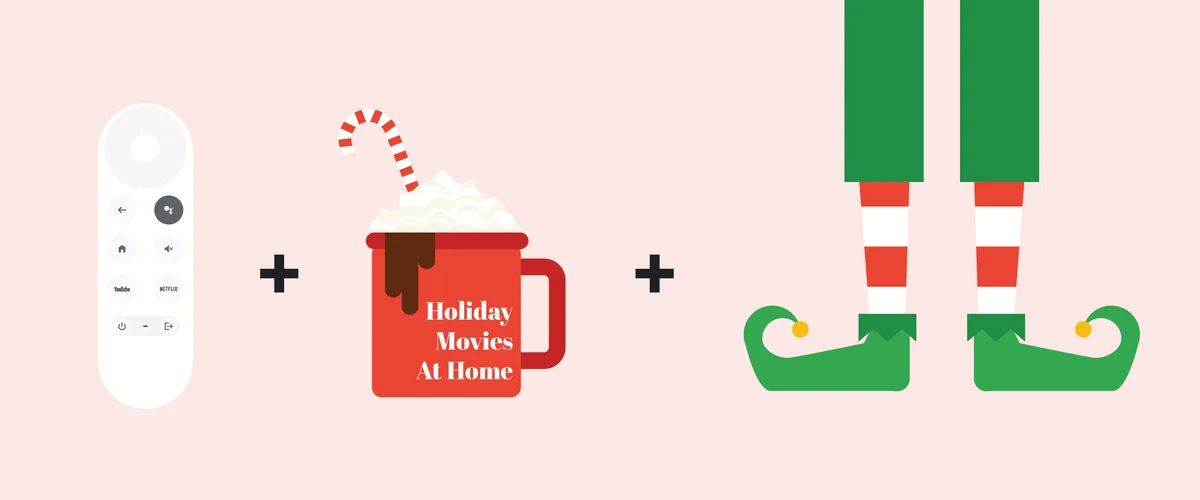 As it starts to get colder outside, there's nothing better than snuggling under a blanket with a warm cup of peppermint hot chocolate and enjoying a holiday movie marathon. That's my recipe for a perfect December evening. 
Every year, I watch as many holiday movies as I can—and in the age of streaming, that can be a challenge. With so many options and so many places to discover them, the only problem is figuring out what to watch and in what order. This year, though, I have the solution: creating a Watchlist on Google TV. 
Whether you're using the Google TV app on Android (in the U.S.) or watching on the new Chromecast with Google TV, you can use Google TV to find and make your movie list. It's designed to make it easier to find what you're looking for, so you don't get all grinchy trying to figure out what to watch or what app something is available on. So, whether you're watching solo or with your loved ones, here's a guide to building your perfect holiday Watchlist and making your movie night (or month) tradition even better. 
Step 1. Start with search. On Google TV, you can find what to watch by searching for "holiday movies" and see a list of results from your favorite apps or what's available for rent and purchase in Google Play. With Chromecast with Google TV, you can also ask Google with the voice remote to help show me "romantic holiday comedies" or "movies with reindeer." 
Step 2. If you need some inspiration, check out this list of the top 15 most-searched holiday movie titles: 
National Lampoon's Christmas Vacation 

The Grinch

Die Hard

Jingle All the Way

Home Alone

Love Actually

It's a Wonderful Life

A Christmas Story 

Miracle on 34th

This Christmas

Happiest Season

Elf

The Holiday

Scrooged

Gremlins
You can search for the specific title or even find a handy row with these movies, called "Most-Searched Holiday Movies 2020" on your For You tab.
Step 3. Once you have a title picked out, you can either watch right away or save it for later. To build your Watchlist for the holidays, just pick the titles you want and open the details page, you can add them to your Watchlist from there. As easy as that, you'll have the movie saved to your Watchlist. The best part is that if you feel suddenly inspired and you're not at home or your phone isn't nearby, you can add movies to your Watchlist from Google Search (you'll need to check for availability) on your other devices, and they'll be in one place when you're ready to binge.
Step 4. When settled on your couch and ready to press play, you can access your queue of holiday movies on your Google TV devices. On the TV, you can find your Watchlist in the Library tab whenever you need it; in the Google TV app on Android, look for the Watchlist tab.
So grab the remote, hit the couch and settle in for a holiday movie marathon.