Google TV for everyone in the family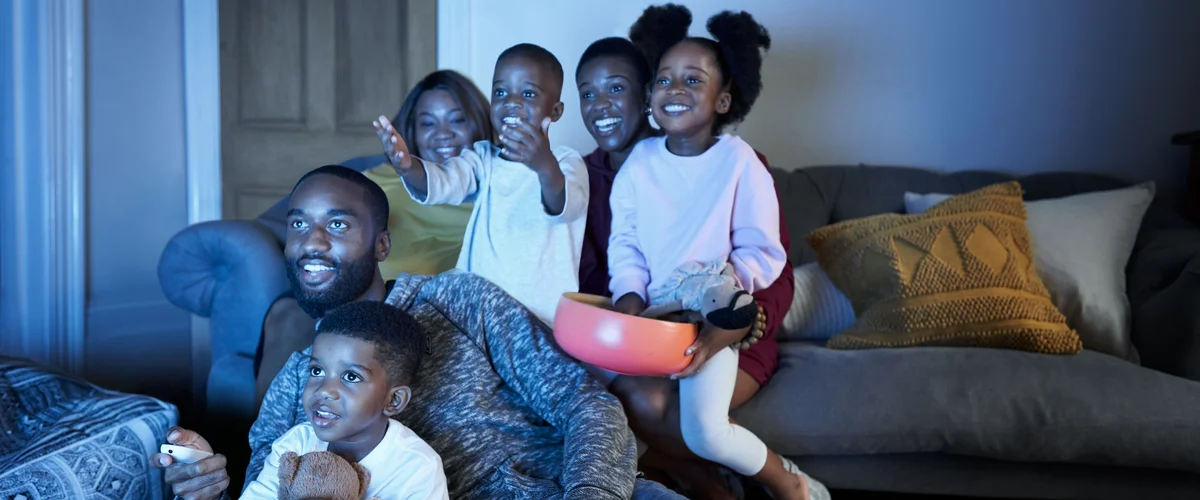 It's Saturday morning and my son is pointing at the TV, cheerful as ever. The "You're Welcome" music video from Disney's "Moana" is playing for the tenth time. As a new father, I'm always thinking about the role technology will play in my children's lives. From Google Kids Space on select Android tablets to teacher-approved apps in Google Play, we've already made a lot of progress in helping our kids explore online, but the work isn't over.
That's why today, we're taking our first step in delivering family features on Google TV with the introduction of kids profiles. Setting up a profile for each of your kids is easy: You can add an existing Google account for a child or create a new profile with just their name and age.
With Google TV, we thought about what families need from the biggest screen in the house. I personally want to be able to find my shows and movies, without being overwhelmed by my kids' content. At the same time, I want to be able to manage my kids' screen time and know that what they're watching is appropriate for them. Read on for some of my favorite features of kids profiles.
TV — for you and your kids
Parents will be able to pick which apps to add to their child's profile. Kids profiles will feature rows with recommendations from kid-friendly apps, so your kids can easily find what to watch. And with Google Play Family Library, you can share access to TV shows and movies you've already purchased on other devices ("Moana" on repeat is absolutely an option).
Kids profiles on Google TV are designed with young viewers in mind and feature bright colors and fun illustrations. The backdrop can be customized to a kid-friendly theme — like "Under the sea," "Dinosaur jungle" or "Space travel." In the coming weeks, we'll also be introducing avatars so your kids can pick a profile picture based on their interests.
Screen time management
"It's time to turn off the TV" is often met with moans and groans. With on-screen parental controls, you'll be able to manage your kids' screen time by setting daily watch limits and a bedtime schedule. When it's almost time to turn off the TV, your kids will be greeted with three countdown warning signs before a final "Time is up" screen appears and ends their watch time. (And you'll  always have the option to add some extra bonus time when it's not a school night.) To prevent your kids from switching to your profile, you can turn on profile lock so only you can make changes with your PIN.
You can also manage some content controls on Google TV right from the Family Link app to help make sure your child's TV time aligns with the digital ground rules you set for your family across devices, such as their Android phone or Chromebook. From your phone, you can see how much time your kids are spending in their favorite apps, block and unblock apps, control app activity and more. 
Support for kids profiles on Google TV will roll out on Chromecast with Google TV and other Google TV devices in the U.S. starting this month, and globally over the next few months. The TV is the largest, shared screen in the home — and we plan on finding more and more ways to make Google TV work for the whole family. Stay tuned!