Stay entertained and informed from home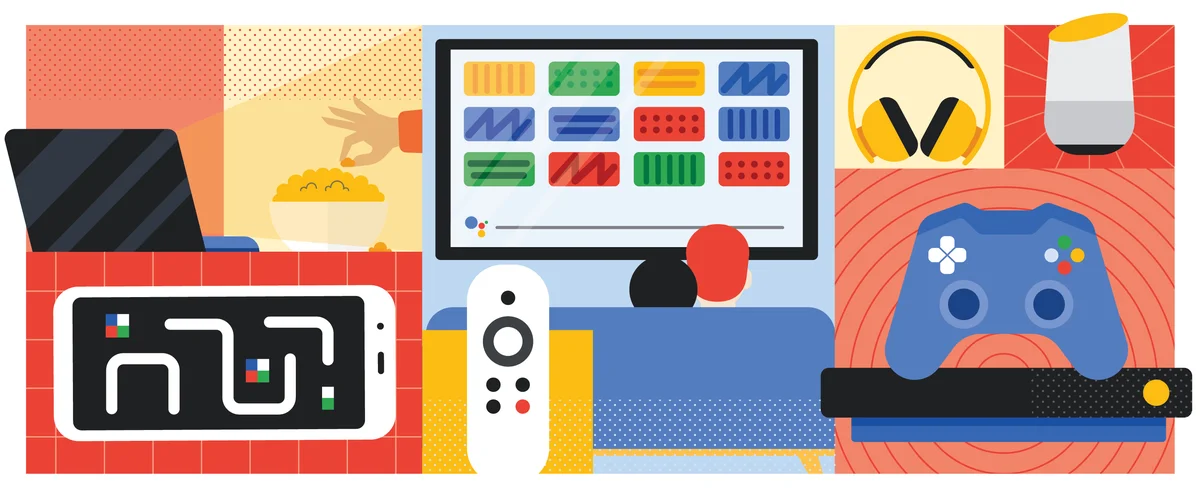 While spending more time at home, you might find yourself re-watching your favorite classics, doing game nights with the family and catching up on the TV shows you've been missing. From staying informed on the latest news to tuning in to weekly podcasts or finding what to watch, here are a few ideas to keep your whole family entertained while at home:


A faster way to news and entertainment
Many of us are turning to our TVs to stay up to date and entertained while we stay in. To access fresh news and fun entertainment quickly, you'll now find three new rows from YouTube right on your Android TV home screen:


COVID-19 News gives you the latest from authoritative publishers and local health authorities to help you stay informed.

Stay Home #WithMe features videos that invite you to cook, listen to live music and work out, so you can stay connected, even if you're home alone.
Free movies from YouTube highlights movies you can watch for free with ads, so that you can find something new.
Stay informed and entertained with three new rows from YouTube on the Android TV home screen.
Create your own Watchlist in Search
When you're deciding on a TV show or movie to watch, there are a lot of options out there. And figuring out what content is available across all your subscriptions can be time consuming and overwhelming. You can already find TV and movie recommendations in Search and today we're adding a new Watchlist tab on mobile, so that you can keep track of what to watch next.
Browse through personalized recommendations by searching "what to watch." Then, simply tap "Watchlist" in the preview window for any show or movie to add it to your list. You can navigate between your recommendations and the "Watchlist" tab so you won't lose track of what's already been saved. You can also add content to your Watchlist whenever you search for a show or movie. To quickly access your full watchlist, search for "my watchlist" or tap on Collections in the Google app.
Browse games to #PlayApartTogether with family and friends.
If you're looking for apps on your big screen, Google Play is adding more collections to Android TV. Your favorite streaming apps are now organized in one row under "Stream the shows and movies you love." You can also pick up a new hobby or skill with TV apps under "Learn new things." If gaming on the TV is more your style, you can now find games to "Play with your remote" and "Play with your gamepad."
Find games and apps in Google Play's collections on Android TV.
We're offering gamers in 14 countries free access to Stadia Pro for two months, which includes instant access to nine games, including GRID, Destiny 2: The Collection and Thumper. If you're already a paid Stadia Pro subscriber, you won't be charged for the next two months.
Get a little help using just your voice
And whether you want to catch up on your favorite podcast or you want to spend some quality time with family or roommates, Google Assistant and Nest have got you covered. 
Game night: If you're looking for trivia or quiz games to play, just say, "Hey Google, let's play a game." Or if you already know what you want to play, say, "Hey Google, play Are You Feeling Lucky."

Kick back with a podcast: Search interest in "podcasts" hit an all-time high, worldwide. Ask Google Assistant for a particular podcast by saying, "Hey Google, play [podcast name]" or it will pick one for you if you say "Hey Google, find me a podcast about cooking." If you have a Nest Mini, Nest Hub or Nest Hub Max, the Ambient IQ feature will automatically adjust the volume when there's background noise.


View your home movies easily: Watch videos and slideshows you've made in Google Photos using Chromecast. From the Google Photos app you can send videos and pictures to your TV by tapping the cast icon. With a Google Nest speaker you can simply ask, "Hey Google, show my 2018 summer vacation video on my TV."
Ask Google Assistant to cast your family photos and videos to your TV.
These updates and features are already available or coming this week. Check them out to keep the whole family entertained at home.