Get help at a glance with Google Home Hub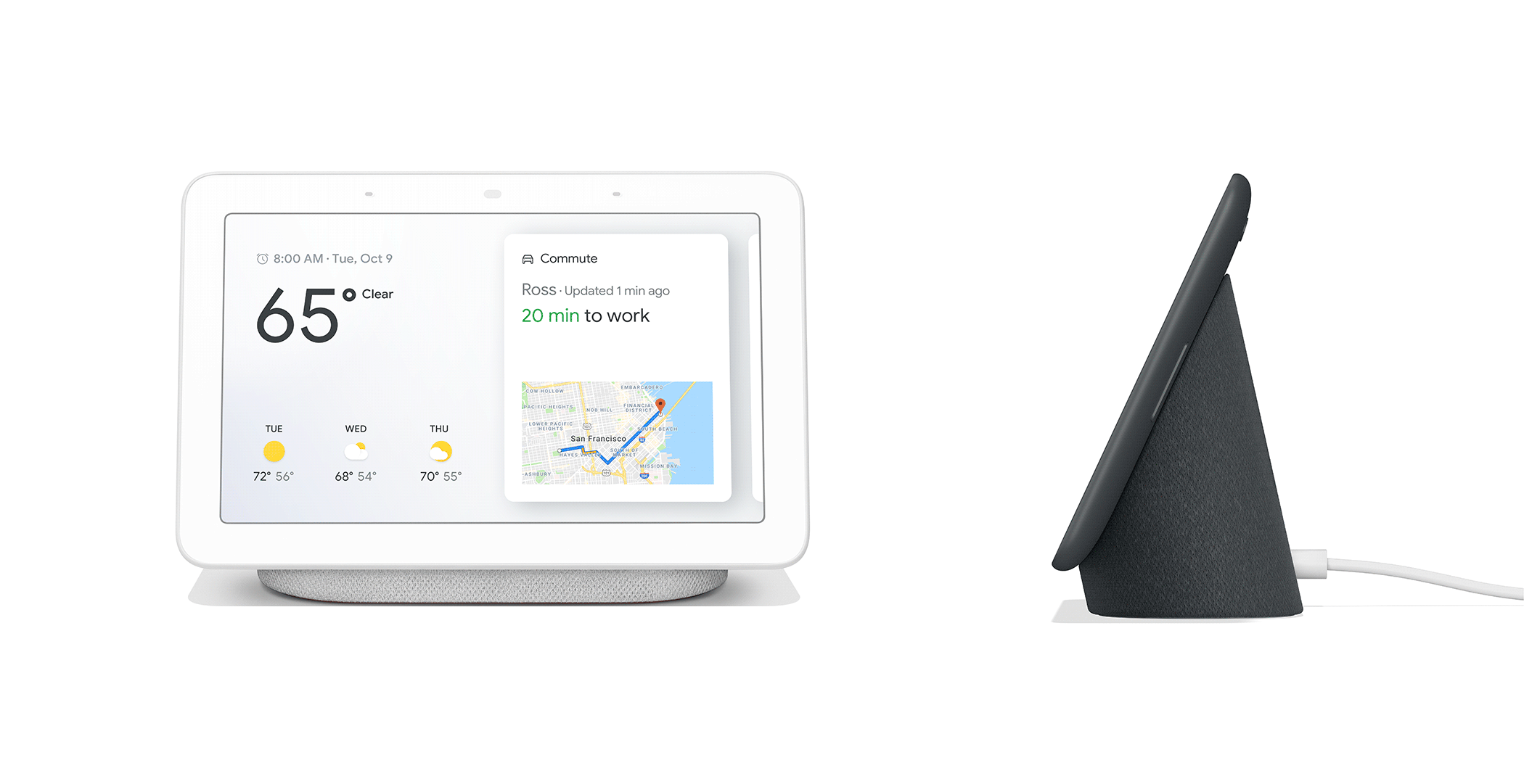 Google Home Hub is the newest member of the Google Home family, bringing you help at a glance. With the Google Assistant built-in, you can use your voice to get the best of Google—Search, YouTube, Google Photos, Calendar, Maps and more—right on Google Home Hub's display. 
Thoughtfully designed for any room
The first thing you'll notice about Google Home Hub is its beautiful design. We made this display to fit right into your home, and we hope you'll consider it not just functional, but part of your decor. The 7" screen is like a floating display, the right size to fit on any surface and big enough to enjoy your photos from across the room. With its soft rounded corners, Google Home Hub fits naturally on any surface. My favorite places are my kitchen counter and nightstand. With four colors to choose from—Chalk, Charcoal, Aqua and Sand—it's right for just about any room.
We consciously decided to not include a camera on Google Home Hub, so you feel comfortable placing it in the private spaces of your home, like the bedroom. On the top of the device you'll find the Ambient EQ light sensor. It allows the screen to automatically adjust to match the lighting in the room, so photos on Google Home Hub will blend in with the room, too. That means no glowing screen—it fits seamlessly into your home. When it's time for bed, Hub knows to dim the screen for a good night's sleep.
Jumpstart your morning routine
I think I speak for most parents when I say mornings at home are hectic. From the time we wake up until we're racing out the door, every minute counts. With Routines, Hub can provide you and your family with useful info about the day ahead. Just say "Hey Google, good morning" for a personalized, visual overview of your family's activities from Google Calendar, your commute from Google Maps, your latest reminders, the weather forecast, and more. And with Voice Match, up to six people in the home can get their own personalized Routine. And I can also get easy how-to help from YouTube videos: "Hey Google, how do you make cold-brew coffee?"

Simplify your connected home

You can control 10,000+ types of smart home devices from 1,000+ popular brands. That means there are more than 200 million devices in the U.S. that are compatible with Google Home Hub, many of them already in your home. With Google Home Hub, everyone in the family can see and control your devices from a single dashboard—no more switching between apps. Just swipe down to reveal your home view: Dim your Phillps Hue lights, adjust the temperature on your Nest thermostat, turn up the volume on the TV with Vizio, lock the front door with August, monitor smart cameras, and see the front door with the Nest Hello video doorbell. 

Relive the moment with Google Photos

Google Home Hub is also a photo frame, but not your average one: it's easy to set up, automatically refreshes the photos that are displayed and features your best shots. With live albums, a new feature from Google Photos, I can relive recent memories with family and friends even while Google Home Hub is not in use. Google Photos will automatically add new photos of my son and our dog to my album, avoiding duplicates and blurry shots. I can also share our live album with my mom, so when she sets up her Google Home Hub, she'll see photos of her grandson. Plus, you can say goodbye to endless scrolling on your phone to find photos you're looking for. Google Home Hub makes it easy: "Hey Google, show my pictures from the Grand Canyon," and just like that, I'm taken back to my vacation.  

Get hands-free help in the kitchen
My family spends a lot of time in our kitchen, and Google Home Hub helps us prepare recipes like a top chef. I can use my voice to browse millions of recipes and start cooking, all hands-free. We teamed up with Tasty to bring their fun, family-friendly recipe videos to Google Home Hub. Check out the pineapple upside-down pancakes recipe, it's delicious!
Google Home Hub helps you turn the music up, then wind down
At my house, Fridays are family night, and sometimes that means a dance-off. YouTube Music gets lots of use on those nights. When you buy Hub, you'll get six months of YouTube Premium on us, so you can enjoy not just YouTube Music, but all of YouTube ad-free. You can also enjoy music from Spotify, Pandora, iHeartRadio and other popular music services (you may need a subscription). Google Home Hub's full-range speaker means crisp, clear sound every time.
When you're ready for bed, just say, "Hey Google, good night" to set an alarm, turn off compatible lights and TVs, lock the front door (as long as you have a supported lock) and fall asleep to soothing music. For busy working parents like me, every day is hectic—so these features are truly game-changing when I have my hands full or I'm strapped for time.  
I know you'll love getting help and enjoying family time with Google Home Hub, just like my family does. You can buy Hub for $149, and starting today, you can pre-order from the Google Store. You'll find Google Home Hub on shelves on October 22 at Best Buy, Target, Walmart, and other retailers.
Once you set up Google Home Hub, just say, "Hey Google, what can you do" to get started.