Br(rr)ing on the holiday trends from Google Maps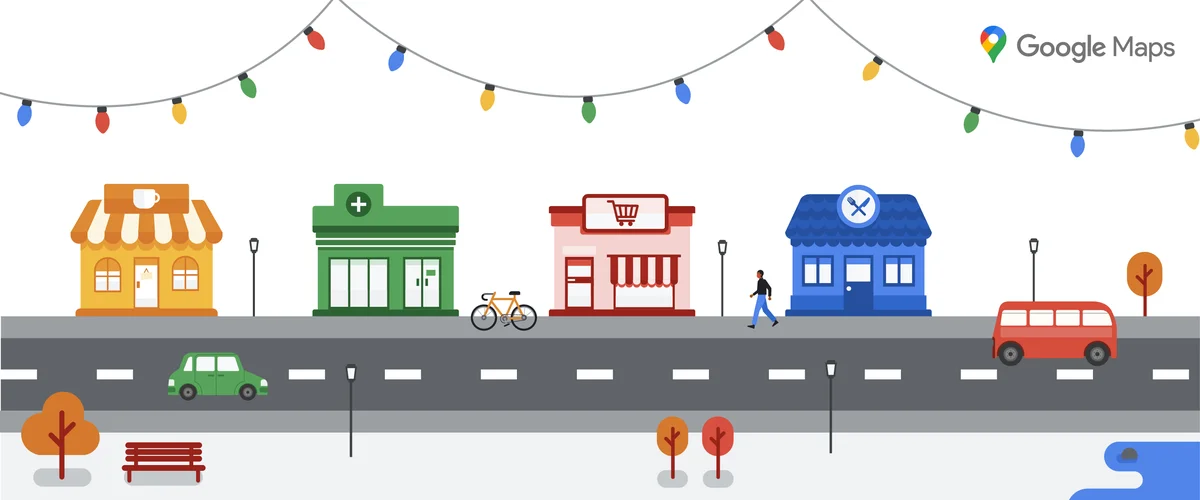 This holiday, family gatherings will be smaller or take place virtually to make sure everyone stays safe and healthy. Indoor activities will move outdoors. And that international holiday vacation will potentially transform into an epic road trip to nearby attractions as you stop to sightsee at local hidden gems along the way. But even still, people are prepping to make classic holiday dishes, looking for ways to experience winter and finding new, safe ways to be together.
We've analyzed Google Maps data before and during the pandemic (for the purposes of this post, we analyzed data from March to October 2020) to see how people across the U.S. are getting ready for the holidays. Read on for top trends on how people are navigating, how they're spending their time and what type of food they're craving.
Dashing through the snow, in a 🚗 or 🚴‍♀️ or 🚇
Across the country, Americans are opting for solo ways to get around safely. Unsurprisingly, driving continues to be the most popular mode of transportation, while interest in riding transit appears to be down by more than 50 percent. Cycling has emerged as a transit alternative–interest in cycling has increased 30 percent nationwide compared to pre-pandemic days, which is even higher than typical seasonal changes. Across all modes of transportation, we're seeing people get directions to fewer new places, likely in an effort to social distance by sticking to tried and true spots versus exploring new places.
At the local level, transportation patterns are shifting:
While New Yorkers typically embrace public transit and Angelenos defer to driving–both cities have seen interest in driving increase by over 10 percent since the start of COVID. 

Cycling is up across the board, both in the East and the West. Cities with the biggest shift in cycling increases include Denver (+200 percent), Minneapolis (+150 percent), New York (+72 percent), Seattle (+65 percent) and Portland, OR. (+57 percent).
Social distancing in a winter wonderland ❄️
Popular times and live busyness information in Google Maps have always been essential holiday tools, helping you avoid unwanted crowds. These tools help you know in advance when places are going to be busy so you can save precious time and also social distance.
So if you find yourself in need of a caffeine fix to tackle your holiday errands, make sure to avoid picking up coffee on Saturday mornings at 10 a.m. when coffee shops across America tend to be most packed. And if you're planning to shop for a holiday meal, stay away from the grocery store on Saturday afternoons between 1-3 p.m. when you're likely to encounter long lines.
Chestnuts (or turkey or stuffing) roasting on an open fire 🦃 
In the spring, Americans were optimistic about cooking at home–searches for "easy recipes" were at an all-time high. But as we approach the holiday season (and dishwashing fatigue sets in), people seem to want to order in. Interest in "takeout" on Maps has gained popularity by 306 percent compared to the beginning of the pandemic, and restaurant reservations booked directly on Maps have spiked more than 200 percent–likely because more restaurants are requiring them as they work to maintain safe capacity levels.
As for what people are eating, Mexican, Chinese, and BBQ are the most-searched cuisines across the country, and we're seeing local noodle wars and more:
Seattlites and Denverites are pho lovers! Both cities have searched for "pho" twice as much as they've searched for "ramen."

In Philadelphia, interest in "cheesesteak" has decreased by nearly 40 percent compared to early this year—suggesting that locals are expanding their food horizons or that tourists were the ones searching for this Philly classic.

Portlanders and New Yorkers are craving Thai. In both cities, interest in Thai food is up more than 100 percent compared to earlier in the year.
Spend time outdoors and deck the halls 🎄
From coast to coast, people are using Google Maps to have fun safely outdoors, searching for parks, waterfalls, beaches and gardens within driving distance. As the weather cools, searches for outdoor locations continue to remain higher than pre-pandemic. Even traditionally outdoorsy cities like Seattle (+56 percent), Los Angeles (+31 percent), and Denver (+135 percent) are looking for outdoor spots more than they were earlier this year.
When they're not heading outside, people are sprucing up their homes. Searches for home and garden stores are increasing all around the country, with the highest spikes happening in Chicago (+77 percent), Detroit (+86 percent) and Cleveland (+96 percent).
No matter how you plan to spend the holidays, Google Maps is here to help you knock out your to-do list. Check out our favorite tips to keep your holidays as stress free as possible while staying safe, connected and organized.