Explore the wonders of Thailand with Street View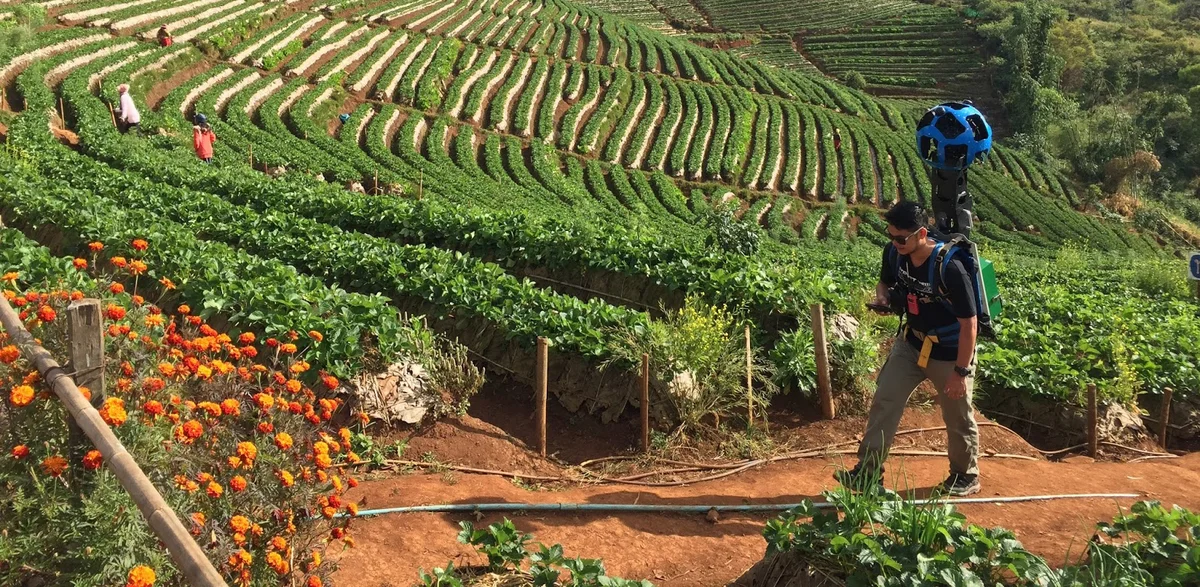 Nestled in northern Thailand, Sukhothai Historical Park was once the capital of ancient Siam. Sukhothai means "dawn of happiness", and now you too can explore this happy place from the palm of your hand with Google Maps. Today, the park joins over 150 new places and national treasures that are now available in 360-degree panoramic imagery on Google Street View.
Sukhothai Historical Park
From ancient temples, to tropical beaches, to strawberry plantations and rice terraces, this new Street View collection showcases the beauty and diversity of The Kingdom. Our intrepid trekker walked 500 kilometers with a heavy backpack across the length and breadth of the country to capture images of places like this:
Trekking around the Chai Watthanaram Temple at Ayutthaya Historical Park in Central Thailand
Temple visits are a must for any visitor to Thailand.
Now you can wander virtually through the ruins of the Chai Watthanaram Temple and pay your virtual respects to Buddha peaking out from behind ancient tree roots at the Ayutthaya Historical Park. See ancient Khmer ruins at Phanom Rung National Park, or get up close to the intricate Buddhist and Hindu sculptures at the The Sanctuary of Truth — a temple made entirely of wood, just outside Bangkok.
You can also explore the Chinese architecture of the Viharn Sien Chinese Cultural and Religion Museum. 
Wiharn Sian Anek Kuson Sala
Or take a whirlwind tour around Thailand's most famous monuments and architectural attractions all in one place at 
Ancient Siam
. Dubbed the world's largest outdoor museum, 
the park is shaped like Thailand 
and is home to monuments of 
The Old Market Town
 and 
The Pavilion of the Enlightened
. 
For good fortune, why not head over to the Erawan Museum just outside the capital? There you'll find a giant Erawan statue, a mythological three-headed elephant, filled with antiquities and artifacts.
Trekker says hi to the elephants at the Thai Thani Art & Culture Village
Those strawberry fields really do feel like forever when you're carrying the trekker:
No trip to Thailand is complete without a tour of The Kingdom's stunning southern beaches. You can laze around Koh Samui's white stretches of sand, take in the lagoons, cliffs and islets of Hin Ta Hin Yai and Koh Nang Yuan, or find a quiet grotto to watch the boats go by. There's no shortage of inspiration for your next diving or beach get away.
Taking in the views at Koh Nang Yuan
Whether you continue your journey in Google Maps or are inspired to visit in person, we invite you to enjoy exploring the wonders of Thailand. We hope that visiting The Kingdom with Google Maps (available on iOS and Android) will inspire a deeper appreciation for the beauty and history of this beautiful country.