Journey under the Earth's surface in Street View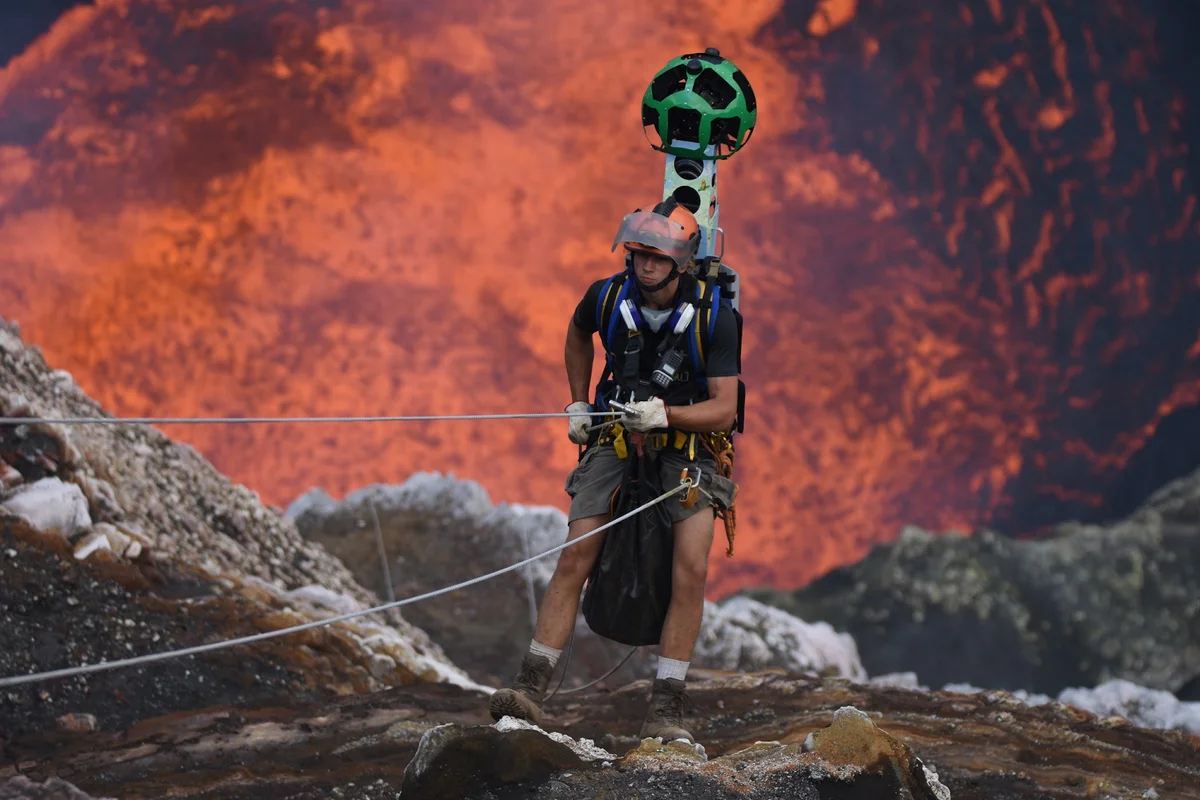 More than a thousand miles off the coast of Australia is the remote country of Vanuatu, an archipelago of 80 tiny islands—brimming with lush green jungles, pristine black sand beaches, and nine erupting volcanoes.
Walk the beaches of Ambrym 
Starting today in Google Maps, we invite you to join us on a journey to the edge of one of the largest boiling lava lakes in the world on the Vanuatuan island of Ambrym. To get  inside  the active volcano, we partnered with explorers Geoff Mackley and Chris Horsley, who rappelled 400 meters into the Marum crater with a Street View Trekker collecting 360-degree imagery of the journey down to the molten lava lake, which is roughly the size of two football fields. 
You only realize how insignificant humans are when you're standing next to a giant lake of fiery boiling rock.
"Standing at the edge and feeling the heat lick your skin is phenomenal," said Chris Horsley after returning from his descent into the crater. "I hope that by putting this place on the map people will realize what a beautiful world we live in."
Ambrym is defined by the desolate 39 square mile volcanic caldera hosting two active volcanic cones called Benbow and Marum. But the tropical island is also home to more than 7,000 people who live in the rainforest down the mountain. While the volcano has played a significant role in defining their history due to unpredictable eruptions and influence on agriculture and environment, they've learned to live in harmony with this beautiful yet deadly natural phenomena.
Chief Moses in the local village of Endu explains, "We believe that the volcanoes Marum and Benbow are devils. If you go up to a volcano you have to be very careful because the two volcanoes could get angry at any time. We believe that Benbo is the husband and Marum is the wife. Sometimes when they don't agree there's an eruption which means the spirit is angry so we sacrifice a pig or fawel to the volcano." As part of the Google Maps journey, Chief Moses of Endu invites you to take a walk through his village and hopes you'll be inspired to visit this sacred place he calls home. Following Cyclone Pam a few years ago, the country has been rebuilding its infrastructure. Now Chief Moses and his village are ready to welcome travelers back to Vanuatu to experience its stunning beauty and learn about its cultural traditions. He believes making Vanuatu more accessible to the world is a key step in the island's recovery and ability to  establish a sustainable economy and preserve its culture.