A ride to remember on World Alzheimer's Day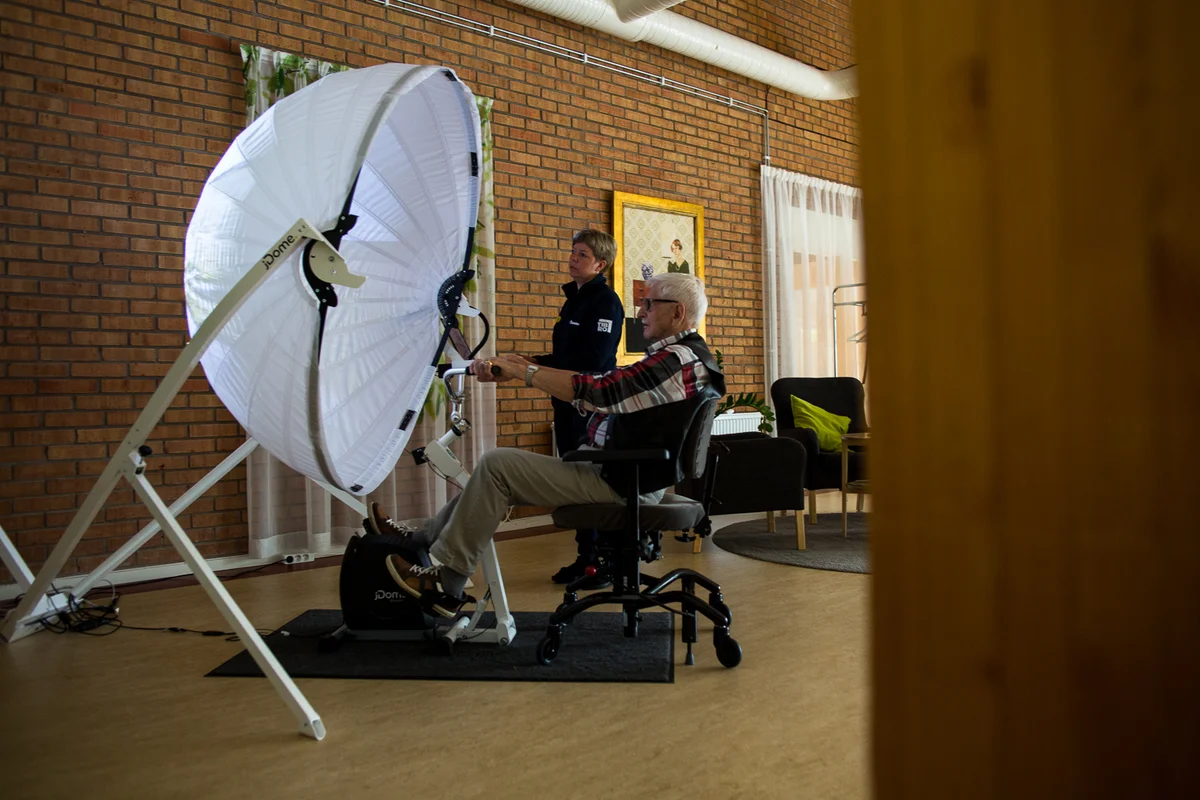 Editor's note: Anne-Christine Hertz is a Swedish inventor who works at Health Technology Centre of Halland. Today, she shares a story of how the Centre used Street View to invent a device that helps elderly with Alzheimer's.
A few weeks ago I met 75-year-old Lars Jonsson and his wife Ingrid. They married when Lars was 40 and have lived a happy, fulfilling life together. Lars also suffers from dementia.
Every three seconds someone develops dementia, a condition that creates disability and dependency among many elderly, robbing them of memory and judgment. It's not only overwhelming and stressful for those suffering, but also their loved ones. It was tough on Ingrid when her husband suddenly had trouble recalling the memories they'd spent a lifetime creating.
We met Lars and Ingrid when they came to test a device we invented to improve the lives of dementia patients. It's called BikeAround, and it pairs a stationary bike with Google Street View projected on a big screen to take patients on a virtual ride down memory lane, letting them pedal around a place they have visited in the past. As Lars sat in the saddle, Ingrid suggested we take him back to the city and church in which they got married. Lars's face flickered with happiness as the church rose up before him. The expression on his wife's face when she knew for sure that he remembered was heartwarming
The development of the BikeAround system, which is now owned by health care company Camanio Care, started back in 2010 at Health Technology Center in Halland, Sweden. We were conducting research on dementia, and noticed people living with the disease were given different access to physical activity depending on which municipality they were living in. Since it's often recommended that dementia patients perform physical activities to stimulate both physical and mental health, this was an issue. We wanted to find a way to motivate the elderly with dementia to exercise more, in a safe and secure way.
Our strongest memories are tied inexorably to location. It's no coincidence, when you think about any big memory or past event, your first thought is often "Where was I when that happened?" BikeAround taps into this idea by combining mental and physical stimulation—surrounding the patient with places they recognize through the Street View images, and then having them pedal and steer through them. Scientists think this kind of pairing produces dopamine in the brain and has the potential to affect memory management in a profound way.
Today is World Alzheimer's Day, a time when people and organizations from all over the world concentrate their efforts on raising awareness of this disease for which there's no cure. Researchers all over the world are trying to find new ways to increase quality of life for the people affected by the disease. The experience with Lars—and many others patients—proves we've developed not just a product for improving health, but something that creates emotion and connects people. Patients often find the BikeAround solution so fascinating—so comforting—they don't want to get off. Neighborhoods they grew up in. Parks they played in as a child. Family visits to the seaside. They remember again. That's a feeling of freedom.
Bengt Ivarsson tests BikeAround, a stationary bike that's paired with Google Street View to take dementia patients on a virtual ride down memory lane.
I have always looked at digitization and technology as a catalyst to open up the world not just to the tech savvy, but also to the elderly, who often live in digital exclusion. We're excited about having found a way to bring happiness to many people living with dementia and their relatives. But what's also exciting to me is that this is just one example of how technology can be harnessed to make a real impact on people's lives. If we look beyond ourselves and unleash our imaginations, there's no limit to what we can do to help others.