Save dinosaurs from extinction in a game world built with Google Maps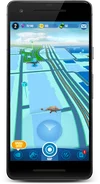 Back in March we announced a product to help developers build games using the information Google Maps knows about the world around you. It enables game studios to easily reimagine our world as a medieval fantasy, a bubble gum candy land, or a zombie-infested post-apocalyptic city. It even helps them find the best places for gameplay––whether it's a landmark where a player refuels or a park where they must go to complete a mission––no matter where in the world players are.
Just in time for summer and the release of Jurassic World: Fallen Kingdom™, you can explore a virtual world built with Google Maps while saving dinosaurs from extinction. Ludia and Universal's Jurassic World™ Alive is available for free on Google Play and the App Store now.
Ludia used Google Maps' rich and accurate data to create a game world where dinosaurs have escaped Jurassic World on Isla Nublar to roam freely in cities and neighborhoods around the world. As a member of the Dinosaur Protection Group, your mission is to save dinosaurs from another extinction––and you do that by exploring the world around you. Nestled among 3D buildings, roads, landmarks, and parks, you'll find dinosaurs, track them with drones, collect DNA samples to level up, and create hybrid dinosaurs in your lab. Once you've assembled your own roster of prehistoric animals, you can battle other players to defend against threats to your mission.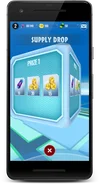 To perform your duties as part of the Dinosaur Protection Group, you'll need to earn rewards like in-game currency and battery life for your drone by finding supply drops––all strategically placed in fun (and appropriate) places using Google Maps' in-depth understanding of real world places.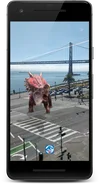 The game uses ARCore, Google's platform for building augmented reality experiences, to power an exciting (and terrifying!) AR mode that lets you get up close and personal with dinosaurs in your collection. To get to the AR mode, tap the collection icon at the bottom of your screen, select a dinosaur, and then tap the round AR icon on the right hand side.
So if you're still bummed that dinosaurs went extinct millions of years ago, try Jurassic World Alive and spend some quality time with prehistoric beasts in your own natural habitat.