The Last Great Race in Street View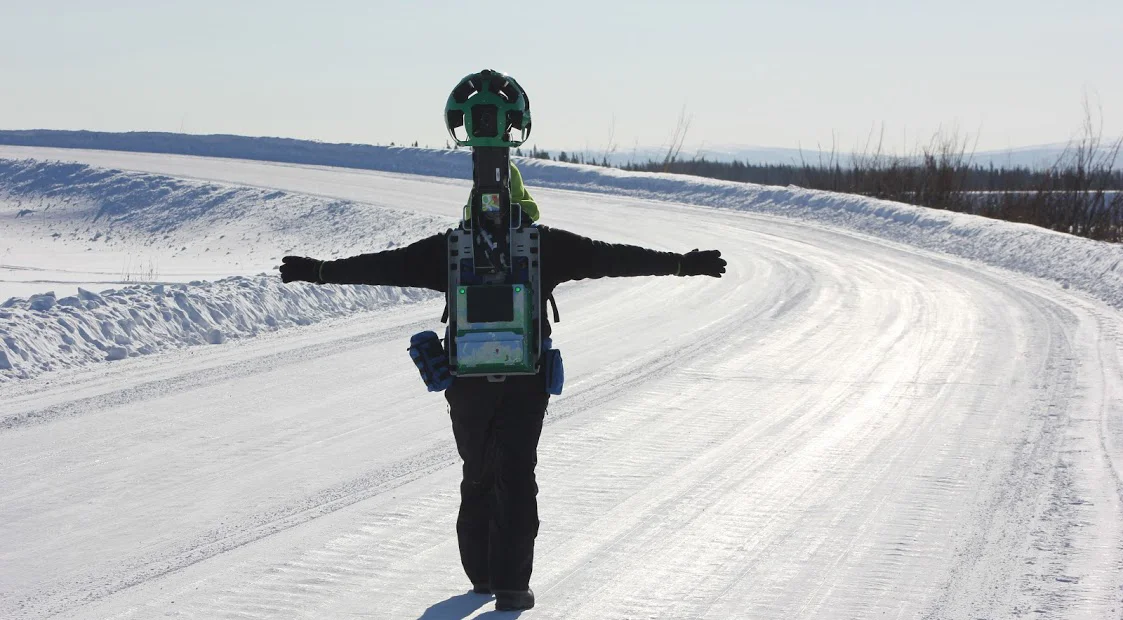 Every March, dozens of competitors and hundreds of dogs gather in Anchorage, Alaska for the start of a dog sled race that travels more than 1,000 miles to the west coast city of Nome. The Iditarod Trail Sled Dog Race requires the sled drivers or "mushers" to safely guide their dogs across the wilderness of Alaska through steep mountainous terrain, extremes of weather, and days of sleep deprivation. A British reporter covering the 1978 Iditarod tagged it "The Last Great Race on Earth."
The Iditarod Trail is a National Historic trail that evolved as busy winter highway as people flocked to Alaska during the gold rush of the 1890s and 1900s. During the months that ocean access to western communities was frozen, dog sleds delivered groceries, mail, and even the preacher. On their return trip, they hauled gold and furs all the way to Anchorage or Fairbanks. On some days more than a hundred sleds headed over the Alaska Range, traveling 50 or more miles a day. Like the stagecoaches of the Old West, the mushers would stop at roadhouses along the route to rest and feed the dogs, and themselves.
Despite the long history of mushing in Alaska, the development of snow machines in the 1960s removed its role as a major mode of transportation, and it became primarily a recreational activity. The Iditarod Race evolved as a way to save both sled dog culture and the heritage of the Iditarod Trail. Competitors and their dog sled teams travel from checkpoint to checkpoint, just like the freight sleds did in years past. And just like those times, it's not always an easy ride—the terrain and variable weather conditions present real challenges for the mushers, which the Google Trekker camera discovered for itself during the 2015 Iditarod.
The Google Street View Trekker wanders free near the Galena checkpoint on the Iditarod Trail Due to unseasonably warm weather conditions over Anchorage and the Alaska Range, the route of the 2015 race was switched to begin in Fairbanks, Alaska. At the traditional "ceremonial start" (held in Anchorage), a special sled #80 driven by
Dean Osmar
, the 1984 Iditarod Champion, towed a second sled with a Googler wearing the trekker. The slushy conditions led to an 11-mile adventure complete with
frozen puddles
,
cheering spectators
,
crashes
,
pink flamingos
and a
man-sized penguin
. Sometimes our mission to map the whole world is harder than it looks!
Learning from this experience, we later successfully navigated the first 60-mile leg of the official 2015 route. Now you can follow our mushing adventures in Anchorage and Fairbanks, explore the rural Alaska communities of Galena, Unalakleet and Nome, and see the race checkpoints and finish line—all in Google Street View. This cold-weather adventure is literally at your fingertips directly from your mobile device when you download the Google Map for Mobile app on iOS and Android. And if you're in the area in person, you can also explore and navigate to other popular spots across Anchorage and Fairbanks. Hike!