Build engaging ads with Display & Video 360's Creatives module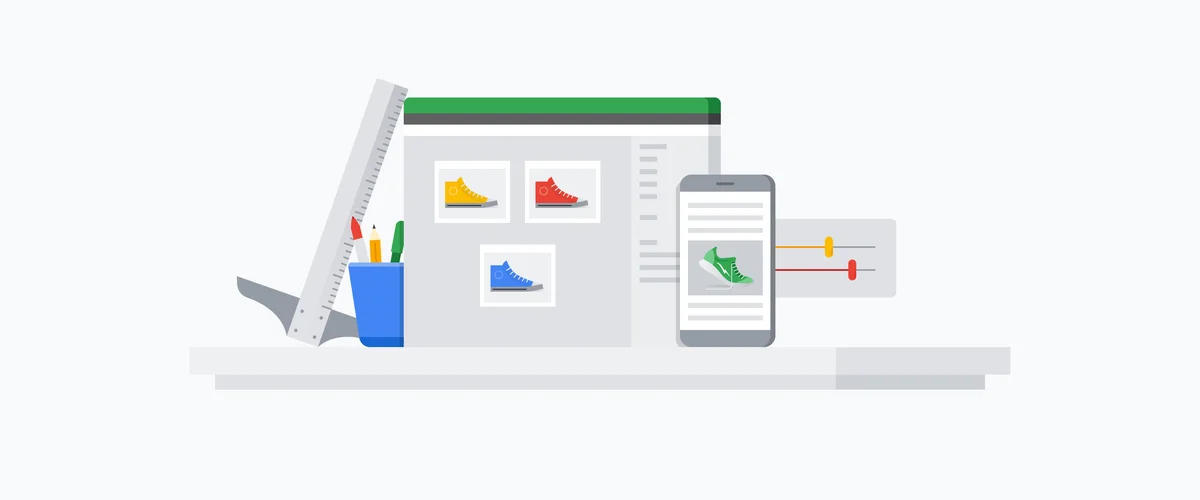 This is the third post in a series about Display & Video 360 innovations.
Display & Video 360 is organized around five integrated modules that work together to simplify the end-to-end campaign process: Campaigns, Audiences, Creatives, Inventory and Insights. Today we'll explore new features of the Creatives module, where you can design, produce and manage all of your ads.
Give creative a seat at the table
Great ads are born when the creative, data, and media teams align on what to say and how to say it. This is why we are so excited about Creative Workspace — the foundation of the Creatives module in Display & Video 360. For the first time, creative teams can work on custom rich media and data-driven creative in the same interface as media and data teams.
The welcome page of Creative Workspace gives you access to all your creative assets.
With the Creative Workspace, you can invite creative teams to collaborate with other teams in Display & Video 360 using two new roles. First, you can add a creative admin, which is usually a producer or creative agency lead. The admin can then invite other creative team members, such as producers, designers, developers, art directors, and copywriters, and manage their access as creative users.
The creative user role allows you to share relevant insights with creative agencies, while keeping some of the more sensitive data like fees and media prices for just those who need it. This allows creatives to build more tailored ad experiences as the media plan gets developed. At the same time, creative teams can easily preview formats, designs and strategies with media teams as they are being developed, so they can get early feedback and ensure there is alignment.
Build better data-driven creative in Display & Video 360
Designers and developers can build custom, data-driven creatives directly in the Creative Workspace using the new Ad Canvas — a visual workflow for dynamic ad creation.
The Ad Canvas lets you build data-driven creatives at scale.
Data-driven creatives are ads that tailor the look and feel of an ad based on specific signals such as time of day or audience — and research shows that programmatic campaigns using data-driven creative often perform better than those that do not. We recently expanded the types  of signals available to customize ads to also include Affinity and In Market audiences created by Google. With these options, your team can now reach consumers who are likely to have a particular interest with a more relevant message. Ad Canvas also integrates with Google Web Designer, which helps your creative team manage custom designs, speed up data-driven setups, and truly scale their creative development.
"Our experience with the new data-driven creatives in Display & Video 360 helped in our creative process by allowing our media, creative, and production teams to work together in a more streamlined way, bringing down in-campaign iterations from a few days to a question of hours." 
- Brigitte Roberge, director of marketing, sponsorships and branding, Desjardins
Design beautiful ads at scale
Enabling collaboration in the creative development process and supporting customization are important steps towards delivering effective ads, but the actual ad experience that you deliver to your consumers is critical to success. That's why we're also introducing new mobile ad formats that are optimized for an environment where people engage by touch.
First, we've recently introduced Flipbook, a video ad format that plays only when the ad is visible and the user is scrolling, which ensures the ad doesn't compromise other content and gives users full control. Flipbook piques the user's interest by pairing the video playback with scrolling action, creating a sight and motion experience that works both forward and in reverse.
It's incredibly fast to build a Flipbook ad — all your team needs is a video file, a brand logo and a call to action. Your creative team brings the idea along with a few simple assets, and we bring the technology to achieve this effect out of the box, complete with embedded measurement and ability to deploy at scale.
Flipbook is an ad format that pairs video playback with scrolling action.

Second, we have also recently introduced Parallax, a scroll-based display experience built in Google Web Designer. Parallax creates a perception of depth, which comes from having multiple images move at slightly different speeds, all triggered by the user's scroll. Parallax ads can be built with any number of layers to create simple background and foreground experiences or complex, rich experiences that appear as 3D views. Creative teams can easily customize these ads to work for their needs.
Parallax is a display ad format that creates a perception of depth by adapting to the user's scroll.

Over time, we'll introduce more formats like these, to help you build beautiful, relevant ads that deliver a great experience for users, especially on mobile. And as we continue to expand the breadth of available formats on our platform, make sure to check out our updated Ad Format Gallery, where your team can get inspired about what's possible when it comes to delivering great ad experiences.
Building creative into your digital campaign process
Creative is one of the most important aspects of any campaign. With the Creative module in Display & Video 360, your teams can work together to build and deliver ads that offer the best user experiences while driving results for your business.