You're cordially invited to use my hybrid holiday party tips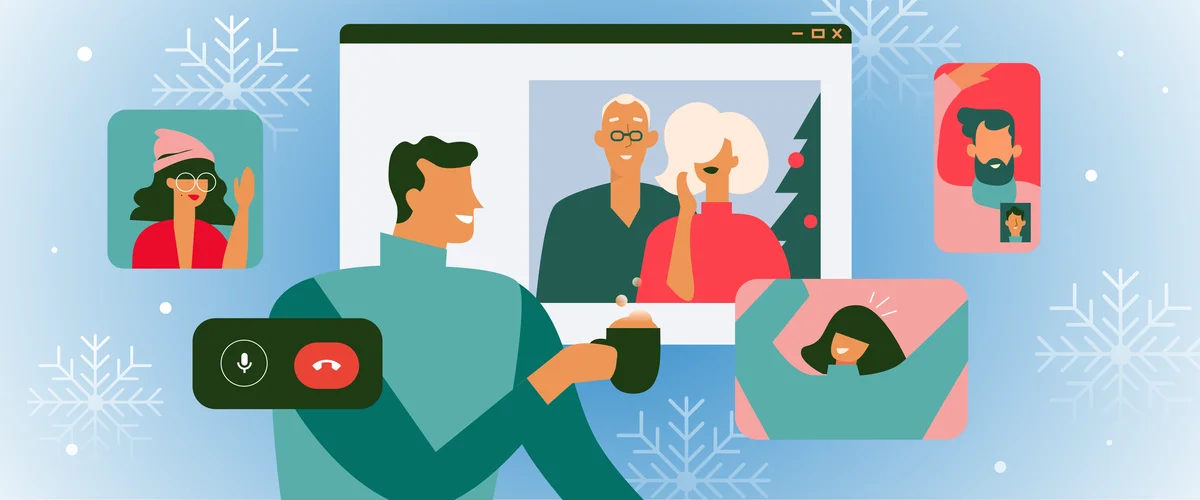 Eight cousins. Six aunts and uncles. A couple of toddlers (both mine). Two (adorable) felines. Some of us will be together, while others will be staying home for the holidays this year.
Sound familiar? Thankfully, many of us have learned a thing or two about "hybrid" gatherings over the past two years. I figured if it could work for…well, work, why not for the holidays?
I'll be using Google tools to help me host with ease no matter where my friends and family are this year, and I've come up with a list of tips so you can, too.
Ready to soirée? Follow these four steps to fête across technical devices and state lines.
Step 1: Draft up a pun-heavy holiday invitation in Gmail. Tailor it for your party and include a Google Calendar invite and link to the Google Meet in the invite. And if you want to keep things extra organized as responses come in, you can make a group and label it "Holiday Party 2021." Pro tip: Set up an automated reminder to go out to your guests 24 hours before the party.
Step 2: Ahead of party time, send a note to guests attending via Google Meet about the itinerary and let them know what they'll need to participate. For instance, if you're hosting a cookie-making party, send the recipe ahead of time. Or if you're going to vote on ugly sweaters, let them know about Meet's hand raise feature and polling features so they can be sure to get their vote in (available with Google Workspace Individual).
Step 3: Make everyone feel like they're together. Whether you host the Google Meet call from your laptop, Pixel or Google Nest Hub Max, you can cast the party to your TV using Chromecast so everyone who's there IRL can get a good view. Ahead of party time, scope out a good spot for the device that's hosting the meeting so those on the other end of the call can see and hear everyone. (And so your virtual guests feel present, include the instructions for casting a call to a TV in the note you send before the big day, too.)
Adding captions to your hybrid get-together is an inclusive, and easy, step.
Step 4: Welcome your guests and make room for all. With Google Workspace Individual, you can show off the hand raise feature so everyone gets a turn to tell a story or joke, enable live captions so all guests can follow the conversation flow easily, and cut out background sounds (like noisy pets!) to reduce distractions. Kindly point out where the mute button is at the start of the party, too. Distracted by the mirror image of yourself on the video call screen? Turn it off with a few clicks! Use the Layout feature so everyone is on the screen at once — no matter where they are.
Step 5: Make it fun! Tap your much cooler niece to create a party playlist on YouTube, and then screen share the tab open to your YouTube playlist for the party. (You can let your guests know they can unpin the shared tile so it doesn't take up the whole screen.) You and your guests can also use a virtual background (you could even upload a festive backdrop like your favorite photo memories!) You can use Google Jamboard — a free-to-use, virtual whiteboard —and play an IRL-meets-online edition of Pictionary.
Step 6: Give thanks. Send a thank you email after the party wraps. If you have a Google Workspace Individual account, you can record the party for your loved ones who couldn't attend live — just make sure to let attendees know ahead of time.
Hope you enjoyed this crash course in hybrid holiday hosting.