What we're looking forward to in 2021 for news
While 2020 is behind us, the challenges facing the news industry are still very much in front of us. Ensuring that people have access to quality news is a core part of our work here at Google — and so is finding ways to support the news industry, whether that is supporting new ways publishers can reach and engage their audience or supporting exploration of new funding models. 
Every month we send 24 billion visits to news sites for free, enabling those publishers to monetize this audience through ads on their site or by converting them to subscribers. We're investing $1 billion in news partnerships and the future of news through our new product, Google News Showcase. In addition, last year we established an Emergency Fund for journalism outlets impacted by COVID-19 and launched a suite of free tools to put the best of Google's search, artificial intelligence and machine learning technology into the hands of reporters. These are just a few of the ways we're working to ensure users can find quality news and to support the news industry. 
As we look ahead into 2021, we asked five members of the Google News team to tell us what they're working on to help create more informed and engaged societies around the world through areas including podcasts, diversity, fact checking, local news partnerships, tools for journalists and user experience design.

Enrica Nicoli Aldini, Publisher Discovery Strategist, on podcasts
"As a journalist by trade and a writer at heart, I love storytelling. And as a Googler working outside of my home country – I am from Italy, and live in the United States – I'm incredibly passionate about helping to amplify the stories of people all around the world. My work on Google Podcasts gives me a unique platform to help connect creators with a global audience.
Hundreds of millions of people listen to podcasts every month. And that number is only growing. When you think of your favorite podcast right now, you can probably hear the host's voice in your head or your favorite intro music. That's because audio is a powerful way for news organizations to tell stories and connect with people globally. This year I'll be working to help people around the world discover new, independent podcasts.
As the audience for podcasts continues to grow, so too is the global creator community and it's important to find new, creative ways to connect them with listeners – for instance, by presenting users with high-quality curated collections of podcasts around topics that they care about. People want to discover great audio content, creators are producing great content and I'm so excited to help facilitate the introduction between the two."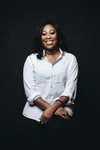 LaToya Drake, Head of Media Representation, on news initiatives
"I've worked at Google for six and a half years, in a variety of roles on the news team here and with news organizations around the world. But my dream job came last year when I recognized that there was a growing need to be more intentional about ensuring we think about representation in our work. Now my role is Head of Media Representation, and I lead Google's efforts to contribute to a more inclusive and equitable media industry. I work hand-in-hand with product teams, and build partnerships that reach and elevate intersectional and often underrepresented voices who may not be fully represented across Google surfaces and the broader media landscape.
Farai Chideya
, a journalist and the Program Officer of Creativity and Free Expression at the Ford Foundation, has spoken about the importance of believing and giving Black and POC editors the authority and roles needed to shape the coverage we see. The same is required of tech companies if we are to play a role in achieving equitable representation across our platforms. This year, I am continuing to ensure that the Google News Initiative sees, hears and engages with a diverse set of voices and narratives in media and technology. That includes aggressively tackling our own blind spots across our news products, being active partners in supporting the pursuit of new ideas through programs like the
Innovation Challenge
and
uplifting
the next generation of leaders, storytellers, and media entrepreneurs."

Alexios Mantzarlis, News and Information Credibility Lead, on fact checking 
"I've spent the past decade working on fact-checking as one antidote to misinformation. While it is no silver bullet, we know from research it can have an incremental positive effect.
Whether it's elected officials or anonymous writers posting on online messaging boards, agents of disinformation will continue to use falsehoods to pursue their goals — affecting our lives and wellbeing. 
This year, the relatively new phenomenon of COVID-19 misinformation has combined with the more longstanding strand of falsehoods around vaccination. For this reason, we launched a $3 million Open Fund to support efforts countering vaccine misinformation, with an eye to reaching audiences that are underserved or targeted by misinformation themselves.
Alongside this work, we are supporting external research into the most effective formats for fact-checking. And we are looking to study our own platforms to better understand in what circumstances fact checks are most useful as context for users trying to figure out fact from fiction."

Megan H. Chan, News Ecosystem Product Marketing Lead, on local news  
"Before joining Google, I worked in newsrooms for over a decade, trying to empower great journalism through strategic audience and technology solutions. From experiences at The Washington Post, Politico, USA Today, to even internships in local news at The Star-Tribune and the Oakland Tribune, I've learned not only how essential the professional practice of journalism is, but how critical it is to reach consumers where they are. 
Journalism is a professional practice that requires a tremendous amount of time, resources, and the right talent to do well. Most importantly, it's an essential service to consumers looking to better understand their communities and find "news you can use."
The global COVID-19 pandemic has deepened that consumer call. It has also hastened the news industry's need to find better sustainable business models. At Google, I work with our teams to prioritize a diversity of efforts including the Local News Experiments Project, in which we partner with news organizations to find sustainable business models, as well as finding ways to help news publishers and reporters from diverse news organizations take advantage of the best of our technology to produce quality journalism.
As a news vet who has seen the power of clearly focused sustainable business models, I keep asking myself important questions to help frame our work here at Google: When we address local news, how can we define it as accurately and inclusively as possible? How can we push ourselves to consider local news across geographic boundaries, cultural communities, language, provenance and authority? These are important questions to ask and answer as we build out tools and resources and I'm excited to dig into them in 2021."

Eryn Taylor, News Research Lead, on engaging users 
"I know I've done my job well when I stay a step ahead of users' experiences instead of catching up on what they need. That means someone pulls out their phone, opens the Google News app and doesn't notice the user experience. It just works! There's nothing extraneous, nothing annoying that got in the way of getting the news. 
The research underpinning this kind of experience is focusing on understanding the intent of our users, how they consume the news and meeting them where they are. This last point can mean so many different things. For me, this means doing research that helps us better understand our users to ensure that their diverse perspectives and content needs are built into the foundation of all the news products that we build. This research can allow us to view users as whole individuals and identify what they need as they consume news, and identify what they are looking to news to fulfill in general, and more specifically, on Google's news products.  
This research will help us to continue to improve on products by defining, standardizing and deploying design principles that aim to elevate the full user experience across Google news products, making news more accessible to all users. One example where you can see the impact of UX research and design at work right now is in our new Google News Showcase product. It's currently launched in Brazil and Germany, but coming to many other countries soon so watch this space!
Ensuring that users have access to high quality news and information has never been more critical, and that's why my priority for 2021 is understanding users and continuing to find ways to elevate their experiences on our platforms."