Go beyond the headlines with Google News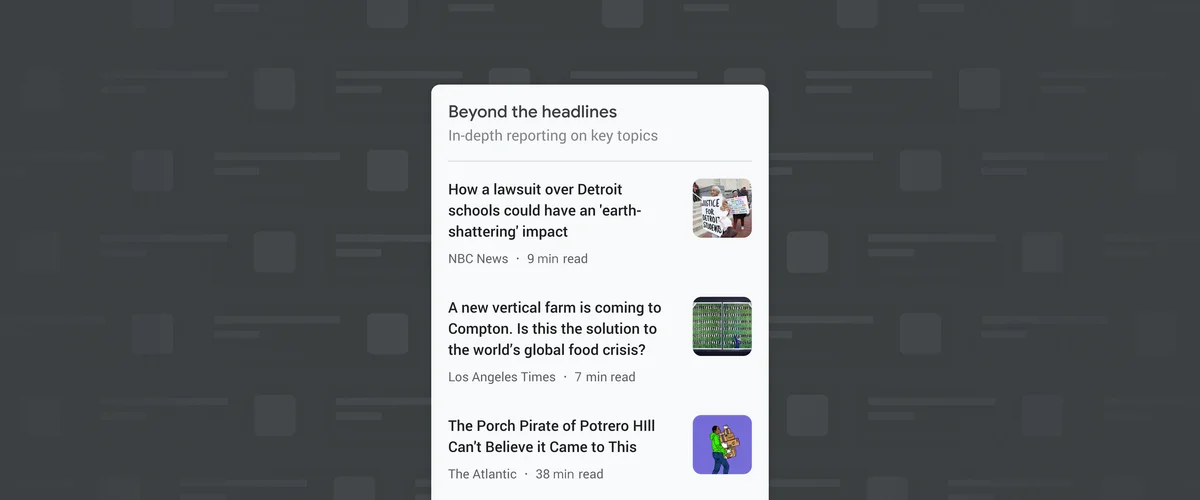 Last year, we redesigned Google News with one goal in mind: to help people understand the world through quality, trustworthy and enjoyable news. Today, we're expanding on that mission by surfacing more in-depth content that highlights and explores key issues in our society.
With Beyond the Headlines in Google News, we want to recognize publishers that are investing in diving deeper into the headlines and moving past the who, what and when to explore the why and how. Keeping these stories visible beyond the fast daily news cycle, Beyond the Headlines connects readers with in-depth articles exploring important issues such as healthcare, the environment, education and more.
Whether you're short on time or ready to dive deep into a topic, Beyond the Headlines will help you manage your time with an estimated read-time feature, letting you know how long it takes to read a story. 
The stories are surfaced and organized using our Google News algorithms. Users can find the feature on the right side of news.google.com, and it is now available on desktop globally in U.S. English. More languages and a mobile version are planned for 2020.