How Google supports partnerships in New Zealand's news industry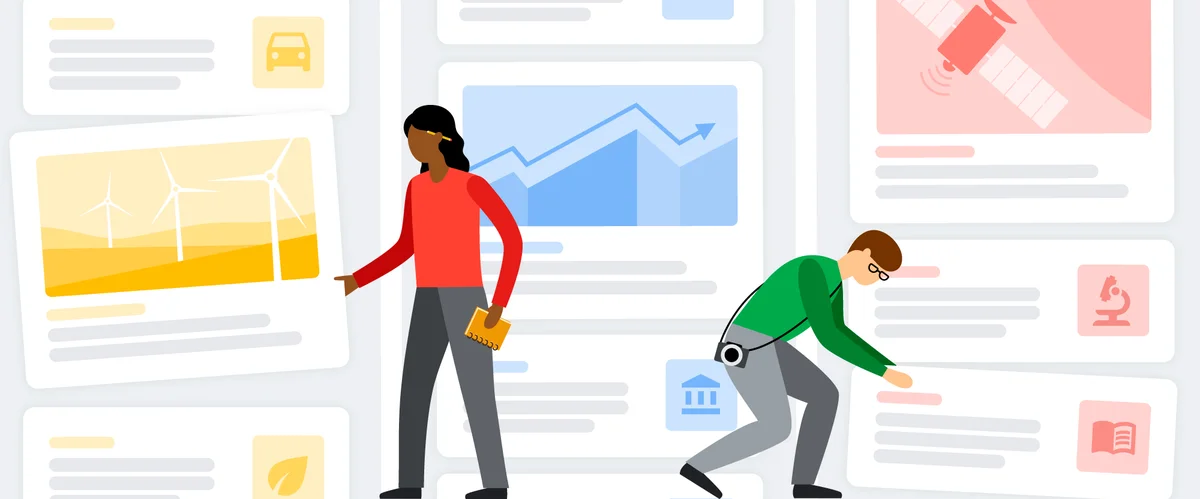 Latest Updates:
October 2023
We're pleased to welcome Newshub, New Zealand's independent broadcast and digital news service, to Google News Showcase, bringing the total number of publications to 49.
Sarah Bristow, Senior Director News, Warner Bros. Discovery ANZ said: "This partnership is a significant step for Newshub, ensuring our brilliant reporting continues to reach audiences where they are, and helping to create a sustainable future for local journalism. We are very pleased to have reached an agreement with Google."
June 2023
"The internet is changing fast, but New Zealand's need for powerful magazine-style journalism is a constant," says Duncan Greive, founder of The Spinoff. "Partnering with Google on News Showcase helps keep our work accessible to new and existing audiences in a superb, purpose-built location. Additionally, it will allow The Spinoff to continue to grow the human-centric technology which underpins our vital public interest reporting and analysis."
"Local Matters is looking forward to joining the Google News Showcase line-up, which will give our community news a much wider audience," Local Matters general manager Jannette Thompson says. "Community publishers work at the very coal face of information dissemination and through News Showcase we will reach more readers with news, events and stories from our neighbourhoods."
Stuff Chief Executive Sinead Boucher said the agreement acknowledges the value Stuff's trustworthy journalism provides to Kiwis all over the motu. "We're pleased to reach terms with Google to ensure our content reaches News Showcase readers," says Boucher.
February 2023
We're pleased to welcome TVNZ, New Zealand's state-owned, commercially funded broadcaster, to Google News Showcase. This brings the total number of New Zealand publications on News Showcase to 24. "Google News Showcase is now another great way for New Zealanders to reach our trusted 1 News content," says Phil O'Sullivan, Executive Editor of TVNZ News and Current Affairs. "Being able to feature our stories alongside the work of our journalist colleagues from a wider media network gives readers a comprehensive general news experience. We see this as a positive step to a strong future for journalism in New Zealand."
Kiwis have more ways to access news and information than ever before. Today, we are announcing major new investments that will continue our support of New Zealand's vibrant and diverse news industry to help people find quality journalism and contribute to the sustainability of news organizations. These investments will also help newsrooms engage their readers in new ways, today and into the future.
Launching Google News Showcase in Aotearoa New Zealand
To support news organizations and readers in New Zealand, we're launching Google News Showcase, our curated online experience and licensing program. News Showcase panels display an enhanced view of an article or articles, giving participating publishers more ways to bring important news to readers and explain it in their own voice, along with more direct control of presentation and branding.
An example of how News Showcase panels will look for some of our New Zealand partners.
Starting today, News Showcase is rolling out in New Zealand with seven news publishers representing more than 20 publications, including national, regional and local news outlets like the New Zealand Herald, RNZ, Crux, Newsroom and Pacific Media Network. This launch builds on News Showcase deals signed with more than 1,700 news publications in more than 17 countries, including Australia, United Kingdom, Japan, India, Germany, Brazil, Italy and Argentina.
News Showcase panels from our New Zealand news partners will begin appearing on Google News on Android, iOS and the web, and in Discover on iOS and Android. The panels direct readers to the full articles on news publications' websites, enabling them to deepen their relationships with readers.
"By helping us build deeper relationships with readers, Google News Showcase will support the development of the BusinessDesk brand, which in turn boosts our editorial operation," says Matt Martel, General Manager of BusinessDesk, a leading business and economy digital publication. "Our relationship with Google is a key factor in growing our newsroom from five to more than 20 journalists."
News Showcase highlights news publishers that are investing in comprehensive public interest journalism, giving them a new way to curate their high-quality content on Google's News and Discover surfaces and bringing essential news coverage to Kiwis looking for it.
"Being able to further highlight the talent of NZME's 300 editorial staff across our newsrooms is a really positive development," says Michael Boggs, NZME CEO. "NZME is strongly focused on transforming our business digitally, and the Google News Showcase partnership supports that focus."
An example of how News Showcase panels will look with some of our partners in New Zealand.
"At RNZ we're huge fans of making sure the brilliant stories from our award-winning journalists reach as many people as possible," says Megan Whelan, Interim Chief Content Officer of RNZ, New Zealand's independent public service multimedia organization. "This new agreement is another way to make sure trusted public media content is available to more people via Google News, and that's definitely a good news story."
Logos of our News Showcase partners in New Zealand
As part of our licensing agreements with publishers for News Showcase, we're also paying participating news organizations to give readers access to some of their paywalled content. This feature means readers will have the opportunity to read more of a publisher's articles than they would otherwise be able to, encouraging them to learn more about the publication — and potentially subscribe.
"Pacific people from all over the world follow the news and journalism of our New Zealand-based newsroom," says Don Mann, CEO of Pacific Media Network, a public interest broadcaster that works to empower Pacific cultural identity. "We aim to be the preeminent Pacific media entity for the Pacific diaspora and our relationship with Google will help us achieve this."
"Crux has already developed a large, loyal local readership, but Google News Showcase will provide our readers with options like the ability to follow their own personal mix of trusted news sources," says Peter Newport, Managing Editor of Crux local news for Queenstown, Wānaka and Cromwell. "We're excited about the opportunity, and we think it's a great initiative in support of strong New Zealand journalism."
Google News Initiative programs in New Zealand
Google News Showcase is just our latest effort to support publishers of all sizes and the news industry in New Zealand. Through the Google News Initiative (GNI) we have been partnering with news publishers around the world to build a sustainable, diverse and innovative news ecosystem. The team offers training, products and funding to journalists and newsrooms to help strengthen their work in the digital age, and has reached more than 800 journalists and journalism students in New Zealand. These high-demand GNI programs provide an introduction to many of the core skills required to run a digital news business, based on the best practices and lessons of other news publishers around the world.
Digital news business fundamentals for news organizations: The GNI Digital Growth Program offers a six-part free business training, consulting and support workshop to help New Zealand news organizations succeed online.
Journalist Training Camp: At Ngā Kete Wānanga Marae marae, 25 journalism cadets representing multiple ethnicities, languages, and the rainbow and disability communities participated in the Te Rito Training Camp, a digital journalism training course with the Google News Teaching Fellow and heard from some of New Zealand's leading journalists.
Digital skills training for journalists: In partnership with Telum Media, open sessions around the country are free for journalists to learn the latest tools and processes to support digital reporting. This includes training on tools like Google's research tool, Pinpoint, which journalists can use to support their reporting and creative data visualization techniques.
Election policy and misinformation tracking: Building on years of support from the GNI for Policy New Zealand, the team's latest iteration will provide a digital tool for journalists to understand and report on ahead of local elections. This creates a database for candidates' key election policies, supporting journalists' ability to track misinformation.
Media literacy for primary school students: In partnership with Squiz Kids, media literacy module, "Newshounds," is a plug-and-play resource for teachers, children and their parents, aimed to empower young people to think critically about the media they consume and give teachers the confidence to teach media literacy in the classroom.
As New Zealand publishers continue to embrace technology to deepen their engagement with readers, we're proud to be strengthening our commitment to working with and supporting publishers in Aotearoa. Through News Showcase, our other News products and GNI programs, we're proud to promote quality journalism and a reliable and diverse news industry.