Understand how COVID-19 is impacting your community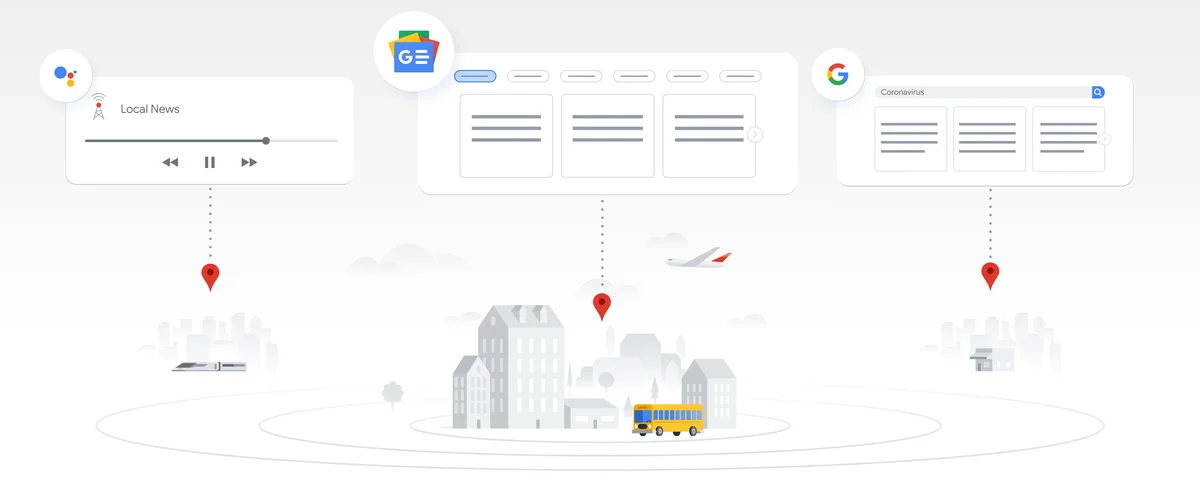 The COVID-19 pandemic is impacting different communities in different ways. As cities and towns across the world respond with local policies and guidelines, the need for timely and authoritative local news and information is paramount. To help people navigate these complexities, we're working across our news products to highlight the latest local guidance and surfacing more content from local news publishers so users can understand how the virus is affecting their community.
Access the latest guidance in your community with Google News
Finding consolidated and trustworthy COVID-19 guidance can be challenging. To help each community be prepared for what's next, the Google News app is piloting a new feature in partnership with local news publishers. We will test this in a few geographic areas in the
COVID-19 special section
of the app, where users can view community reopening timelines, plus updates around business and school openings. They can also see the status of the local healthcare infrastructure, public transportation, events and sections with resources for residents looking for or wanting to help families in need. This feature is available in more than 21 areas, ranging across both small and large newsrooms from The Raleigh News & Observer, NOLA.com, CBS Chicago, Oregon Live and Gothamist. We will also continue to expand our coverage across the U.S. and Canada, and plan to bring this feature to products beyond the Google News app in the future.
Find local information on Search and Google Assistant
We're also working to ensure that reliable local news and information about the coronavirus is easily discoverable in Google Search and Google Assistant. When people look for coronavirus information in Search, they'll see the existing top stories carousel of articles, in addition to a new dedicated local news carousel highlighting timely, accurate news about their community. We've also expanded a new carousel highlighting tweets from local and health authorities so these important and up-to-date announcements are more easily available. This feature is now available in more than 30 countries.
A new carousel in Search surfaces timely, authoritative local news about COVID-19.
With people increasingly seeking out local news to understand COVID-19 in their community, we've seen a significant uptick in people tuning into local radio on Google Assistant. To listen, just ask for your local station by its channel name or frequency on any Assistant-enabled device—say something like "Hey Google, play 1010 WINS" or "Hey Google, play 88.5." With Google Assistant, we're now also able to provide answers to requests for local COVID-19 information in many cities across the U.S. Just say, for example, "Hey Google, play news about coronavirus in Boston" on any Assistant-enabled smart speaker or Smart Display like Nest Mini or Nest Hub Max, and a mix of stories relevant to your community will begin playing. 
The past few months have reinforced the critical role that local news plays in keeping communities informed. Google is dedicated to supporting and promoting local journalism both within and outside of our products. Recently, we provided
emergency funding for more than 5,300 local news organizations
and launched a
Support Local News campaign
to encourage people and businesses to subscribe, donate and advertise across local news outlets in the U.S. and Canada. Through our efforts, we hope to help people and communities continue to safely move forward with up-to-date and trusted local information.