Magic Editor in Google Photos: New AI editing features for reimagining your photos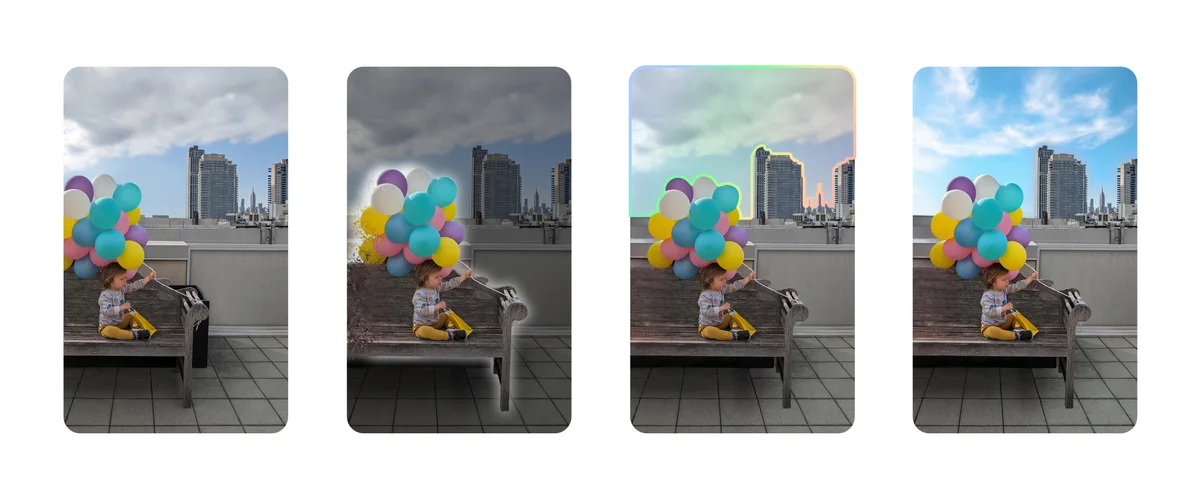 Since its launch in 2015, Google Photos has used AI to help you get the most out of your memories — from automatically organizing and resurfacing your photos to helping you edit them with advanced tools like Magic Eraser and Photo Unblur. Today at I/O, we gave a sneak peek of Magic Editor, a new experimental editing experience that uses generative AI to help you reimagine your photos and make editing even easier.
Reimagine your photos with AI
With Magic Editor, you'll be able to make complex edits without pro-level editing skills. Using a combination of AI techniques, including generative AI, it will help you make edits to specific parts of an image — like the subject, sky or background — so you have even more control over the final look and feel of your photo.
Sometimes the difference between a so-so picture and the perfect shot comes down to getting the framing just right. Magic Editor will help you improve the overall composition of your photo by allowing you to reposition the subject of your shot to the best spot.
For example, if you're trying to get the perfect photo from your time at a popular waterfall, you could remove the bag strap you forgot to take off. You could also make the sky brighter and less cloudy, so it matches how you remember that day. And for a finishing touch, relocate and change the scale of your subject so they're perfectly lined up under the waterfall.
Using Magic Editor, you'll also be able to create new content to fill in the gaps after repositioning your subject. Take this picture of a boy on his birthday. It's a good photo but it could be better if he was front and center. With the power of generative AI, you can create more of the bench and balloons to fill in those gaps, and they'll blend seamlessly into your photo. The end result? A stunning shot that captures the feeling of his big day.
The future of editing in Google Photos
We plan to give select Pixel phones early access to Magic Editor later this year. While this new, experimental technology will open up exciting editing possibilities, we know there might be times when the result isn't exactly what you imagined. Your feedback will be important in helping us improve it over time so you can get the best edits possible.
Over the past few years, AI has simplified complex photo editing tasks, allowing you to easily enhance your memories and get creative with your editing. And with these tools, you all collectively edit 1.7 billion photos each month — right in Google Photos. Magic Editor will take the editing experience to the next level, and we can't wait to see how you turn your photos into something even more stunning and special to you.