Your photos, your memories, your way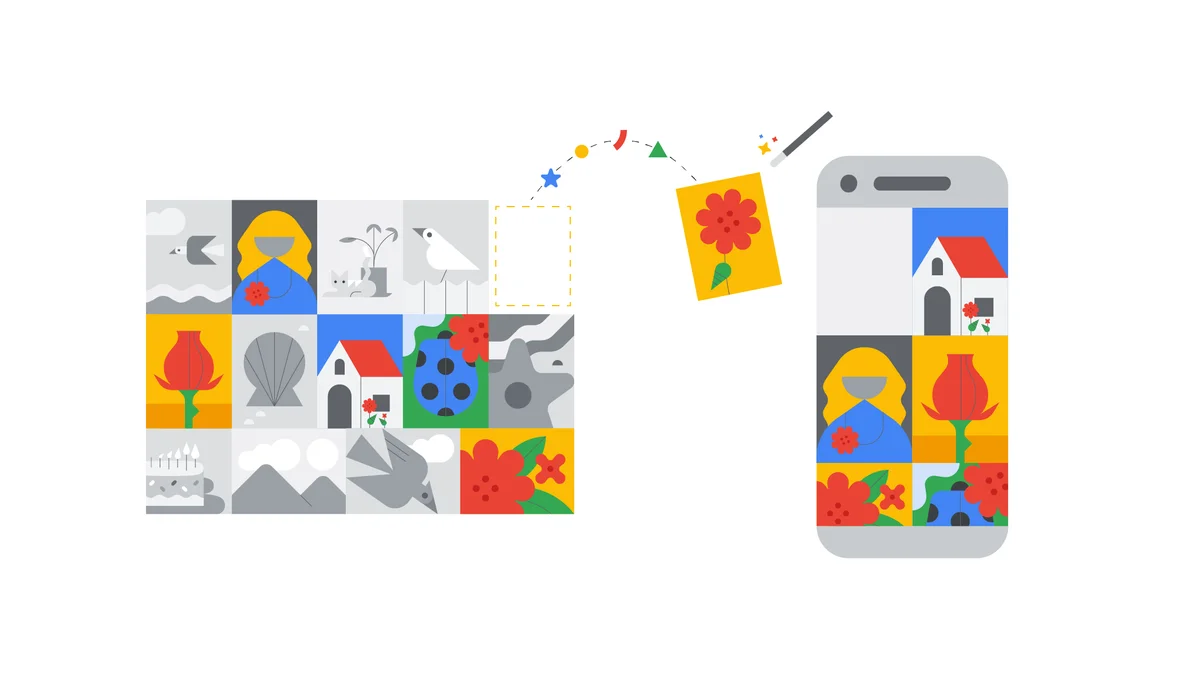 We capture photos and videos so we can look back and remember. But having all your photos — of loved ones, screenshots, selfies — mixed together makes it hard to rediscover important moments. In fact, most of the 4 trillion photos stored in Google Photos are never viewed. 

To make it easier to look back, we're using AI to power new features that resurface meaningful moments and bring your memories to life — while giving you control over what you relive. 
New types of memories, personalized to you
With Memories, you can already look back on important photos from years past, recent highlights, moments with your loved ones, your favorite activities and more. Using machine learning, we can now go beyond resurfacing photos based on themes to doing so based on not-so-obvious visual patterns in your photos. Starting later this summer, when we find a set of three or more photos that share things like shape or color, we'll highlight these little patterns for you in your Memories. For example, one of our engineers received this collection featuring photos he snapped of his favorite orange backpack.
On their own, these photos may not be the most meaningful, but when you see them all together, they tell a story — your story. As always, they're private and only visible to you.
Later this year, you'll also see new types of Memories of the moments you celebrate, whether that's Diwali, Lunar New Year,  Hanukkah — which my family celebrates — or something else. These Memories will show up as you scroll through your photo grid, along with new Best of Month Memories and Trip highlights, which are starting to roll out today. 
Bringing your photos to life
Last December, we launched Cinematic photos, which use machine learning to create vivid, 3D versions of your photos. Taking this a step further, we're using computational photography to really bring these  memories to life.
When you're trying to get the perfect photo, you usually take the same shot two or three times — trying to get all my kids smiling and looking at the camera at the same time is a challenge to say the least. Using neural networks to synthesize the movement between two nearly identical photos and fill in the gaps with new frames, we can create vivid, moving images called Cinematic moments.
Best of all, Cinematic moments can be created with any pair of nearly identical images — whether they were captured on the latest smartphone or scanned from an old photo album. Creating this effect from scratch would take professional animators hours, but with machine learning we can automatically create these moments and bring them to your Recent Highlights. 
Control what Memories you want to see
Not all memories are worth revisiting. Whether it's a breakup, a loss or some other tough time, we don't want to relive everything. We specifically heard from the transgender community that resurfacing certain photos is painful, so we've been working with our partners at GLAAD and listening to feedback to make reminiscing more inclusive. Google Photos already includes controls to hide photos of certain people or time periods, and we're continuing to add new ones to improve the experience as a result of this continued partnership. Later this summer we're making these controls easier to find, so you can choose what you look back on in just a few taps. 
We're also adding more granular controls for Memories in your grid — starting today, you'll be able to rename a Trip highlight, or remove it completely. And coming soon, you'll be able to remove a single photo from a Memory, remove Best of Month Memories and rename or remove Memories based on the moments you celebrate.
We're also introducing Locked Folder — a passcode-protected space where you can save photos separately, so they won't show up as you scroll through Google Photos or any other apps on your device. Locked Folder will be available first on Google Pixel, and arrive on more Android devices throughout the year. And on Pixel, you'll even have the option to save photos and videos directly to your Locked Folder right from the camera.
With Google Photos, AI-powered features help you look back and enjoy your memories by bringing them to life in new ways — and you can do it all on your own terms. Looking back is important, and incredibly personal. Relive the moments you want to, how you want to, with Google Photos.