3 ways to share your favorite memories with Google Photos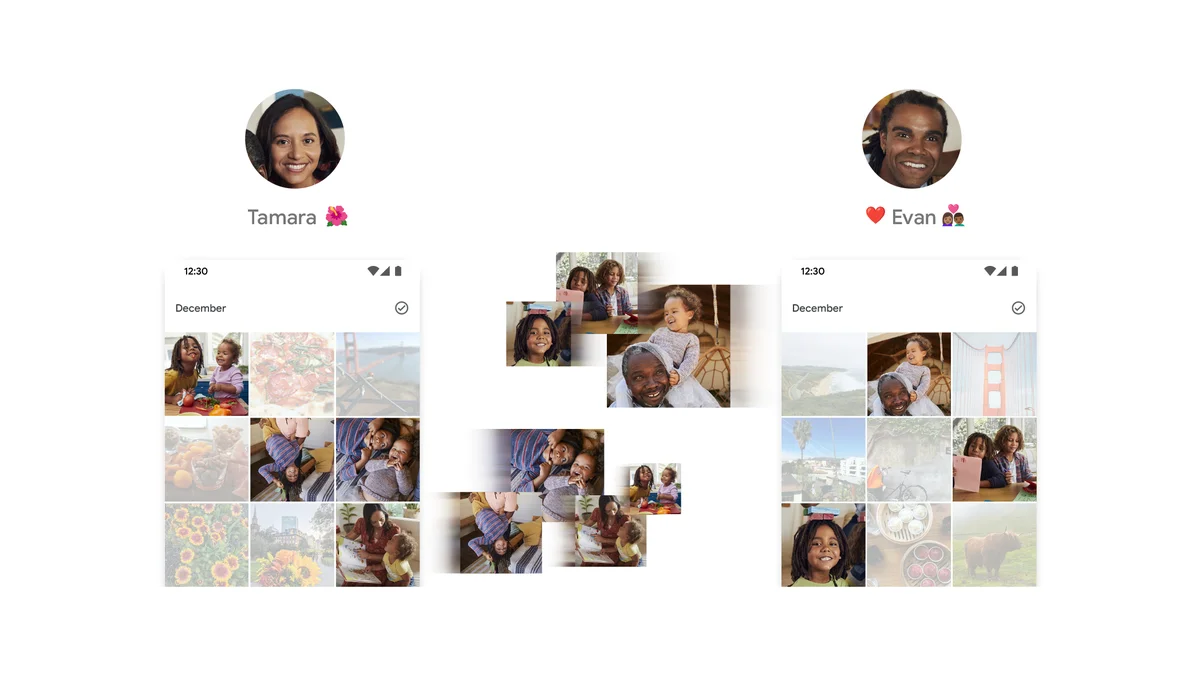 With holiday gatherings and travels in full swing, chances are you're going to take a lot of photos and videos. In fact, historically we see as much as a 25 percent increase in photo and video uploads over the holidays. Google Photos can help you share those memories with your family and friends, no matter what phone they have.
Not sure where to start? Here are three ways to share photos and videos using Google Photos:
Create shared albums that work across all your family and friends' phones
The holidays bring all sorts of shared moments and special occasions where multiple people are taking lots of photos and videos. But getting all those photos and videos together for everyone to enjoy can be a challenge, especially if the special people in your life are split across Android and iOS devices. With shared albums in Google Photos, all your friends and family can view, comment, like and add photos and videos to one album regardless of the phone they use.
Google Photos also makes it easy to automatically add photos of specific people or pets1 to a shared album, so you don't have to keep manually adding photos. For example, I just set up a shared album to automatically add photos and videos of my kids so their grandparents don't miss a moment. At the end of the holiday season, you can choose to stop automatically adding photos to the shared album or leave it on to share your adventures all year long.
Use partner sharing to share all your memories with the one you're closest to
If there's one special person in your life you want to share all your precious moments with — beyond the special occasions — we've got you covered. Set up partner sharing to automatically share your photos and videos with that person. You can choose to share all your photos, or only photos of certain people1 or from a specific date forward. And of course, you can change your partner sharing settings or stop sharing at any time.
Your partner can view photos and videos you share with them in the sharing tab, or they can save them to their library so they show up right next to everything else they capture. And, any photos and videos they save won't count against their storage quota, as long as you continue sharing those photos and videos with them through partner sharing. Plus, your partner can choose to share their photos and videos with you too, so you can enjoy all the same benefits. It's the gift 🎁 that keeps on giving!
Share your curated Memories with others right in Google Photos
In addition to offering easy ways to organize your content, Google Photos uses machine learning to intelligently resurface your past photos and videos through the Memories carousel at the top of the Photos app. Every time you open Google Photos, you can easily look back on photos from years past, recent highlights, moments with your loved ones, your holiday celebrations and more with just a few taps.
But have you ever viewed a Memory in Photos and immediately thought of someone you want to share it with? Well, you're not alone, sharing Memories in Google Photos was our number one requested sharing feature! As you reminisce and dive back into holidays past, you can share the entire Memory in just a few taps. Best of all, whoever you share it with can view and enjoy it as a story right from Google Photos on Android or iOS. And even if they don't have Google Photos, they can still view shared Memories via a link.
Here's to more ways to stay connected and get the most out of your memories this holiday season.