One-tap actions and more places to experience Google Photos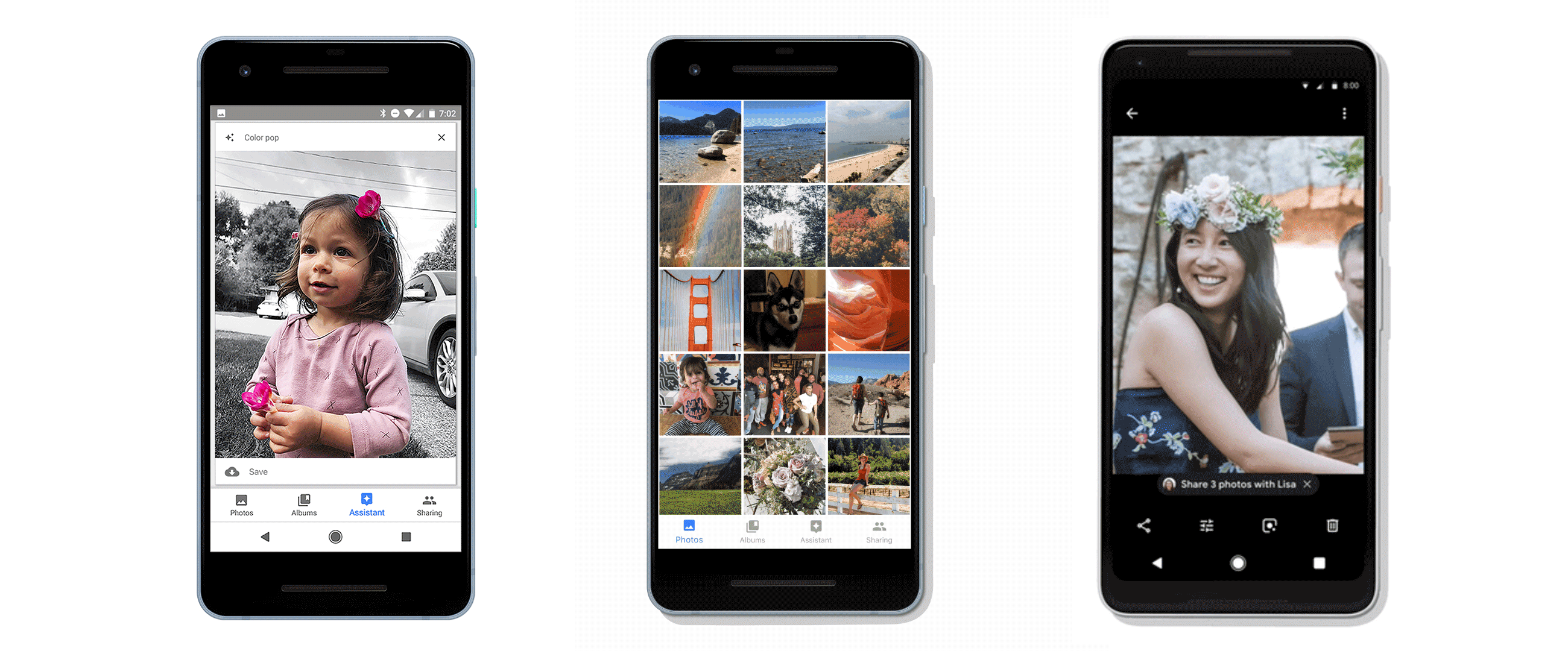 Three years ago, we introduced Google Photos as a home for all of your pictures and videos, organized and brought to life. Today, we're announcing a few new ways you can get even more out of your favorite memories.

Take action on your photos, right as you view them
People look at 5 billion pictures in Google Photos every day, but there's more to do with your photos than just view them. You might want to share a photo with a friend, brighten a dark picture, or hide a screenshot from your library in just a few taps.
Today, you'll start to see a range of suggested actions show up on your photos right as you're viewing them, such as the option to brighten, share, rotate or archive a picture. These suggested actions are powered by machine learning, which means you only see them on relevant photos. You can easily tap the suggestions to complete the action.

See your photos in a new light
Starting today, you may see a new photo creation that plays with pops of color. In these creations, we use AI to detect the subject of your photo and leave them in color—including their clothing and whatever they're holding—while the background is set to black and white. You'll see these AI-powered creations in the Assistant tab of Google Photos.
As mentioned in the keynote at I/O, our annual developer conference, we're also working on the ability for you to change black-and-white shots into color in just a tap.  
Experience Google Photos in more places
People interact with their photos across different apps and devices. As we work to make it easier for you to do more with the photos you take, we also want to make sure these moments of convenience extend beyond the Google Photos app and web experience. Maybe you'd like to enjoy your photos through a connected photo frame in your living room or save the funny moments from a photo booth. We think it should be easy for you to safely access and organize those photos, too.
That's why we're introducing a new Google Photos partner program that gives developers the tools to support Google Photos in their products, so people can choose to access their photos whenever they need them. Look for apps and devices that work with Google Photos in the coming months.
Three years in, and we're as excited as ever about making Google Photos the easiest, fastest and most useful home for a lifetime of photos and videos. We look forward to bringing you more helpful ways to experience those memories.