10 things I noticed after switching to Pixel Buds Pro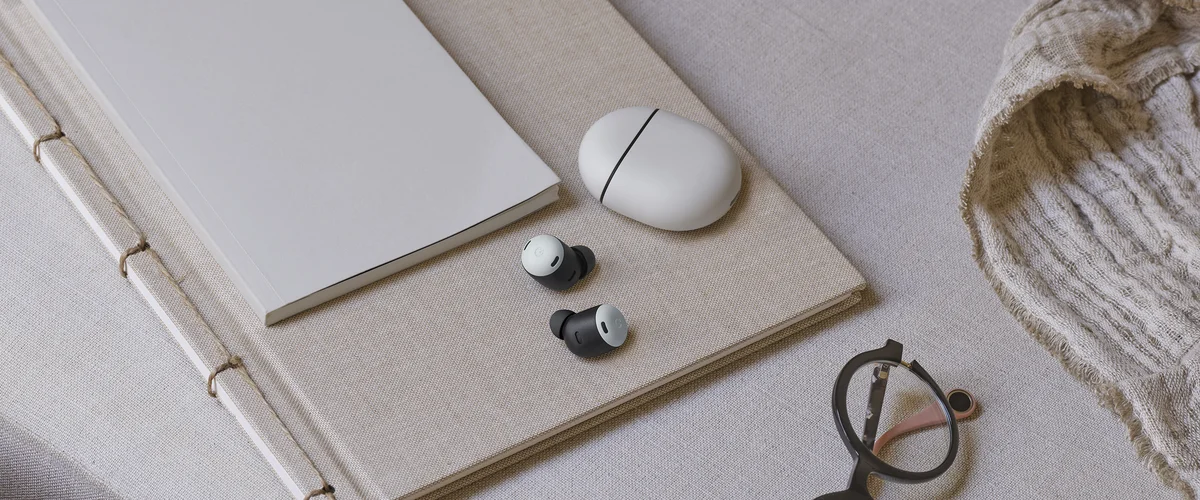 I'm a big earbuds person. On any given day, I might use them to tune into audiobooks during my noisy commute, connect to work meetings, catch up with my family and listen to music during jogs with my dog. When I recently found myself in need of a new pair, I decided to make the switch and try out the Pixel Buds Pro. Here are 10 things I noticed — and loved — in my first two weeks with my new buds.
1. I connected to my buds in seconds.
One of my biggest gripes about getting new devices is the time it can take to set them up. But getting started with my new Pixel Buds Pro took less than a minute. I simply opened the charging case — from there a notification appeared to connect the earbuds. I was also able to connect easily to other devices on different operating systems, like my laptop, by pressing and holding the pairing button on my case.
2. The eartip seal check personalized my fit.
Every time I get a new pair of earbuds, they're either too big or small, make my ears throb or just fall out. My Pixel Buds Pro came with three differently sized eartips to test and I found the eartip seal check during setup super helpful. The check automatically detected and measured how the buds fit me and suggested I try a different eartip size in my right ear. I also love that since they're designed to be comfortable and actively relieve the "plugged-ear" feeling that can happen with earbuds, I can easily wear them for hours.
The eartip seal check personalized my setup.
3. I can use my buds to find my phone and vice versa.
I can be a bit forgetful and often misplace things, including my earbuds. Something I really appreciate about the Pixel Buds Pro: I can just hit "find my device" in the Pixel Buds app and ring the right bud, left bud or both depending on which one I'm missing. I can also use my buds to find my phone by saying, "Hey Google, find my phone" while my buds are in, and my phone will start to ring.
I found my lost buds in seconds.
4. My buds can translate real-time conversations into 40 languages.
While I've got some French basics down, I'm far from being able to have a full conversation with a native speaker. Recently, on a trip to Montréal, I used the Google Translate app on my Pixel phone, along with my Pixel Buds Pro to converse with the locals. All I had to do was say to my phone, "Hey Google, help me speak French'' to launch conversation mode. Then I just pressed and held an earbud and spoke in English. When the native French speaker was ready to respond, I tapped the microphone button on my phone. When they responded, the translated message played directly into my buds. My Pixel phone can also read the translation out loud.
Translated messages play directly into Pixel Buds Pro.
5. I can switch between two paired devices in seconds.
Unpairing my phone so I can connect to my laptop and vice versa wastes time. With multipoint connectivity, these buds automatically switch between two concurrently paired devices — including laptops, tablets, TVs and Android and iOS phones. This means when I'm watching a YouTube video on my laptop with my buds in and suddenly get a phone call, my buds will automatically switch to my phone when I pick up.
6. I can go fully hands-free on runs.
One of my favorite things to do is go for runs in the park with my very energetic dog. When we hit the pavement, I always listen to music to motivate me. But I also need to be ready to use my hands to keep my dog from darting at other pups (and squirrels). With Google Assistant, I can just say, "Hey Google, next song," and my music changes without me having to grab my phone. I'm also able to use voice commands to make calls, check and send messages and quickly find out how much battery is left on my buds. As a bonus, the buds are sweat- and water-resistant, making them perfect for workouts.
When beats meet paws — testing my Pixel Buds Pro with my running buddy, Frani.
7. The long-lasting battery keeps up with me.
Nothing grinds my gears more than when my earbuds die, and it always seems to happen at my favorite part of a song or when I'm on an important call. Thankfully, with a full battery, these buds last 11 hours on average with noise canceling off and about seven hours with it on. I also like that with the charging case, I can get up to 31 hours without plugging them in once. And at home, I can just put the case on the wireless charger I already have for my phone.
8. I can trigger a bunch of actions with a touch.
The round outer piece of the buds does more than show off fun colors (my personal favorite is Coral). Depending on the way I touch that outer piece, each bud can increase or decrease volume, play and pause music, go to the next track and reject or answer calls. I can also customize the touch and hold action to set the right and left earbuds to toggle between Active Noise Cancellation and Transparency Mode, or talk to Google Assistant.
Control buds by simply swiping, touching, tapping and holding.
9. I've got cinema-style sound right in my ears.
I always say the best part of going to the movies (other than the popcorn) is the sound quality. I love feeling like I'm part of the action, and I get that same feeling in my earbuds with spatial audio. It delivers surround sound so it feels like a helicopter is behind me while I'm watching a movie.
10. My family and friends hear me clearly on calls.
When I'm catching up with family and friends on the phone, I walk around the city, tidy up at home or make dinner at the same time. With these buds, I'm still able to chat and be heard clearly no matter how noisy my environment is.