26 helpful Pixel Tablet tips and features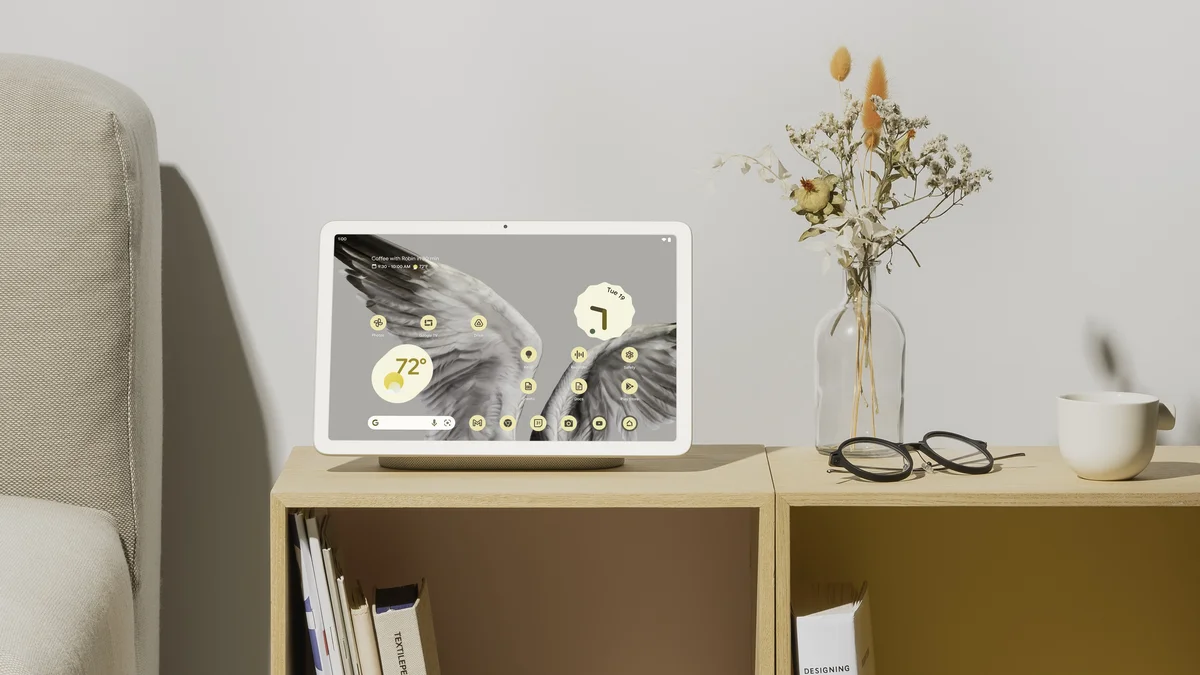 The Google Pixel Tablet, designed to be helpful in your hand and your home, is available starting today. Built with the latest Android features, powerful Google Tensor G2 chip and our iconic Pixel design, our goal was to create a tablet you won't just forget in a drawer. It comes bundled with the Charging Speaker Dock for $499 at the Google Store and other retailers.
To get you started with your Pixel Tablet, here's an A-Z list of helpful Pixel Tablet tips and features:
Always charged and ready: The Charging Speaker Dock automatically charges your tablet when it's docked, so it can be useful 24/7.
Boundless battery life: Pixel Tablet's battery lets you stream shows, make video calls and play games for up to 12 hours on a single charge, thanks to Tensor G2. The tablet also learns your favorite apps so you don't use power on the ones you don't need. And the included dock is made to help extend the battery's overall lifespan.
Cast your favorite media: Thanks to built-in Chromecast, you can cast your favorite shows or songs from your phone to your docked tablet — or from the tablet to other Cast-enabled devices like TVs.
Do more: Tensor G2 makes multitasking fast and efficient. Swipe up from the taskbar and drop your favorite apps to either side of the screen for a split screen view. And you can drag and drop content from one app to another — making editing slides, composing docs and writing emails easier.
Edit your photos: Editing tools like Magic Eraser and Photo Unblur in Google Photos are even easier to use on the large tablet screen.
Fingerprint Unlock: For added security and convenience, use your fingerprint to unlock your Pixel Tablet.
Google TV: The Google TV widget curates content based on your preferences, letting you browse personalized recommendations and watch shows and movies you love from your favorite apps.
Hub Mode: While the tablet is docked in Hub Mode, your Pixel Tablet becomes a smart home controller, music and entertainment player, voice-activated helper or digital photo frame.
Includes frequent updates: Just like the Pixel Watch and Pixel phones, Pixel Tablet gets three years of Feature Drops with software updates full of new and improved features, tricks and tips.
Joint control: With Hub Mode, anyone can speak to Assistant and play videos, stream music and more on Pixel Tablet.
Kids Space: Enter a mode with content to help kids discover, create and grow. You can also set boundaries and parental controls (e.g., screen time limits) with the Family Link app.
Listening experience: Put your Pixel Tablet on the Charging Speaker Dock to play music with four times the bass as the tablet on its own.
Multiple users: Set up multiple profiles so each user on your tablet has a portal to their own apps and content, as well as an individual pin and fingerprint unlock.
Nearby Share: With Nearby Share, you can quickly and securely share photos, videos, contacts, links and more between your Pixel Tablet and other nearby devices.
Options, options, options: Personalize your tablet's interface with your favorite color themes thanks to Material You.
Protect your tablet: The premium Pixel Tablet Case features a flexible metal ring stand for propping up the tablet at different angles and doesn't need to be removed for docking and charging.
Quick help: With Google Assistant built into the tablet, you can use just your voice to play a song or video, get answers from Google, turn off the lights, set timers and more.
Relive your memories: Set your screensaver like a digital photo frame to display your favorite pictures from Google Photos. Or you can branch out and choose from Photos' ready-made screensavers showing art and photography, clocks and more.
Safe and secure: Pixel Tablet is the first tablet protected by the certified Titan M2 security chip, and it comes with five years of security updates.
Turn up your music: In the Google Home app, you can create a speaker group with your Charging Speaker Dock and other speakers/displays, and then cast to the group to fill your whole home with music.
Use your voice to type: With Pixel Speech and Tensor G2, Assistant voice typing on your tablet is nearly three times faster than tapping out words on a screen.
Video calls: We've brought the Google Meet app experience to Pixel Tablet with a HD video calling, automatic lighting adjustments, 360-degree backgrounds and continuous framing with Tensor G2.
Widgets: Customize the look of your tablet with widgets, like the clock widget you can personalize with various colors and shapes, depending on what strikes your fancy.
Xperience immersive entertainment: The tablet's 11-inch screen can stream your favorite movies, shows and beyond — all with brilliant colors and sharp resolution.
Your home at your fingertips: The new home panel on Pixel Tablet gives everyone in your household quick, one-tap access to Google Home directly from the lock screen or quick settings.
Zip between apps: The large screen also makes it simple to toggle between your favorite apps, which still look (and work) great on Pixel Tablet.