Stay connected with the Pixel 7 and Pixel 7 Pro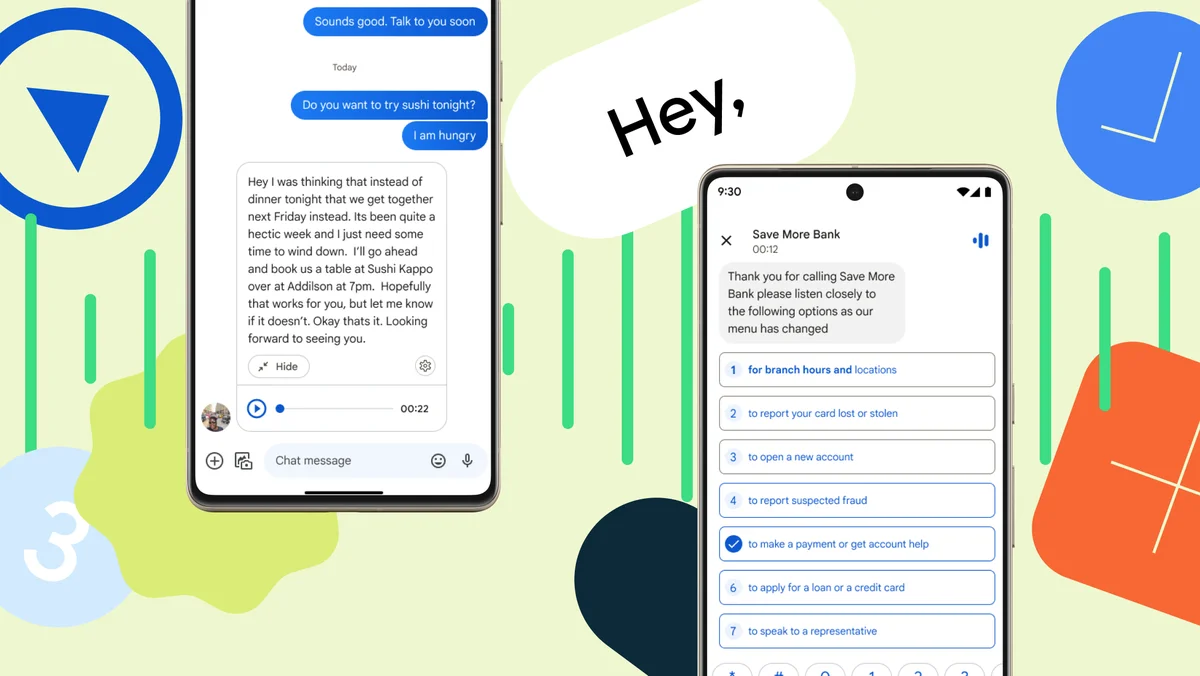 With phones getting smarter and faster every year, it's easy to forget why we ever started carrying them around in the first place: phone calling and texting. Let's take a look at the newest Messages and Phone features on Pixel 7 and Pixel 7 Pro that make it easier than ever to stay connected.
Never miss a moment with the people you care about
Ever receive a voice message on Messages during study hours at a quiet library, or in the middle of a loud party? Pixel 7 and Pixel 7 Pro will now transcribe them for you. You can stay in the loop without distracting your peers or plugging your ears to hear over the crowd. Voice message transcription is available in English, Japanese, German and French, and will roll out to more languages and devices in the coming months.
And Pixel 7 and Pixel 7 Pro use RCS, the modern industry standard for messaging, which enables features like high-resolution photo and video sharing, read receipts, emoji reactions and end-to-end encryption. RCS is already adopted by most of the mobile industry, and now we're calling on Apple to #GetTheMessage and adopt RCS to make messaging better for everyone.
It can be frustrating when you can't hear the person on the other side of an important phone call, like when you're on a work call with your team, or while Mom's giving you directions to the family reunion. So we improved the audio experience for Pixel 7 and Pixel 7 Pro users with Clear Calling, rolling out in the coming months. It uses machine learning to automatically filter out background noise and enhance the voice on the other end of the line, so it's easier to hear the person you're talking to, even if they're on a windy street or in a noisy restaurant.
If you have your hands full, you can send and receive calls and messages from your Google Pixel Watch too. The watch works with your phone to display Caller ID and spam warnings from incoming callers, so you don't have to pull out your phone every time it rings. Plus, your watch will intelligently route the audio where you want it. So if you're listening to a podcast on your Pixel Buds Pro and you answer a call from your watch, no problem — the audio will automatically connect to your earbuds.
Save time when you call a business
Pixel solves some of life's most tedious tasks by using Google's AI to make your phone calls more helpful.
Direct My Call, powered by Google's Duplex technology, helps you navigate automated phone menus by transcribing the menu options and showing them on your screen for you to tap, so you don't need to listen to or memorize them. Since launch, it has helped Pixel users navigate over 50 million calls with businesses. The new Pixel 7 and Pixel 7 Pro take this even further by showing you the menu options right away, before they're even spoken, so you get to the right department even faster.
You can expect to see the menu options ahead of time when you call many of the most popular toll-free numbers in the U.S., and we're bringing this experience to more business numbers over time.
Security by design
We know privacy is top of mind for Pixel users. That's why we designed these features to work on your Pixel device itself – the audio data never leaves the phone or is sent to anyone, including Google, unless you explicitly decide to share it to help improve these features. Your conversations stay private.
Together with existing features like Call Screen, Wait Times, and Hold For Me, these updates on the new Pixel 7 and Pixel 7 Pro help you communicate and connect, whether by avoiding missing key moments with those closest to you, or by saving your precious time and patience, so you can focus on more important things in your life. Both devices launch today.