Pixel
10 design details you didn't know about in our new hardware lineup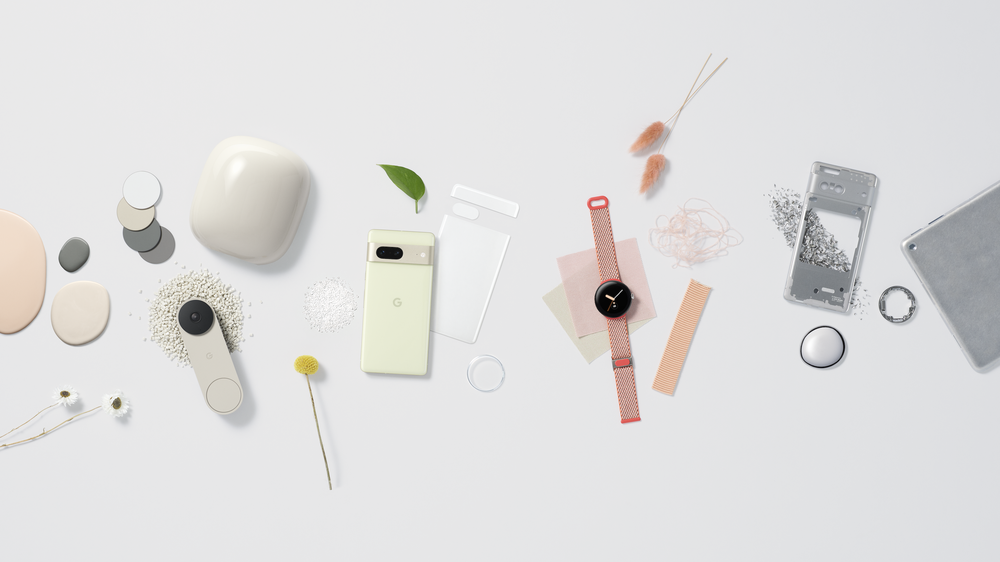 "Design is about solving problems," says Ivy Ross who leads the team that creates how a Google product — including new products announced today at our Made by Google event — looks, feels and acts when you hold it in your hands. When designing this new line of products her team had to solve a whole host of choices — from designing a WiFi router you actually want to put on your shelf to deciding what Google's first-ever watch should look like.
We chatted with Ivy — along with Isabelle Olsson, who leads design for home and wearable products and our team that develops colors, materials and finishes for hardware products, and Claude Zellweger, who leads industrial design for Pixel phones — to get the scoop on 10 design details in our latest hardware products that were made with you in mind.
Image of a woman holding the new Pixel phone up to her ear and wearing a watch in a matching color

The Pixel 7 in the new energizing Lemongrass color.

Close up of two phones showing the front and back cameras

The horizontal camera bars blend into the frame.

The edge of the Pixel phone tapping up against the Google Pixel Watch face.

Color combos and finishes you can coordinate across products.

A silhouette of the Google Pixel Watch set agains a light pink background

Inspired by water droplets, the smooth domed glass face of the Google Pixel Watch.
Colors to calm you
Pixel 7 Pro comes in a fresh new color: Hazel. The nature-inspired greenish hue is soothing, and the warm gold metal finish adds some polish. The Pixel 7 comes in a new energizing color: Lemongrass. "We wanted to create colors that are calming, yet also surprising," Isabelle says. If being matchy-matchy is the kind of look that calms your mood, you'll be happy to see matching color combos and finishes across products.
Line up the lenses
Both phones have horizontal camera bars that now blend seamlessly into the frames — and the aluminum in the housing and camera bar is 100% recycled content.1 This simplified design reduces the number of parts to make the phone, and just feels better in your hand thanks to its fluid and smooth surfaces. "At the core of it, we wanted to bring more emphasis to the camera," Claude says.
Silky to the touch
Pixel 7 has a silky smooth feel thanks to our new zirconia-blasted matte finish. Meanwhile, Pixel 7 Pro has a high-polished aluminum finish that takes inspiration from jewelry and watches.
You bezel believe it
The phones feature a bezel that's even thinner than the Pixel 6 phones. With a thinner bezel — which is the frame on the front of the device that isn't the screen — you can look at more content that's relevant to you as opposed to extraneous borders.
A smartwatch dripping with inspiration
Inspired by water droplets, the smooth domed glass face of the Google Pixel Watch keeps it from snagging on your shirts or sleeves. But that design choice was more than just a functional one. "A smartwatch first and foremost is a watch," says Ivy, who pulled from her background as a jeweler and her love for collecting traditional watches to help design this watch. "The round design represents the ancient shape of time and balances the fact that we fit all of the modern smarts of Google and health and wellness features from Fitbit into the watch."
The Google Pixel Watch with a soft green band against a green background

The Google Pixel Watch up close.

An overhead shot of watch bands in the process of being designed

The team thoughtfully chose materials and colors for the watch bands.

A line of images showing how a plastic fork ends up as a watch band

The woven band accessory is made with recycled materials .

The Nest Wifi Pro sitting on a shelf

The Nest WiFi Pro is designed to look good out in the open.

A photo of the hardware portfolio in neutral colors

The neutral tones and subtle hues match any vibe.

A close up of the Nest Wifi Pro showing the soft edges and high-gloss finish

The high-gloss finish was inspired by ceramics and glassware.
Bands that click with any mood
From casual to formal to active, there's a watch band designed for all your moods and needs. Plus, according to Isabelle, the way the bands click into place to attach is incredibly easy and satisfying.
A color combo to rule them all
To get the perfect mix of colors for the woven fabric watch band accessory — which is made of recycled plastic yarn2 — the team tested at least 200 different color combos in one week. The result is a band that looks simple and understated from far away, but catches people's attention up close.
A shelf-worthy design
You'll want to give some countertop real estate to the new Nest WiFi Pro, which was designed to look good out in the open. "The areas where WiFi routers go — like countertops, side tables and shelves — usually have beautiful collected items from people's lives like a flower vase, a sculpture or a stack of books," Isabelle says. To make sure the Nest WiFi Pro fits in with people's treasured objects, the team chose a high-gloss finish — inspired by ceramics and glassware — and subtle hues that match any vibe.
Good things come in small packages
You might notice that the Pixel phone packaging has less plastic — the packaging is now 99% plastic free. The team ditched extraneous materials and created a box the phones fit safely and snugly inside.
Sustainability as the guide
From choosing recycled materials for our packaging and products to coming up with designs that create less waste and are built to last — sustainability is built into so many of the decisions our designers make. Because of these thoughtful choices, we've used even more recycled materials in our newest products, like the Nest Wifi Pro which is made of more than 60% recycled materials. And it doesn't stop here. By 2025, we aim to use recycled or renewable materials for at least 50% of the plastic used across our hardware products. And we're on track to eliminate plastic from our packaging by that same time. Each of these goals is another challenge our design team is ready to tackle.