8 ways Google tools help me care for my pets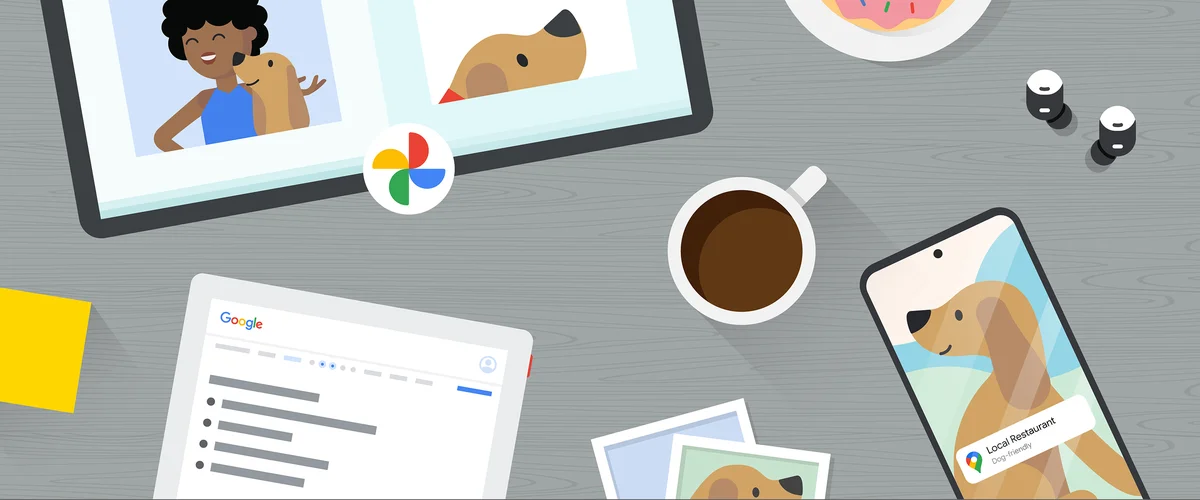 They are two very important members of my family. They also occasionally have a foster pup hanging out with them, so you could say I'm something of a professional dog owner at this point.
During my years as a pet owner and lover, I've frequently turned to several useful Google tools to help me keep the four-legged inhabitants of my home happy and healthy — and I've learned a few tricks to help make my life as a pet owner easier. If you also share your home with non-human loved ones — whether dogs or cats; furry, feathered or scaly — you might want to give these eight tips a try.
1. Easily find and save pet-friendly spots in Google Maps
I keep a handy list of dog parks and dog-friendly businesses in Google Maps. Whenever I pass one in real life or see it on Google Maps, I hit the "Save" icon and add it to my "dog spots" list so I can quickly and easily find these spots when I'm out and about. This is also incredibly helpful ahead of road trips I bring my pets on.
You can also search phrases like "dog-friendly restaurants near me" within Google Maps, and add those options to lists. This type of search works for things like hotels or businesses, too.
2. Keep a database of pet portraits in Google Photos
There are a couple of ways to find all your pet's pictures quickly and easily in Google Photos. First, you can rely on Google Photos AI, which automatically groups photos where the same person or pet's face appears. So you should actually have a collection of your pet's pictures ready for you (that is, if you have a handful of photos…which I certainly do). But you can also search for "dogs" or "cats," and it will pull all of the images right up for you. You can even search using your pet's actual name in Google Photos if you label your pet first. (Especially helpful if you have more than one pup, like myself!) To do this, head to your settings, find "group similar faces" and turn on "show pets with people." Then go to the Search tab, tap on People & Pets, find your furry friend and label their group so you can find them by name. Over time, Google Photos will become an expert at finding and labeling your pet.
3. Order prints and albums of your favorite pet pics in Photos' Print store
Once you've got your pet labeled in Google Photos, it's easy to pull any (or all) of those images into a photo book — just click "Print store" within Google Photos. I have so many images of pups that Google Photos even suggested a "Dog Diary" album for me. And if you want to adorn your home with pictures of your dog's (or cat's) perfect face, you can also order photo and canvas prints from the Print store.
4. Use Google Assistant for quick access to your vet
If you have a Pixel phone, you can set up a shortcut for Google Assistant to make a call to your vet from your device in case of an emergency. To do this on your phone, search "shortcuts" in your Pixel's settings and make a fast voice command like "call vet" or "vet SOS" — whatever's going to come to mind for you when you most need it.
Speaking of phone calls: Be sure to visit your phone's Do Not Disturb settings and make sure important pet care contacts can get through even when you've limited interruptions, just in case. Beyond your pet's vet, that might include their groomer, trainer, walker, talent agent — you get it.
5. Free up your hands for leashes (or head pats) with Pixel Buds
Between the leashes and dog bags, I usually need to be hands-free when I'm walking my dogs. That's exactly why I have my Pixel Buds Pro connected to my Pixel with Google Assistant turned on. This way, even with my hands full of dog stuff — or actual dogs — I can answer or make calls, skip songs I'm streaming or pause and play podcasts. (Again, see #4 and set up your own voice shortcuts.) And you don't need to have a dog to make the most of this tip: Maybe you need both hands to snuggle your cat uninterrupted or to teach your rabbit a new trick.
6. Dedicate your Pixel's screen to your pet
Every time I pick up my phone, I'm greeted by a photo of my pups. To bring this kind of instant happiness boost into your life, in your Pixel's settings, head to "wallpaper & style." Choose "change wallpaper" to pick a fave pet photo for your home screen, lock screen or both. Better yet, use a Cinematic wallpaper; if you have a Pixel 6 or newer, your phone will turn a regular old 2D photo into 3D.
7. Keep an eye on your pet with Nest and Google Home, even when you're away
The recently revamped Google Home app allows you to put views from whatever devices you want right up front. For me, that's my Nest Cam (indoor) so I can see what the dogs are up to while I'm out — I can just tap the Cameras Space icon or add my devices to my Favorites tab, so I see the livesteams as soon as I open the app. Plus, the app lets me scroll through hours of video history in seconds and find the important stuff thanks to labels that tell me when something happens, for instance when I need to know which dog it was that learned how to open the front door (a true story!).
8. Collect important info in Docs for easy sharing
And last but certainly not least, Google Docs! I have a Google Doc that's shared with my husband, family and close friends with basic information about my pups. This is most useful when someone is dog-sitting for us so they know how much the dogs eat, when they go for walks, all that good stuff. But it's also a good reference for me when it comes to medical needs, like what vaccines they've had or medications they're on. The whole point is to make sure my pups are taken care of as well as possible. As a huge bonus, keeping all my dog-care details in one Doc means I don't waste time searching for where certain bits of info are — I can just spend that time with my dogs instead!