8 things I loved in my first 8 days with Pixel 8 Pro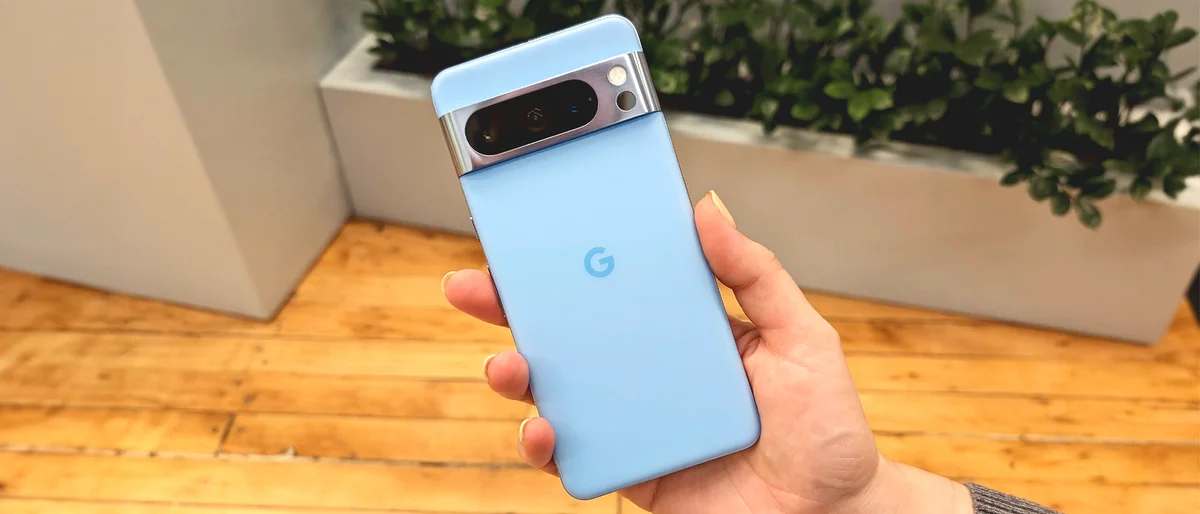 Last month, Google introduced Pixel 8 and Pixel 8 Pro, the latest additions to the Pixel lineup. Thanks to my job, I was lucky enough to get my hands on the Pixel 8 Pro to try out all the latest features and tools. While I'm still finding new things to love about the upgrade — hey, it's only been a little over a week! — here are eight things I've most enjoyed in my first eight days with the Pixel 8 Pro.
1. I love the simple setup.
I previously had the Pixel 7 Pro, and transferring my data and settings from my old phone to Pixel 8 Pro couldn't have been easier: Once I turned on my Pixel 8 Pro, my phone prompted me to bring it near my Pixel 7 Pro and gave me an option to copy everything over. After an emphatic yes on my end, I just let the phones sit next to each other and do all the hard work. After a few minutes, my Pixel 8 Pro was ready with all my apps, Google account info, lockscreen and homescreen and all the other settings from my Pixel 7 Pro.
My Pixel 7 Pro — on the right — did the heavy lifting of copying all my settings over to my new Pixel 8 Pro.
2. Best Take is…well, the best.
This year, my fall calendar is completely packed with weddings — which means a lot of celebration, happy tears and wrangling people for group photos. Now that I have the Pixel 8 Pro, I'm finally able to get pictures of my husband and myself where we both look good. (There's really nothing ruder than posting a photo where only one of you looks great.) It's all thanks to Best Take. I really can't understate how incredible this tool is: All you have to do is take multiple photos of an important shot; when you're ready to pick one, select "tools" under the edit tab. Then Pixel will show the Best Take's recommended image and give you a series of options to choose from for each person in the photo and combine them into a final, perfect shot.
Finally, a photo where neither of us is blinking!
3. It's got a friendly look and feel.
The updates to the look and feel of the Pixel 8 Pro are subtle, but when comparing the Pixel 7 Pro and the Pixel 8 Pro side by side, I can really get a sense of how much I like the new changes. The Pixel 8 Pro is slightly more rounded around the edges than the Pixel 7 Pro, which I like, and the build feels really nice in my hand. I also absolutely love the matte back! It's super soft and at the same time has a great grip and attaches to my hand really nicely. And the edges of the Pixel 8 Pro have more of a gentle curve to them; it's one of those things you might not notice unless you are comparing the two phones, but it's that kind of attention to detail in these iterations that make each new Pixel feel fresh.

The Pixel 8 Pro has slightly rounded edges compared to the Pixel 7 Pro — and I love the matte back.
4. It's screen protector-friendly.
As someone who has a tendency to toss their phone across the room or drop it on the sidewalk or tiled floor, I need all the help I can get shielding it from damage. One of the first things I do when I get a new phone is install a heavy duty screen protector, which is why I was extremely pleased to see that Pixel 8 Pro has a feature just for this called screen protector mode. When this is enabled, the phone's screen becomes more sensitive, so I don't have to tap or swipe harder once my screen protector is on.
5. Video and photo modes are easier to access.
One of the first things I start playing around with when I get a new phone is the camera, so I was delighted to see that the Pixel 8 Pro has an updated camera UI that makes it faster and easier to get to some of my favorite settings. For starters, Long Exposure is now front and center in the main camera panel so I don't have to tap into it. It's also easier to navigate between shooting photos and videos; both options are now located in a tab together at the bottom of the screen.
6. It has more aesthetic options.
With Android 14 on the Pixel 8 Pro, I now have way more options for customizing the look of my phone — think icons, wallpaper, fonts and more. There's even a generative AI wallpaper mode, which uses AI to create unique wallpaper designs based on a set list of prompts. Check out my "surreal castle made of agate in shades of cream and orange."
The generative AI wallpaper feature lets you choose prompts to come up with creative images.
Plus, there are fun new typefaces to choose from for my clock display. There's also a new black and white monochrome option if you want a minimalist theme — although, I personally prefer a more colorful palette.
I'm partial to this fun, bubbly typeface for my clock.
7. Face Unlock gets me to my money.
I can now access my banking apps using Face Unlock, which has made paying for things while on the go easier and quicker. This is possible thanks to Pixel 8 Pro's Tensor chip, which uses machine learning advancements that meet Android's highest biometrics class. For me, it really just means there are fewer places where I need to tap-tap-tap my way to my data.
8. I can get a preview of an article.
Pixel 8 and Pixel 8 Pro feature a new tool called Summarize1, which uses AI and improved language understanding capabilities to offer a summary of a webpage. Once the webpage I want to get a summary of is open, I can just ask Google Assistant to give me a quick preview of what the article or whatever else I'm looking at is about by saying "Hey Google, summarize this." It's a great way to get an idea of the topic before I dive in.