5 tips for taking scary good Halloween photos on Pixel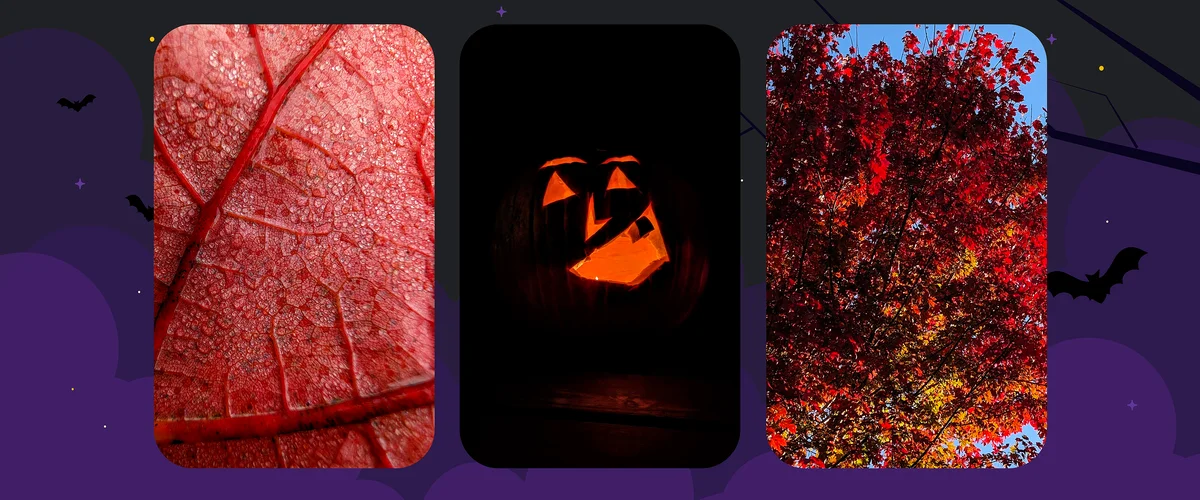 Have you had your Halloween costume planned since July, or will you be frantically destroying your closet on October 30 trying to put something together? Do you plan to grab daytime donuts at the pumpkin patch, or head into the haunted corn maze when the sun goes down? Whatever your autumnal aspirations are, you'll likely want to take photos — so I sat down with Michael Specht, a product manager for image quality on Pixel camera and a photographer himself, to get some tips specifically for spooky season.
1. Use Night Sight for dark, dramatic photos
Haunted houses, corn mazes, dimly lit Halloween parties — the delights of the season can be challenging for photos. Luckily, Pixel's Night Sight feature — which comes with Pixel 3 and newer phones — is made for exactly these kinds of scenarios. "If you want to get a night shot of a house that's decorated for Halloween or grab a photo of a Jack-o-lantern on a porch while trick-or-treating with your kids, just swipe to Night Sight mode in Pixel Camera and you'll get amazing low light photographs that preserve the ambience of all the halloween decorations," Michael says.
Try taking photos of your lit-up Jack-O-Lanterns at night with Night Sight.
Night Sight also has an astrophotography mode that engages if your Pixel camera detects a dark night sky and is set up on a tripod or against something to keep it still. This is perfect if you want to get a photo of your pumpkin against a starry background.
Michael took this photo of a house all lit up for Halloween against the night sky with astrophotography mode.
2. Create a haunting effect with Action Pan
Michael recommends trying out Action Pan to get a creative shot of people moving. Maybe your child has a superhero costume on and you want to get a picture showing their "powers." Select Action Pan and then put your subject in the middle of the frame and pan while they walk past you. "You'll get an image that looks like they're running at super speed," he says. Or in this case, a witch floating by.
Capture trick-or-treaters on the move with Action Pan. (Photo via Michael Specht)
3. Perfect your costume pics
Night Sight is great for getting well exposed photos at night or in dark settings, but don't forget about Night Sight in Portrait Mode for getting the best shots of those creative costumes. "You and your subject will want to hold as still as possible," Michael says. "But what's great about Pixel Portrait Mode is that you can adjust the bokeh — or the out of focus area — afterward, which gives you some extra creative options."
Not all shots will be solo, of course — ever heard of a group costume? For starters, Michael says, don't forget about using the ultrawide lens so everyone fits in the shot if you've got a particular large group. There's also self-timed photos: Pixel 6 and newer phones will now let you take self-timed photos by simply raising your palm to trigger the timer after setting it for three or 10 seconds. So you can set your phone up, step back and get a group selfie without having to hold or run back to your Pixel — we need to see the whole costume, obviously. All you need to do is turn on your selfie camera, set the timer and hold your palm up to the camera to start the timer.
And once you finally corral everyone into a photo, Pixel 8 and 8 Pro users can use the new Best Take feature to get the group pic that works for everyone. Maybe you're blinking in one photo and someone isn't smiling in another. After taking multiple consecutive shots of a person or group, you can choose one photo from the series and bring up the editor within Google Photos to combine different takes into a single image. Oh, and if there's someone in the photo who chose not to participate in the costume contest? Well, depending on how serious you are about Halloween…Michael points out there's always Magic Eraser.
4. Focus on foliage
There's more to fall than Halloween — it's leaf-peeping season, too! One tool Michael recommends is Macro Focus, available on the Pixel 7 Pro, the Pixel 8, and the Pixel 8 Pro. You don't even have to do anything to use it. "That's the beauty of Macro Focus, it's automatic," Michael says. Plus, with Pixel 8 Pro, you can get even closer with Macro Focus than with previous models — as close as two centimeters. In the camera app, move your lens close to your subject, like a pile of colorful fall leaves. Once you see the flower icon show up on the screen, you know your Pixel is using Macro Focus. You'll get incredibly detailed shots where you can really see the leaves' gorgeous ombre shades and beautiful vein patterns.
Get close — really close! — with Macro Focus. (Photo via Michael Specht)
5. Give Pro controls a try
The new Pro controls on the Pixel 8 Pro, including RAW settings, are perfect for those who are looking to get more into photography. "Try using a slower shutter speed and seeing how moving subjects in your image go from frozen to ghostly trails of color, creating a spooky aesthetic," Michael suggests.
Experiment with using Pro controls in your photos. (Photo via Michael Specht)
When using slow shutter speeds or long exposure, both you and the parts of the image you want sharp should be as still as possible, so try this tip from Michael: "I've found that tucking your elbows in really helps with stability when you don't have a tripod handy but want to be steady," he says. "You kind of become your own tripod for the camera." I guess you could say you want to hold as still as the dead.