13 ways to customize how your Pixel looks, sounds and works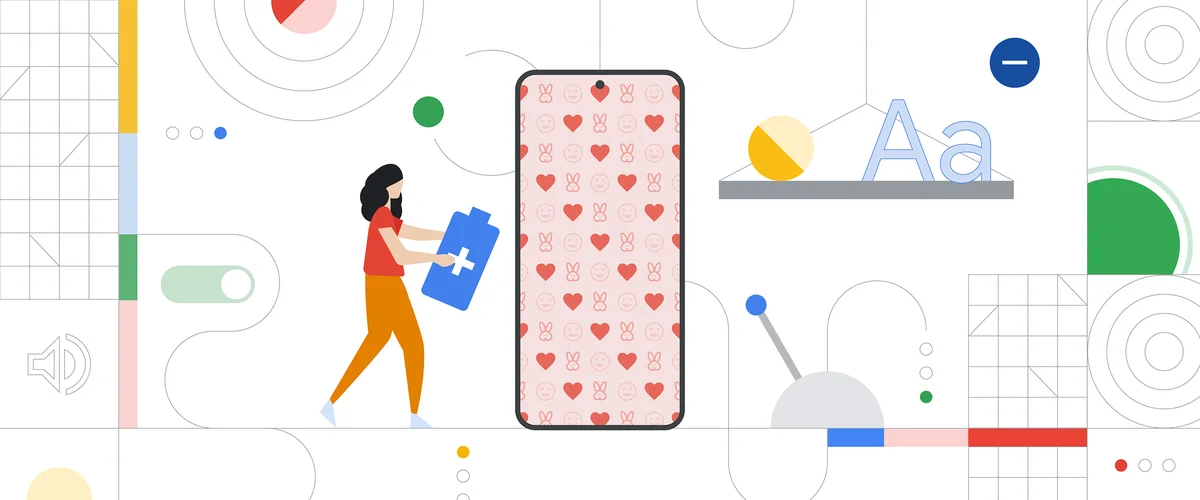 You've probably set up a few options on your phone, like your favorite ringtone and whether you've got it set to vibrate only. But there's so much more you can do to customize exactly how your Pixel looks, sounds and works. (Pro tip: Don't forget about Pixel Tips, which is constantly updated to show you different customization options.)
There might even be more options than you know about, so we dove deep into the Pixel's settings to highlight some of our favorite ways to fine-tune your phone.
Customize how your Pixel looks and sounds
Use AI to create an eye-catching wallpaper
There are a few ways to customize your Pixel's Wallpaper — and with it, your phone's overall aesthetic. One option is to choose a photo of your own; if you go that route, the Cinematic wallpaper feature (available for Pixel 6 and newer) will use on-device machine learning to take the photo and give it the 3D treatment, making it come alive as you unlock and tilt your phone. Or you can opt for the new emoji wallpaper option (available for Pixel 4a and newer), which lets you create a custom Wallpaper with your choice of emoji combinations, patterns and colors. Whatever wallpaper option you choose, Android's Material You design system will automatically adjust the color scheme to match your selection.
2. Give your eyes a break with Night Light
Do something nice for your eyes by turning on Night Light. This feature turns your screen a slight amber color when the lighting is low — it's an easier shade on your eyes when your surroundings are dim, say at night when you're trying to fall asleep. You can even have Night Light automatically turn on at sunset and turn off at sunrise. Find Night Light under Display settings.
3. Adjust your display size and text
Speaking of being nice to your eyes: If you find yourself squinting when using your Pixel, you have the option to make the text and widgets on your phone larger, bolded and higher contrast. On the flipside, if for whatever reason you prefer smaller text and icons, you can do that instead. Control display size and text in your Display settings.
4. Keep your screen from timing out too soon
This is one of the first settings I head for when I get a new phone! I absolutely feel the need to determine how long it takes my screen to timeout. Your Pixel gives you the option to keep your phone's screen from dimming and locking for up to 30 minutes. And turning on "screen attention" stops your phone from turning off if you're looking at it without needing to tap anything. You can find these options in your Display settings, too.
5. Fine-tune your sounds and vibrations
Maybe you want your alarms to be on the louder side but your notifications quieter, or you want to get gentler vibration notifications for apps but more noticeable ones for messages. Head to the Sound & vibration settings where you can choose how loud your phone is or how much it vibrates for different actions.
6. Get the most out of your speakers with Adaptive Sound
If you use your phone to listen to music or watch videos, be sure to turn on Adaptive Sound for an even better experience. Adaptive Sound uses your Pixel's microphone to assess the acoustics around you and adjusts your speaker's sound quality so you get the best sound possible — think about the sound adjusting when you go from your bedroom to the bathroom in the morning while you're getting ready.You can find this option under the Sound & vibration settings.
Customize how your Pixel works
7. Personalize your widgets
You can customize your homescreen (and subsequent screens) with widgets. The beauty of widgets is that they can do all sorts of things, depending on what you want or need. For example: You can turn some of your most frequented compatible apps into functional widgets that give you a clear view of the information you need with just a glance at your phone. Imagine a weather widget that shows you temperature and precipitation details, or a Fitbit widget that shows you your day's health stats. Turn any app or function into a widget and decide where it lives and how big it is with just a few taps.
8. Maintain your focus with Do Not Disturb
As a dedicated Do Not Disturb user, I believe this is one of the most important settings to adjust for your needs. Customize your Do Not Disturb settings to specify the people, apps and alarms that can break through the silence — and, maybe more importantly, who and what cannot! You'll find Do Not Disturb options under Notification settings.
9. Adjust your Pixel's battery settings with Battery Saver
There are a few different ways to adjust how the Pixel's battery works. For starters, you can choose to use Battery Saver (listed in the Battery section of your settings), which limits apps and features to save power. Or, if you want to be more specific, you can instead set a schedule for your battery based on your routine. For even more customization, you can choose to set up Extreme Battery Saver. In Extreme Battery Saver mode (available for Pixel 3 or newer models), your Pixel automatically limits some apps and only runs the essentials, which you can select. So if you're traveling, you might want to keep Google Maps available but turn off all social apps.
10. Free up your phone's space
One of the more stressful notifications you can get is that your phone's storage is almost full. Here's a setting that might help you avoid that: Under the Storage tab, tap "Free up space" and then review things you might want to get rid of, like junk files, unused apps and large photo files. In this tab, there's also an option to delete photos and videos that are backed up to Google Photos.
11. Identify songs playing around you with Now Playing
When you have it turned on, the Now Playing feature uses on-device AI to automatically identify songs playing around you and show their titles on your lockscreen. You'll know right away what you're listening to (and can maybe add some new songs to your next playlist). You can turn on the Now Playing feature under the Sound & vibration settings.
12. Set up Quick Phrases so you don't need to say "Hey Google"
This is another setting that has more to do with what your Pixel hears, but it also determines how it responds to you and how quickly you can stop it from ringing or buzzing. Head to Quick Phrases so you can use Google Assistant without having to say "Hey Google" (available on Pixel 4 or newer Pixel phones). That means you can mute alarms or timers or respond to incoming calls with a simple "snooze" or "answer."
13. Use Google Assistant more efficiently with shortcuts
And while we're on the topic of getting the most out of Google Assistant, take a look at shortcuts. Here, you can set up (you guessed it) shortcuts for Google Assistant with various apps. For instance, you can enable your Pixel to add a new contact when you say "Add new contact" or open an incognito Chrome browser. If you aren't sure where to start, you'll see a list of suggestions under Shortcuts — for example, "screenshot" will pull up your screenshot gallery, or "video" will open your camera's video setting. Search "Shortcuts" under Settings to find these options.