Say hello to better phone calls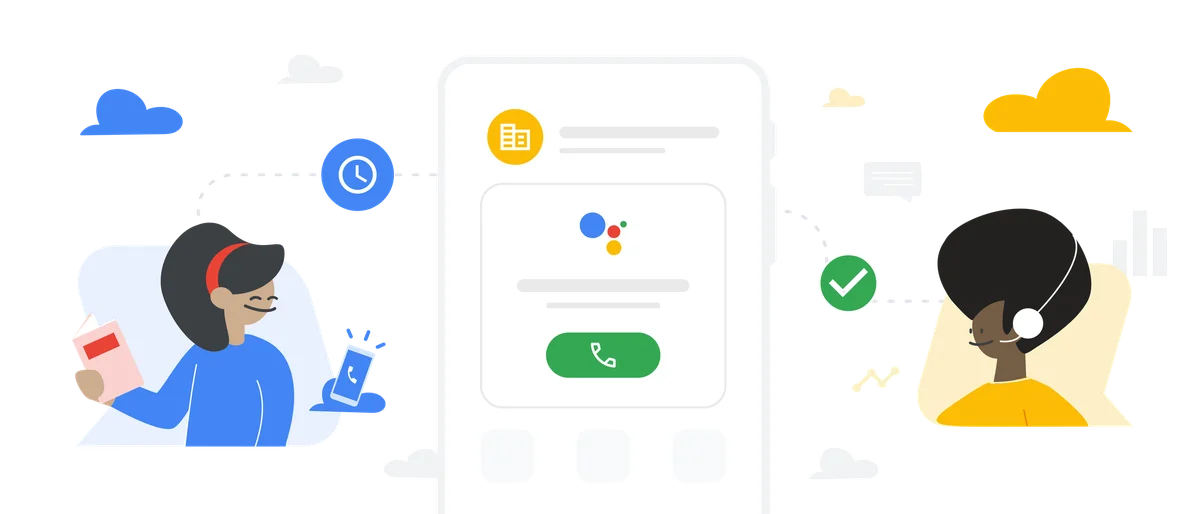 Our smartphones can do amazing things: They can capture great photos, and they act as our alarm clock, our camera, our stereo, our library, our game console and more, all in one. But making phone calls, the original "feature" of our devices, has mostly remained the same for decades. When we call businesses to get something done, we're often met with long, automated systems and endless elevator music. And as we go about our days, we're often distracted by calls from unknown numbers, spammers and scammers. That's why we are always seeking improvements with phone calls, and so today we're excited to announce our latest advancements in calling assistance to make them better.
A better way to call businesses
Starting today on Pixel 6 and Pixel 6 Pro devices in the U.S. our latest Phone app features, Wait Times and Direct My Call, make calling businesses easier. Before you even place your call to a toll-free business number, you'll see the current and projected Wait Times for the rest of the week. That can help you decide whether you have time to call now, or plan when to call later to avoid long waits. Wait Times are inferred from call length data that is not linked to user identifiers.
Once you ring the business, Direct My Call helps you get to the right place with less hassle. Google Assistant transcribes the automated message and menu options for you in real time and displays them on your screen for you to see and tap, so you don't need to remember all the options. Direct My Call is powered by Google's Duplex technology, which uses advanced speech recognition and language understanding models to determine when the business wants you to do something ​​– like select a number ("Press 1 for hours and locations"), say a word ("Say 'representative' to speak with one of our agents") or input your account number.
Direct My Call builds on previous features we've released that make calling businesses easier. Last year, we launched Hold For Me to help reduce the number of minutes you spend on hold. It already saves Pixel users in the United States over 1.5 million minutes each month, and it's expanding to Pixel users in Australia, Canada and Japan in the coming months. Assistant is able to recognize when hold music is being played and understands the difference between a recorded message (like "Hello, thank you for waiting") and a representative on the line thanks to Duplex technology, so that you can go back to your day and get notified when someone is ready to talk.
Know who's calling you
Receiving calls from unknown numbers is a drag, and a majority of Americans choose not to answer them. They also report missing important calls they assume are spam. That's why starting today, we're improving Google's extensive caller ID coverage of businesses with help from our users. You can now share information about unknown businesses that you call or answer (such as the type of business) and over time that information will be displayed on incoming calls to help others know more about who's calling them. This information is not joined with any user identifiers. We expect this to double the number of businesses that have caller ID information – so you can answer more calls with confidence.
If you do get a call from an unknown number, not to worry – Call Screen helps you find out who they are and why they're calling before you pick up. Call Screen helps users in the U.S., Canada and Japan screen 37 million calls each month, and today we're expanding manual Call Screen to Pixel users in the U.K., France, Germany, Australia, Ireland, Italy and Spain. Our latest on-device speech models make the transcriptions more accurate than ever on Pixel 6 and Pixel 6 Pro thanks to Pixel's new Google Tensor.
Keeping your data safe
All audio transcriptions are processed on your device, which makes the experiences fast and also protects your privacy. No audio from the call will be shared with Google unless you explicitly decide to share it to help improve features. After the experience is over, like when you return to a call after Google Assistant was on hold for you or after Google Assistant screened a call, audio stops being processed altogether.
It's time to rethink phone calls, and our latest calling assistance features are designed to save you time and make it easier than ever to connect with the right contact at the right time.