New cases and more for the Pixel 6 and Pixel 6 Pro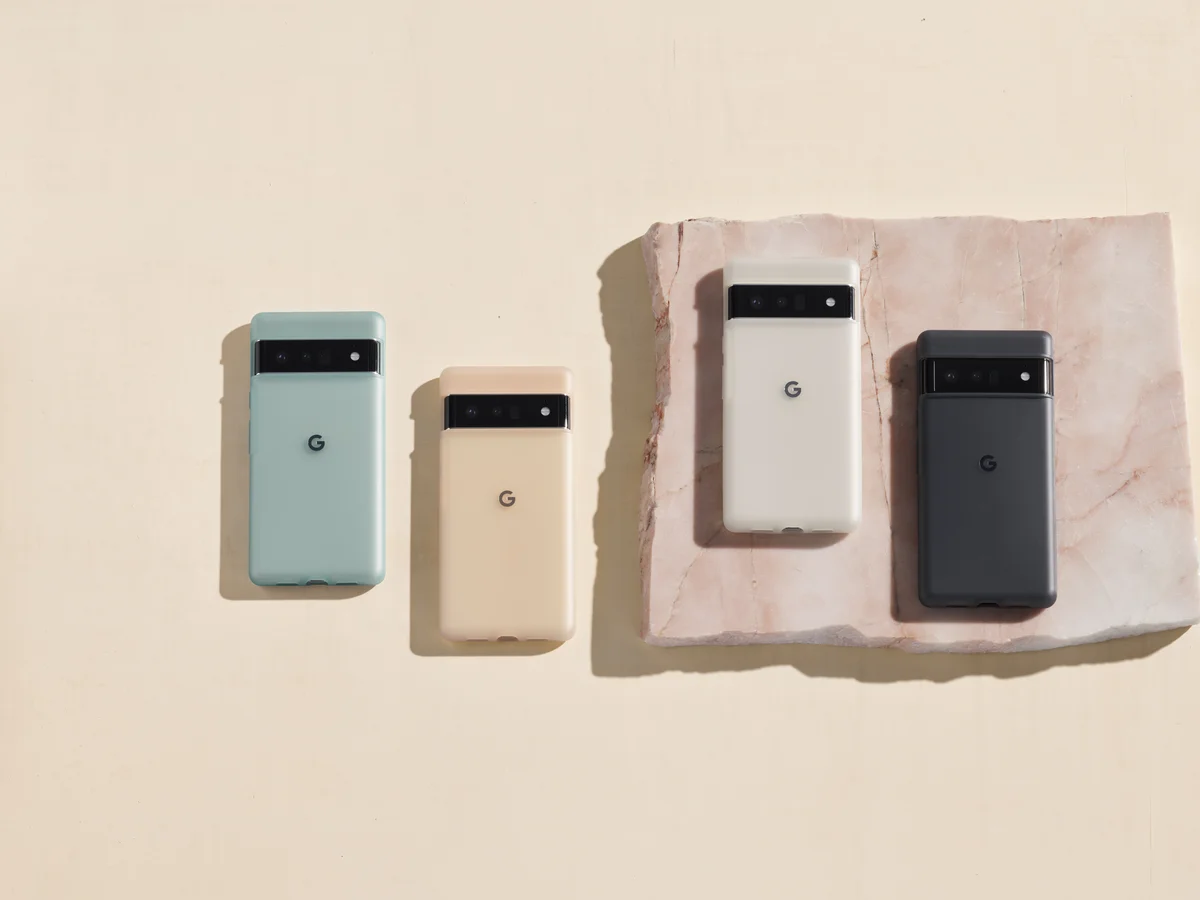 The latest generation of Pixel cases are here with a whole new look. They are built to protect your Pixel 6 and Pixel 6 Pro, and they're designed to pair beautifully with it, too. These new cases aren't just good looking: They are made with our dual-layered construction and raised edges to guard your Pixel when it matters most. Shock-absorbing materials wrap around each corner, helping protect your screen and camera visor from scratches and drops.
We developed translucent colors that are intentionally designed to let your Pixel shine through. This lets you combine colors to personalize your Pixel even further. You can enhance the colors of your device with a matching case shade or create an entirely new color shift if you choose a contrasting hue. Each colorful case is thoughtfully crafted with an inner layer of 75% recycled material, giving plastic a beautiful new lease on life.
The cases come in three colors for Pixel 6 and four colors for Pixel 6 Pro. Pre-order yours today for $29 on the Google Store.
Coming soon: Pixel Stand 2nd gen
Along with all the other fantastic hardware and software upgrades to Pixel 6 and Pixel 6 Pro, you will soon have access to even faster wireless charging. Pixel Stand (2nd gen) charges Pixel 6 at up to 21W and Pixel 6 Pro at up to 23W with the help of a nearly silent fan to keep things cool for hours of power in minutes of charge.
With the new Pixel Stand we've included an added level of customization to your Pixel phone charging experience. Max Charge will charge your Pixel as quickly as possible, while Quiet Charge mode is perfect to accommodate silent spaces. And if neither of those sound right, Auto/Optimized mode will let the Pixel Stand determine charging speed and style for your Pixel phone. We've even included a dedicated coil for easier charging of your wireless-charging-enabled earbuds.
All the existing fun features when charging on Pixel Stand, like Sunrise Alarm, Photo Frames the Pixel Stand Bedtime experience and more are all coming back to Pixel phones with Material You visual updates for an even more personalized experience.
Every Pixel Stand comes with a USB-C charger and a USB-C to USB-C cable in the box. Pixel Stand 2nd gen will be coming soon to the Google Store and retail later this year.
Enhance the feel and design of Pixel 6 and Pixel 6 Pro with a beautifully constructed leather case by Made for Google partner Bellroy. The case smoothly integrates with the phone's design, and the leather wraps from edge to edge, giving you a touchably soft, seamless feel while protecting your Pixel. The cases are made from premium leather,chosen for its ability to protect, and look good for a long time to come. Developed with precision fit to avoid bulkiness, and available in Google-exclusive colors, it's the perfect companion to your Pixel 6 and Pixel 6 Pro.
Be sure to visit the online Google Store today for a new case to go with your Pixel 6 and Pixel 6 Pro - and stay tuned for more updates on Pixel Stand 2nd gen.