Google Pixel Buds—wireless headphones that help you do more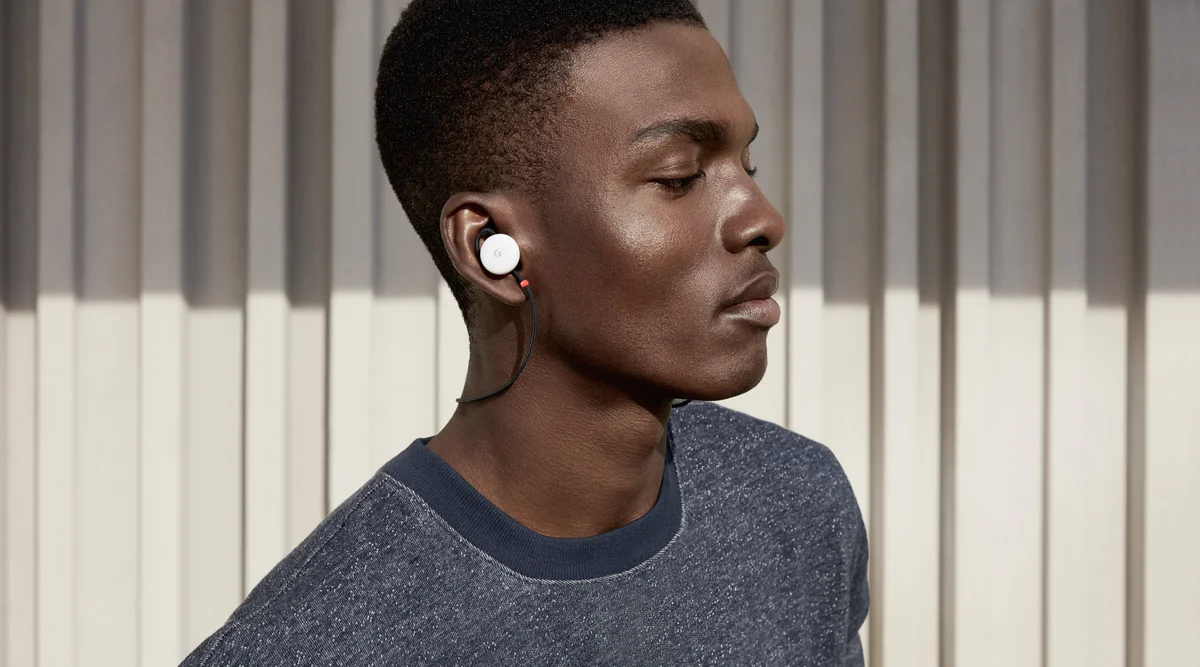 What if your headphones could do more than let you listen to your favorite music? What if they could help you get things done without having to look at your phone? What if they could help you answer (almost!) any question just by asking, or even help you understand someone speaking a different language?
We wanted to make a more helpful pair of headphones, so today, we're introducing Google Pixel Buds. These wireless headphones not only sound great, they are seamless to use and charge, offer help from the Google Assistant, and have a few extra smarts so you can get the answers you need while keeping your eyes up.

Fit them, charge them, pair them—made simple
From getting the right fit, to keeping them charged, Pixel Buds are really simple to use. They've got a unique fabric loop, making them comfortable, secure, and quick to adjust without having to swap out pieces. We put all the audio controls into a touchpad on the right earbud, so there aren't any buttons hanging on the cord. Just swipe forward or backward to control volume and tap to play or pause your music. Charging and storing them is easy—they nestle right into a pocket-sized charging case that gives you up to 24 hours of listening time*. And pairing them is a cinch. Just open the charging case near your Pixel or Android phone running Android 7.0 Nougat or higher with the Assistant, and your phone will automatically detect them and ask you if you want to connect.

Get help from the Google Assistant with just a touch

Pixel Buds bring Google smarts right to your ears, with answers and intel that would make James Bond jealous. Touch and hold the right earbud to ask your Assistant to play music, make a phone call, or get directions, all without pulling out your phone. If you have an upcoming meeting or you're waiting on a text from a friend, the Assistant can alert you to a calendar event or incoming message, and even read it to you if you can't look at your phone at that moment.
Be multilingual with Google Translate and Pixel
Pixel Buds can even translate between languages in real time using Google Translate on Pixel. It's like you've got your own personal translator with you everywhere you go. Say you're in Little Italy, and you want to order your pasta like a pro. All you have to do is hold down on the right earbud and say, "Help me speak Italian." As you talk, your Pixel phone's speaker will play the translation in Italian out loud. When the waiter responds in Italian, you'll hear the translation through your Pixel Buds. If you're more of a sushi or French food fan, no need to worry—it works in 40 languages.


Pixel Buds come in three colors—Just Black, Clearly White and Kinda Blue—to match your Pixel 2. They'll be available in November for $159 in the U.S. and are available to pre-order today. They're also coming to Canada, U.K., Germany, Australia and Singapore in November.**

With Pixel Buds, we're excited to put all the power of the Google Assistant into a pair of headphones you can take with you everywhere, so you can easily control your tunes, get walking directions to the nearest coffee spot or have a conversation with someone from another country without ever pulling out your phone.
*Total listening times are approximate and are measured using fully charged Google Pixel Buds and a fully charged case for the first Pixel Buds re-charge cycle. Actual results may vary.  Pixel Buds battery testing conducted in September 2017 on pre-production Pixel Buds connected to a pre-production Pixel 2 phone.
**This device is a prototype unit in Canada, UK, Germany, Australia, and Singapore and cannot be marketed, sold, leased or distributed until it complies with applicable essential requirements and obtains required legal authorizations.