7 things I loved in my first 7 days with Pixel Fold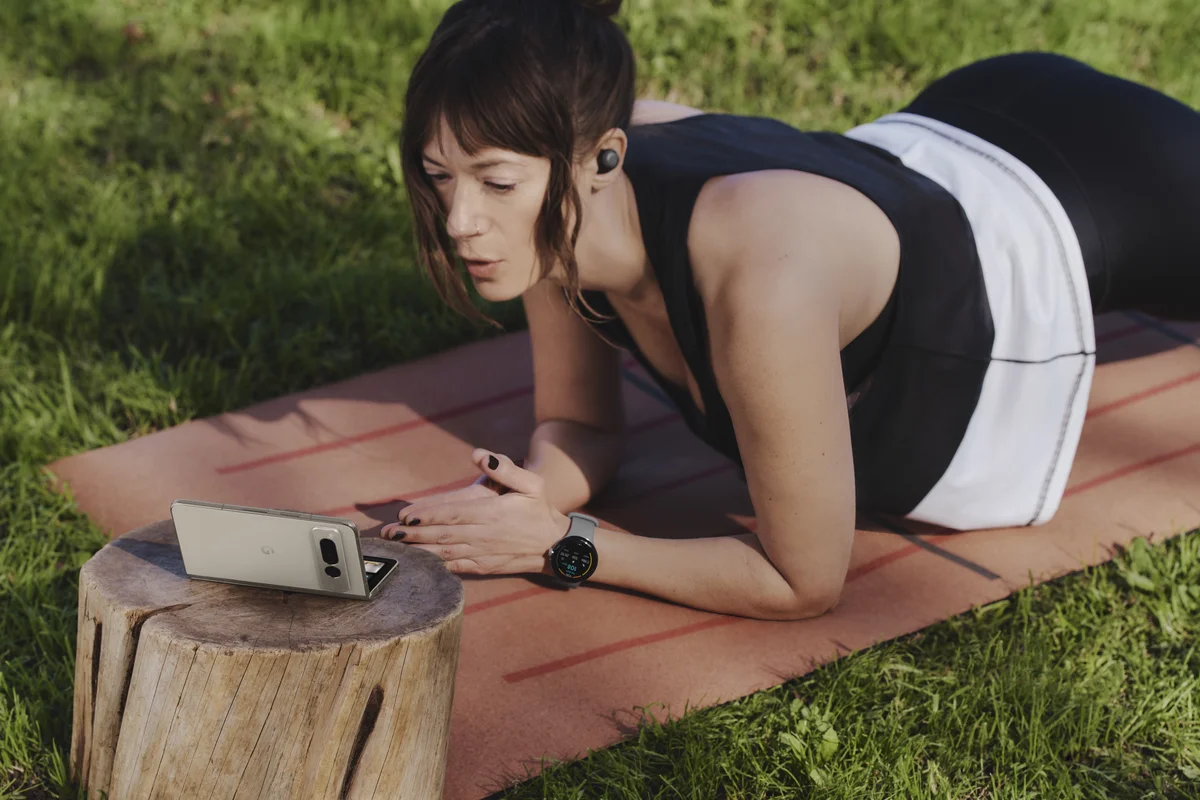 It's always exciting to get a new phone, especially when it's truly new. Until last week, I'd never used a foldable phone — so I jumped at the chance to try out the Pixel Fold. No surprises here, I'm a big fan of the big screen! Here are seven of my favorite things I came across in my first seven days with the Pixel Fold.
1. The easiest group selfies ever
I've exhausted every method of group selfie-taking — widescreen, balancing it on a rock, asking the tallest person in the group to hold the phone, asking a stranger for help. None of these are necessary with the Fold. Instead, I can just fold the phone halfway to set it up in tabletop mode, hit the selfie camera option, put it on a surface, select a timer, hit the shutter and I know that everyone's going to be in the shot. Better yet, if I want even more control of that countdown, I can use the new palm timer or an Assistant voice command to trigger the shutter without having to tap the screen at all.
For another group selfie option — and an exceptionally high-quality one at that — I can opt to take a Rear Camera Selfie. I hold the phone opened completely, tap the flip screen icon and the viewfinder moves to the cover screen so that I can use the 48-megapixel rear-facing camera for a selfie.
This allows me to use the rear-facing camera and still get to see what the photo will look like. And if you want to fit even more into your shot, try switching to a .6x ultra wide angle selfie.
Using the palm timer option on Pixel Fold's selfie camera makes for easier group photos — including with your pets.
2. Propped-up video viewing
Most days during lunch, I like to watch videos on my phone. That usually means I need to prop it up against my water bottle, or even worse, awkwardly hold it in one hand while I feed myself with the other. Not with the Fold! I knew I would love using the Fold's hinge to let it hold itself up in tabletop mode, but it's even better than I thought. For starters, it feels sturdy enough that there's no chance it will slip and shut (or fall). And if there's something that's really grabbed my attention, I can just open the Fold entirely and watch it on the big screen. Or if I'm feeling like I need some movement instead, I'll open the Peloton App and take a quick yoga or stretch class. The Peloton App is optimized for Pixel Fold so I can take their classes in tabletop mode. Speaking of big screens…
3. Two screens, two hands, too good
As a big reader, maybe this shouldn't have come as a surprise, but I never knew how much I liked holding things — including my phone — like a book. I've been working on travel plans recently, something I usually do from a laptop because I feel like I need the space and bigger keyboard. But I've been grabbing my Pixel Fold instead. There's something so comfortable and accessible about holding it open with both hands and using both sides of the display to read up on a city. In a couple of taps, I can pull more information into split screen mode, making my laptop unnecessary. My favorite split screen mode feature is dragging and dropping content from one screen to the other, like a photo to an email or a YouTube video link to a message thread — or in the case of my travel planning, I can easily copy and paste different places and sights I'm reading about into Google Maps, or take notes on the other side.
Being able to glance between my travel notes in Google Docs and researching on Google Maps was super helpful.
When I'm done in split screen mode and close Pixel Fold, the front display adjusts back to the last app I left off on. When I'm deep in planning mode, it's ideal that I can seamlessly keep going.
4. The big screen
There's simply a lot to love about the 7.6-inch display when the phone is unfolded. First, Google Calendar: I love seeing my schedule open across the entirety of the Fold so it looks nearly exactly how I'm used to seeing it on my laptop. I'm also very into using the Fold's full screen for editing photos because the editing toolbar doesn't crowd the image. And the Fold works really nicely with productivity apps — I can see most of the toolbar options in Sheets and there are various viewing modes in Slides, including the familiar desktop format with the left-hand column of slides and the selected slide taking up the rest of the display to the right. And of course, Google Docs: Having such a wide space for the top toolbar and a more natural view of the keyboard means plenty of space for my thumbs to edit. These are all apps I would usually have to open on my laptop, and just review or share them from my phone — but the display made it easier for me to get things done when I wasn't at my desk.
I love using apps like Docs and Sheets across both screens.
I don't only love the double screens for getting work done. It's also perfect for watching YouTube and other videos — I find myself opening my laptop a lot less after work.
5. That satisfying "bonk" when it shuts
I polled a handful of other Googlers about the sound the Fold makes when it shuts; Some said it's a "clap" or a "snap." Others said a "thud" — but I go with "bonk." The Pixel Fold's hinge is obviously one of the device's most important pieces — it literally brings it all together. The hinge's movement is smooth and there's something of a vacuum-like seal when the phone shuts entirely. And I'm veering a bit into ASMR territory here, but there's this delightful little "bonk" sound when it shuts — so satisfying.
6. The movable, resizable keyboard
When I'm using the Fold entirely open and want to text or use the keyboard in any way, there are a few options. First, I can have the keyboard span across both screens — or I can keep it on one half of the phone, which is great for when I'm viewing something in a split screen mode. And I can also resize the keyboard to whatever size I prefer and move it around the screen, which is helpful for trying to write an email describing something that's on the other half of the phone. Of course if I'm over typing altogether, I can use Gboard's voice-to-text option.
Moving and resizing the keyboard was helpful depending on what I wanted to keep my eyes on.
7. A premium case for a premium phone
I opted to use the Pixel Fold with one of the Made by Google recycled plastic cases. The case has a slightly rubberized texture that's super smooth and soft. Plus, it's matte, so no fingerprints, and it contrasts really nicely against the shine of the camera bar and the hinge. Another thing I've always liked about Pixel cases is that they feel like they're part of the phone — at first glance, I thought the matte case was the Fold, not just its case. And hey, no shame to anyone who goes case-free — the Fold's design is so sleek! But I'm sure everyone else who's prone to dropping their phone can agree a minimalist-meets-protective case is the way to go.
If you want to check out Pixel Fold for yourself, you can pre-order from the Google Store or from one of our partners, including Verizon, AT&T and T-Mobile.