Producer Peter CottonTale captures 2020 in a song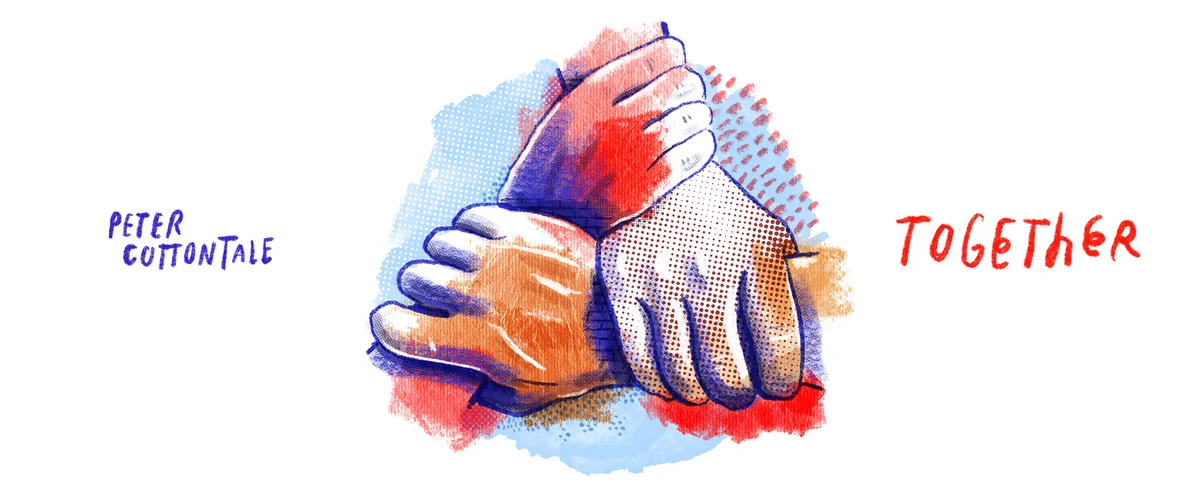 In a year unlike any other, we knew Google's 2020 Year in Search campaign would need to take a unique approach. Each year, Google Trends data reflects not only everyday queries, but also the moments, people and ideas that defined that year. Inspired by the year's Trends data, music producer Peter CottonTale created the song highlighted in Year in Search.
Peter is a GRAMMY–winning producer and musician for his work with Chance the Rapper.  He self released his first solo album, CATCH, earlier this year. He's also collaborated with artists all over the world over the past decade as a composer, producer, and music director, as well as a featured artist primarily on keys. And the Chicago native has a special place in his heart for working with artists from his hometown.
Peter wrote and produced the song "Together" in collaboration with Chance the Rapper, Cynthia Erivo, the Chicago Children's Choir, Matt Jones (of Re-Collective Orchestra,) and Rachel Robinson and Jamila Woods. "Together" acknowledges 2020's heartaches and challenges, as well as the need for communities to come together. Ultimately, Peter's song delivers a message of hope.
We sat down with Peter to learn more about his creative process, why this song meant so much to him and the importance of lifting Black voices.
What inspired Together?
After hearing about the plans for Year in Search, the context and vision for the project really stood out. From health concerns to the spotlight on the Black struggle, it felt like the right way to help contextualize, increase representation and create opportunities for all of those involved through Google's Year in Search campaign. My hope is that showcasing opportunities for Black artists with Google will lead to more opportunities and other projects down the road. 
Tell us about your creative process. 
We had initial meetings discussing what 2020 has meant to people. The cast of people involved in creating the music and the film were, if not leaders themselves, surrounded by leaders who in their own way are pushing for change in the community. It was also about giving everyone hope and a bit of celebration too. We wanted to show that by working together, growing together, we will get through this.
How did you select the talent that helped bring your vision to reality?
In a year where the focus has been on Black women, I wanted to showcase and highlight amazing Black women artists and writers.  I worked with Jamila Woods and Young Chicago Authors to develop some of the early concepts for the record. Cynthia Erivo, an amazing artist and Black woman,  was the featured female vocalist on the track. And we also included Black artists from a variety of different genres and experiences. To really capture the essence of this year, we asked the Chicago Children's Choir to join the project. The organization's social justice history and effort to bring young voices of different backgrounds together through song truly inspired me. 
What impact has this year had on you, both personally and professionally? 
This year has been the craziest year of my life so far for sure, and I'm sure others feel the same way too. I learned how to run and operate my recording studio in the middle of shutdowns, with virtual sessions and other offerings. I had to get really creative about how I rolled out my own music and merchandise. I was in the streets most of the summer alongside community leaders, serving and amplifying the work of friends around me who spent their summer protesting and fighting for Black Lives. And of course, I've had to navigate and work around production delays caused by COVID-19, so I've found different ways of getting things done, and grown in patience. As tough as this year has been, it has been full of blessings and so many great lessons. I'm really excited for the future.
What is your wish for the future of diversity and representation in creative fields and the music industry?
Wow, I have to pick one wish? I always wish for the progression of diversity and the advancement of authentic representation in writers rooms, media and development of culture-based environments.  So often, equity gets lost somewhere, for non-creatives and creatives alike. Black people are a disenfranchised minority who are affected by misrepresentation on a daily basis on macro and micro levels. I couldn't possibly solve [this] with one wish.
As 2020 comes to an end, we are excited to share
"Together"
with the world. Thank you, Peter and everyone involved the making of this much needed piece of music.