Creepy clowns and cute couples: 2019's top Halloween costumes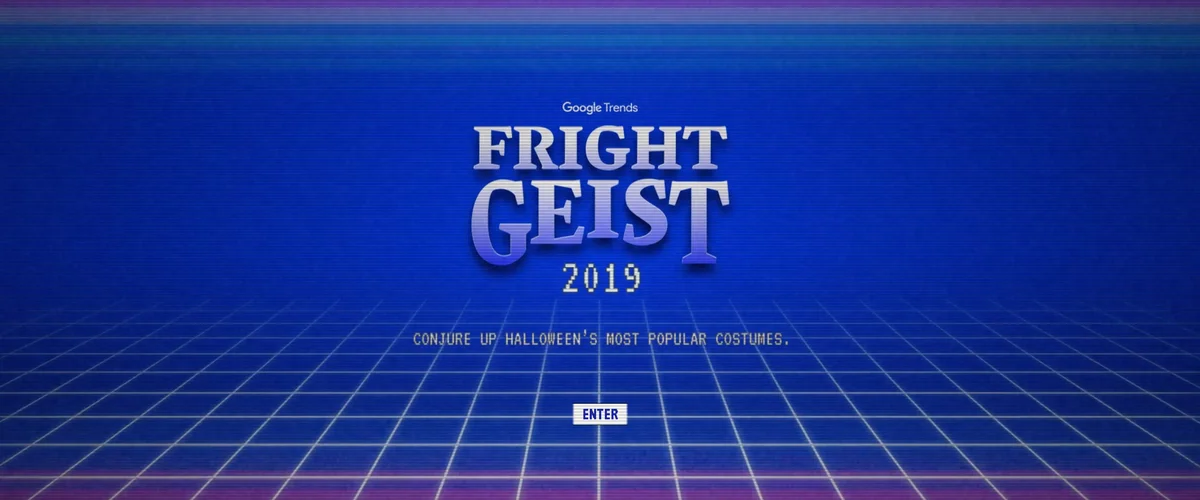 It's October, which means it's officially the spookiest time of the year. We don't want to wait until the 31st to start having some fun, so we're back with this year's Frightgeist, Google Trends' collection of Halloween's most-searched costumes. 
People looking to (trick or) treat themselves to the perfect Halloween look started the costume hunt last month. Here's what people in the United States were searching for in September 2019.
Most-searched Halloween costumes in September 2019
Fortnite returned as one of the most searched Halloween costumes, but "IT" is scaring ITs way up to the top of the most searched Halloween costumes in the U.S. last month. Several Halloween favorites also return to the most searched list, like Spider-Man, clowns and unicorns. Check out the rest of your top 10.


IT

Witch

Spider-Man

Dinosaur

Descendants

Clown 

Fortnite

Chucky

1980s

Unicorn
Halloween costume searches in the U.S. 
While many states are searching for Halloween go-tos like witches or dinosaurs, people in Casper, Wyoming, are stepping into Wonderland with "The Mad Hatter" attire and those in Idaho are testing out tails with mermaid costumes. Explore the costume map on Frightgeist to find out what other costumes are being searched for in your state.
Most searched costumes for couples 
Couples that costume together, stay together. And it looks like they are keeping things classic with "couple costume" searches like Bonnie and Clyde and Adam and Eve. Disney favorite, Lilo and Stitch, also top the most searched couples costumes last month.  


Lilo and Stitch

Bonnie and Clyde

Cosmo and Wanda

Adam and Eve

Cheech and Chong

Mario and Luigi

Chucky and Tiffany

Sonny and Cher

Rick and Morty

Phineas and Ferb
Most-searched "good-for-groups" costume searches 
Grab your group, dress up as your favorite characters and take first prize at your local costume contest. The Descendants' group of teens take the award for most-searched "good for groups" award, but the 1980s are making a comeback and may be the perfect fit for your groovy group.
If you're a "Toy Story" fan looking to step out in a group or family costume, the biggest breakout costume search of this year is Forky. "Bo Peep costume" is also up by 300 percent.


Descendants

Fortnite

Stranger Things

1980s

Toy Story

Power Rangers

Star Wars

The Wizard of Oz

Minecraft

The Powerpuff Girls
Most-searched pet costumes 
Dogs really are a ghoul's best friend! People across the U.S. have been searching for the paw-fect costume for their furry friends. We can expect to see some strangely adorable pets this Halloween, with the "Stranger Things" monster Demogorgon making the most searched dog costume list. And with "Demogorgon costume" searches overall up 300 percent this year, expect to see some truly terrifying (and cute) costumes on Halloween night.


Chucky dog costume

Ewok dog costume

Spider dog costume

Pennywise dog costume

Dinosaur dog costume

UPS dog costume

Demogorgon dog costume

Shark dog costume

Batman dog costume

Ghost dog costume
Currently trending costumes for babies
We took a look at currently trending "baby costumes" from the past month and they are way too cute to spook, even if they are dressed up as Pennywise! For your baby with a sweet side, there are plenty of delicious treats, like concha and Starbucks, also trending. 


Banana

Dalmatian

Grinch

Pennywise

Stay Puft

Starbucks

Concha

Pumpkin

Deer

Olaf
Halloween costumes may be a little (candy) corny, but there is no shortage of scary good ideas on our most searched lists. To find even more costume inspiration, take a look behind the mask with Frightgeist. Witching you a very haunted Halloween!