Gboard for Android gets new languages and tools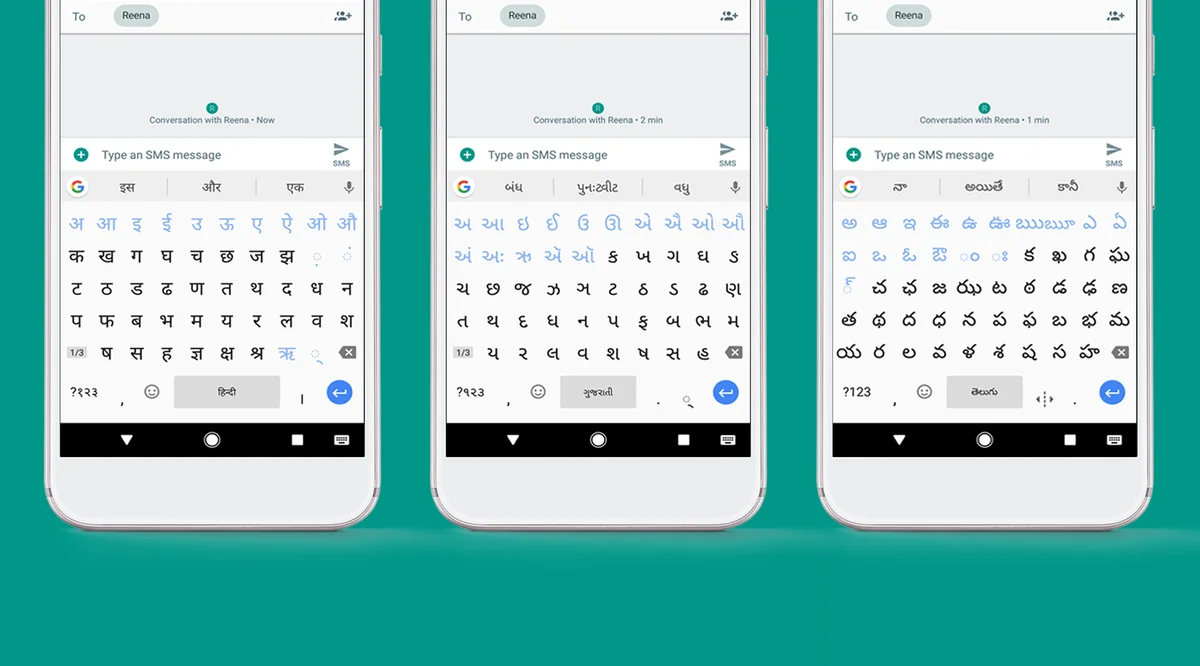 Attention to our friends in India and fast typers everywhere: Gboard's latest update might be the thing you never knew you were missing. We've added 22 Indic languages—with transliteration support—including Hindi, Bengali, Telugu, Marathi, Tamil, Urdu and Gujarati. We've also dropped in a new text editing tool that makes it easier to select, copy and paste, plus new options for resizing and repositioning the keyboard so it fits to your hand and texting style. And to top it all off, this Gboard update comes with under-the-hood improvements for better accuracy and predictions while you type.  
New Languages - वाह
The full list of Gboard's new languages includes: Assamese, Bengali, Bodo (Devanagari, Bengali), Dogri (Devanagari, Arabic), Gujarati, Hindi (Devanagari, Hinglish), Kannada, Kashmiri (Devanagari, Arabic), Konkani (Devanagari, Latin), Maithili (Devanagari), Malayalam, Manipuri (Bengali), Marathi (Devanagari), Nepali (Devanagari), Odia, Punjabi (Gurmukhi, Arabic), Sanskrit (Devanagari), Santali (Ol chiki, Latin), Sindhi (Devanagari, Arabic), Tamil, Telugu, Urdu (Arabic). In addition to the 22 new Indic languages, Gboard added support for Kinyarwanda and Waray. Through Gboard's internationalization through machine learning, glide typing and suggestions are now available in more than 185 language varieties.
This list has all 11 Indic languages currently supported in the Google Indic Keyboard, plus 11 more languages, such as Urdu and Maithili. In addition to supporting each language's native scripts, Gboard includes the QWERTY layout for transliteration, which lets you spell words phonetically. For example, type "aapko holi ki hardik shubhkamnay" and get "आपको होली की हार्दिक शुभकामनायें."
Some of these languages have a small presence on the web, so we worked closely with native speakers across India to collect data to train our advanced machine learning models, so people can start texting in their native script.
Gboard also comes with some features that Google Indic Keyboard doesn't, including Google Search and Google Translate right in your keyboard (just tap the "G" button to get started). And—as a reminder—Gboard already has a Hinglish language option for those of you who often switch back and forth between Hindi and English. If you're a current Google Indic Keyboard user, we encourage you to download Gboard and give it a go.
Edit text more easily
Besides new languages, Gboard now comes with a new text editing mode with buttons for easy cursor control and the ability to select text, cut, copy, and paste right from your keyboard. To access this feature, select the Text Editing icon in the quick features menu by pressing on the G button (or arrow) in the suggestion strip. Pro tip: if you're trying to up your typing speed, you can also move the cursor by sliding your finger back and forth along the spacebar, or delete by swiping to the left from the delete key.
New customization options: resize and reposition your keyboard
Now you can resize the keyboard and move it to a position that feels the most comfortable for you. In the quick features menu (press on arrow or G in the suggestion strip), click "More" (the three-dots icon), and click the one-handed mode button, then you can adjust the size and position of the keyboard.
To get these latest updates and improvements to your Gboard for Android, head to the Google Play Store and make sure you're running the latest version of the app. That's all for now, folks!