Romance Report: A look at love in 2019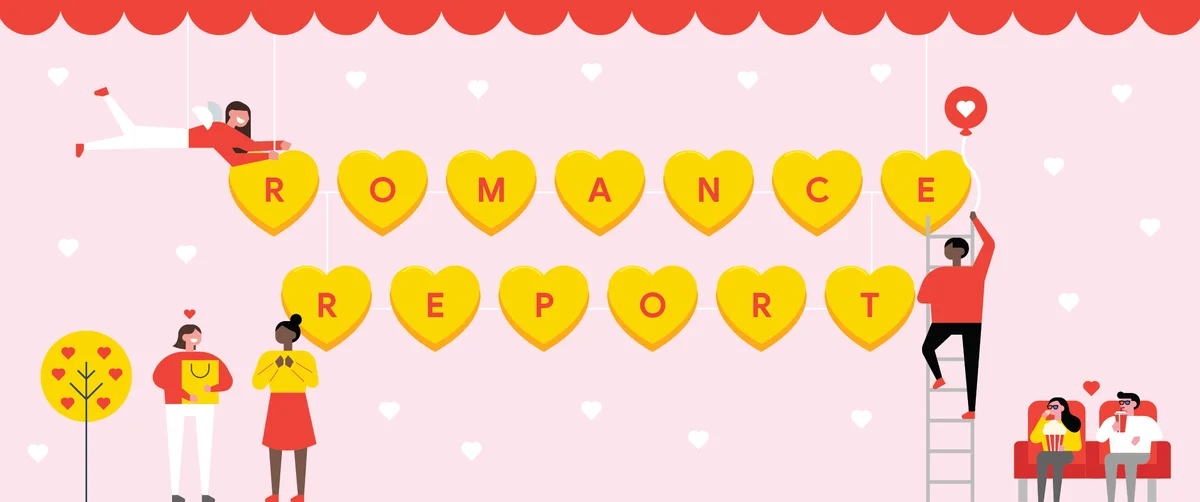 Hearts beating with worry over a potential conversation hearts shortage, people have been on the hunt for a candy-free way to express their affection this Valentine's Day. Looks like we're in the clear, but  many people still turned to Google for ideas, advice, emojis and more.
To celebrate all the ways that people around the world show their love (as artists have done for ages), we're sharing our Romance Report to give you a global glimpse at how people look to say "Be Mine" in their own special way.
"What is love?"
Well, first of all, it's one of the top questions people ask about love, according to Google Trends. But as Valentine's Day nears, we dug into one of the other most popular questions about love since February 14 last year: "What are the 5 love languages?"
Gary Chapman's 1995 book has caught people's attention as they look to understand the ways in which they and their partners prefer to express love, and search interest in "love languages" is at an all time high. With that in mind, here are some of the top questions and insights about the love languages.
Let's start with some quality time on our most searched love language (and searches are on the rise, to boot). These are the top questions related to both quality time with your S.O. since the last V-Day:
How to spend quality time with your partner?

How to set boundaries with your significant other for quality time?

How to have more quality time with your partner?

What does spending quality time with your other significant mean?

What to do when your partner is touch and you are quality time?
If there's one thing we can learn from Google Trends, it's that words of affirmation can be hard, and people often look for advice on how to express their feelings. Here are the top searched "how to say" relationship questions:
How to say sorry to your partner?

How to say happy birthday to an ex?

How to say happy birthday to a loved one?

How to say something difficult to spouse?

How to say love you to your partner?
The chocolate company in Hershey, PA isn't the only one concerned with hugs and kisses. These expressions of physical touch (our next love language!) are on people's minds and in their searches. "Kiss" is more searched than "hug" in every country, and on average, "kiss" is 7 times more searched than "hug" worldwide. So what are they searching for? Here are the sweet and simple questions many people ask:
Top "kiss" questions worldwide, since last Valentine's Day:
How to kiss a girl?

How to kiss a guy?

How to kiss someone?

How to kiss a boy?

How to kiss well?
Top "hug" questions worldwide, since last Valentine's Day:
How to cuddle?

How to hug a girl?

How to hug?

What is cuddling?

How to hug a guy?
With all the "gift for" searches around Valentine's Day (the second busiest week for these searches apart from Christmas week), you'd think everyone's love language is receiving gifts. If your partner is one of the many who appreciate a heartfelt token of admiration, or if you've got kids who are all about collecting Valentine's cards, perhaps DIY is the way to go.
These are the top searched queries related to do-it-yourself and Valentines' Day in the past 12 months, worldwide:
DIY valentine gifts for him

DIY valentines cards

DIY valentine decorations

DIY valentine box

DIY valentine gifts for her
At long last, we've reached our final (and apparently most enigmatic) love language: acts of service. Whether for him or her, near or far, these are the top searches from people looking to do a special something for their significant other:
Acts of service love language ideas for her

Acts of service love language ideas for him

What are acts of service?

Examples of acts of service

Acts of service love language long distance
¡Te amo!
Saying "I love you" shouldn't be bound by your preferred love language, or what language you speak. Every year, Google Translate sees translations spike on February 14, nearly doubling for those three simple words.  
Translations from English to Spanish top the "I love you" list. Here are the top 10 languages into which people translate that phrase:
Spanish

Portuguese

Korean

French

Arabic

Russian

Japanese

German

Indonesian

Simplified Chinese
Call the love doctor
When in doubt, the Google Assistant is there to help you out with translations, animal inspo and even a serenade or two.
To take a hint from our furry friends and learn how creatures across the animal kingdom show their affection, just say "Hey Google, tell me a fact about love." Spoiler alert: did you know that a male penguin proposes to a female penguin by throwing the nicest rock he can find by her feet? If she picks it up, they're engaged!

For some extra words of affirmation, "Hey Google, serenade me" is guaranteed to land you a love song.

Tell your Assistant, "Hey Google, Happy Valentine's Day," to learn how to say "I love you" in 8 different languages, including Korean, Mandarin, Hindi, French, Spanish, Danish, Gujarat,  and Indonesian.

Curious to uncover which "dynamic duo" you and your Assistant are? Just ask "Hey Google, do you love me?" and take a brief quiz to see just what kind of special bond you have with your Assistant. How sweet.

A 😍 is worth a thousand words
There's nothing better than an emoji when words alone just aren't enough. Whether it's 😘,🍫, or 💘, Gboard helps you find and share the perfect emoji (or sticker, or GIF) all year long. Here are a few insights about romance and emoji from around the world:
We love to love: the heart-eyes emoji 😍 is the #4 most popular emoji worldwide, followed by the heart ❤️ at #5

It takes two: sometimes one emoji doesn't cut it, so you gotta double up. And when we do, we're usually feeling a bit mushy. Half of the most popular (non-repeating) emoji duos are about L-O-V-E:

Some languages love *love* more than others: the heart ❤️ is the most-used emoji for people who type in French, Portuguese and Dutch

An emoji by any other word: Hindi speakers use the rose 🌹 more than any other emoji

Living up to the country's romantic reputation, Italian speakers use the kiss 💋 more than any other emoji. Bacio!
Anyway, I'm off to celebrate Singles Awareness Day.