Learn from others' experiences with more perspectives on Search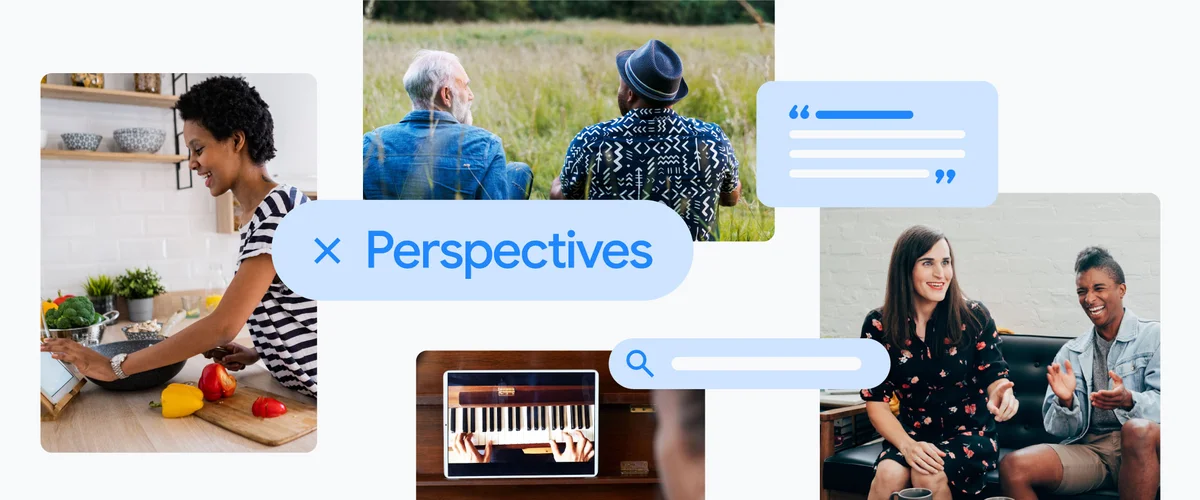 Over the years, content on the web has exploded. There's so much information to sort through, and so many facts and perspectives to consider when you're trying to make decisions, big and small.
We shared today how we're using generative AI to reimagine how you navigate this sea of information, organizing information in new ways and helping you explore the best of the web. And when it comes to what's most helpful out of all the information out there, we know that for so many questions, you want to hear what other people have to say.
That's why, as we transform Search with new AI-powered capabilities, we're not only continuing to focus on providing quick insights, but also connecting you to the people and perspectives that will help you understand what's best for you. Today, we're sharing some updates we're making to Search to help you easily get to the human experiences that make the web — and the world — so wonderful.
Find helpful information from people on forums and social media sites
In the coming weeks, when you search for something that might benefit from the experiences of others, you may see a Perspectives filter appear at the top of search results. Tap the filter, and you'll exclusively see long- and short-form videos, images and written posts that people have shared on discussion boards, Q&A sites and social media platforms. We'll also show more details about the creators of this content, such as their name, profile photo or information about the popularity of their content.
Let's say you're moving across the country, and you don't know anyone who lives there yet. You search for "how to make friends in a new city," and tap the Perspectives filter, which shows you a page of results with advice from other people, like personal stories told through video, or tips from commenters in a forum thread.
You can also access this content through a dedicated Perspectives section that may appear on the results page, which builds on our earlier work to bring more diverse voices to Search. By tapping the "See more" link, you'll be able to access the same full page of perspectives content that you would by tapping the filter.
This update joins a news-related Perspectives feature we recently launched under Top Stories. This feature helps people better understand a news story by surfacing a variety of noteworthy voices and sources.
How we help you find the expertise you need
In addition to making it easier to find authentic perspectives, we're also improving how we rank results in Search overall, with a greater focus on content with unique expertise and experience. Last year, we launched the helpful content system to show more content made for people, and less content made to attract clicks. In the coming months, we'll roll out an update to this system that more deeply understands content created from a personal or expert point of view, allowing us to rank more of this useful information on Search.
Helpful information can often live in unexpected or hard-to-find places: a comment in a forum thread, a post on a little-known blog, or an article with unique expertise on a topic. Our helpful content ranking system will soon show more of these "hidden gems" on Search, particularly when we think they'll improve the results.
We've also worked to improve how we rank review content on Search – for example, web pages that review businesses or destinations – to place greater emphasis on the quality and originality of the information. You'll now see more pages that are based on first-hand experience, or are created by someone with deep knowledge in a given subject. And as we underscore the importance of "experience" as an element of helpful content, we continue our focus on information quality and critical attributes like authoritativeness, expertise and trustworthiness, so you can rely on the information you find.
A big part of what makes Search so helpful is its ability to connect you to the wisdom and experience of people all around the world. As we bring new advancements to Search, we'll continue to help you find and explore content from others, whether it takes the form of a 30-second video, a deep-dive article or something in between.