Huddle up: Here's your guide to football's biggest day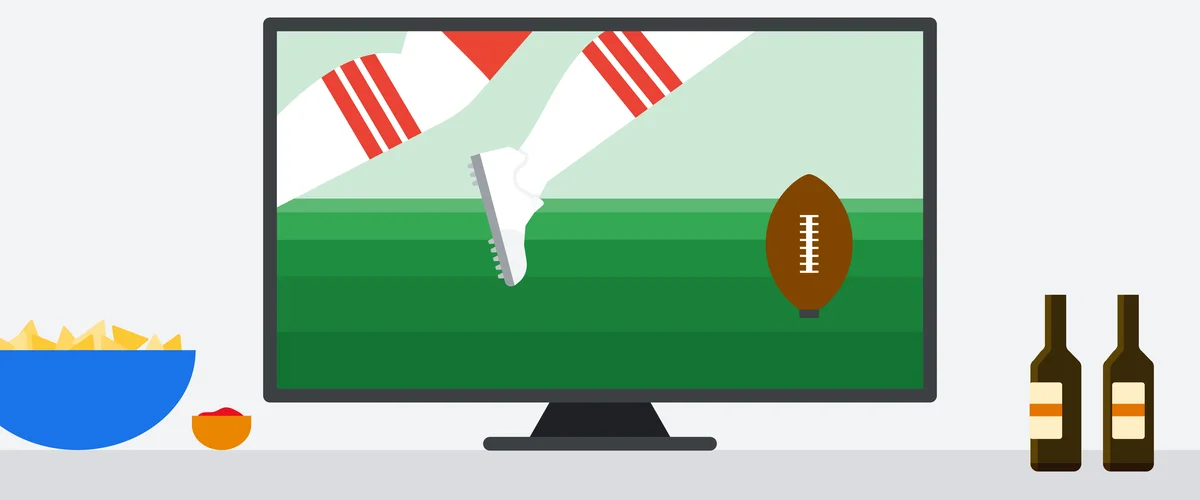 As the returning champs take on the hometown team this Sunday, you may be feeling a bit nostalgic for the days when we could pack into sold out arenas. But don't worry, some game day traditions live on. We have a few trick plays up our sleeve to help you plan your at-home game day experience.
Say "Hey Google" to get into the football festivities
Google Assistant is prepared to help you brush up on your football facts, help you in the kitchen, share live scores and more. Here are some questions to get you started:
"Hey Google, who's going to win the big game?" 

"Hey Google, help me talk like a football fan."

"Hey Google, give me facts about football." (Spoiler alert: One fact Assistant shares is that no team has ever won the big game three years in a row.)

"Hey Google, set a pizza timer" or "Hey Google, set a timer for chicken wings" will set game day-themed timers so you can cook your favorite grub.
Google TV is game day-ready 
On Sunday, you can tune in on your Chromecast with Google TV or in the Google TV app on Android devices in the U.S. to catch the game. Stream away the day from kick-off to the final play with a subscription to CBS All Access (the game is also available via CBS broadcast and via mobile on the CBS Sports app).
Ready, set, (ads) blitz on YouTube 
AdBlitz is YouTube's annual home for both in-game and digital-only advertisers to showcase their Big Game ads. It's a one-stop shop for fans to discover and watch their favorite Big Game ads before, during and after the game. You can find ads, teasers, extended cuts and more  at
youtube.com/adblitz
. The top ads with the most accumulated views by February 15 will be awarded bragging rights for the rest of the year!
Search's stats sheet
As people prepare for the biggest football game of the year, a few interesting search trends have emerged. For starters, check out these maps showing regional interest in the teams and their quarterbacks:
And it looks like no one wants to fumble during the halftime show; here are the most-searched lyrics from this year's performing artist: 
Blinding Lights

Save Your Tears

Wicked Games

Heartless

The Hills
Here's a Search trend that returns time and time again: Search interest for "seven layer dip" spike every year ahead of the game, but that's not the only popular snack. Check out what each state is cooking up:
That's all for our pre-game coverage, but if your team is crowned the champion, you'll want to look them up on Search for a congratulatory surprise! And if you want to stay up to date on the score during the big day, search "Superb owl" on Google (It's sure to be a hoot.)