The High Five: new words light up in Search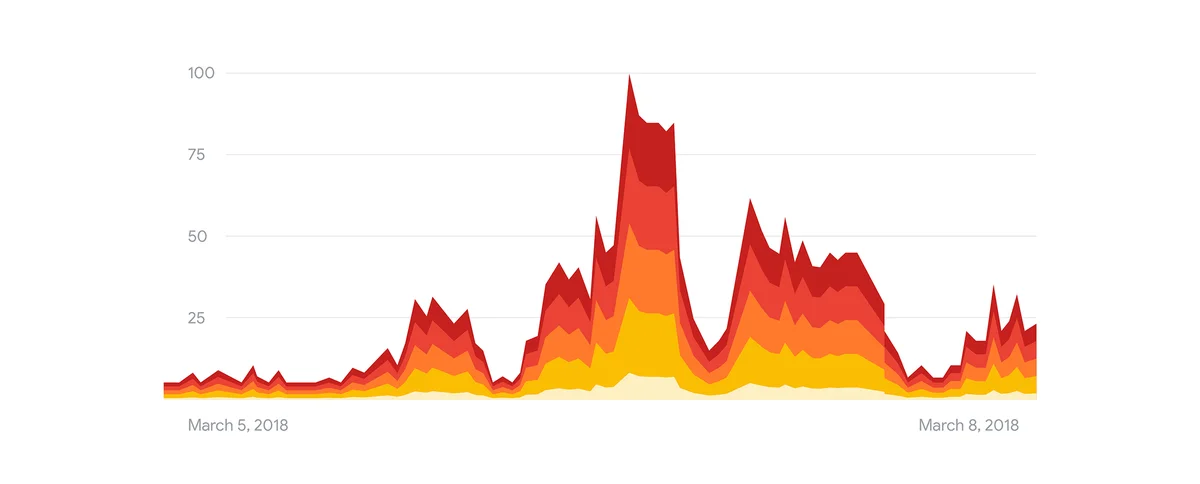 The world learned about new words—whether from Merriam-Webster or Frances McDormand— this week. Here are a few of the week's top-searched trends (with data from the Google News Lab):

The words of our generation: "Dumpster fire," once relegated to internet-speak, has made it into the official lexicon—one of 850 new words that Merriam-Webster added to the dictionary—and was up 3,200 percent in Search. Embiggen (a word invented by "The Simpsons," that means "to get bigger") embiggened with a 2,000 percent spike in search interest, while mansplain went up 500 percent.
First woman to … "land a triple axel" and "go to MIT." These are the top two rising searches over the past year for women who have broken barriers, and with International Women's Day this week, searches about women continued. Frances McDormand, Jennifer Lawrence and Tiffany Haddish were the leading ladies in Search, and across the world, top searches for "gender equality" came from Nicaragua, Mexico and Sweden.
Say that one more time: After Frances McDormand's speech at the Oscars, "inclusion rider" became a breakout search term (meaning there was a tremendous increase in search interest, possibly reflecting a term that had few, if any, prior searches). Since the term was relatively unknown, some people heard "inclusion writer," which also saw a search increase (only 450 percent less than the correct term, "inclusion rider").
Sweet tooth: M&M's are mixing it up with new flavors—Crunchy Espresso, Crunchy Raspberry, and Crunchy Mint. Despite these new additions, "Neapolitan"—another limited-edition flavor—was the top-searched M&M flavor this week, and M&M-thusiasts are searching for recipes for M&M cookie, M&M cookie with peanut butter, and M&M cake.
Putting Nikumaroro on the map: Search interest for "Pacific Island of Nikumaroro" soared 4,600 percent after new forensic analysis of bones found there belong to Amelia Earhart.