Learn how to find image licensing information on Google Images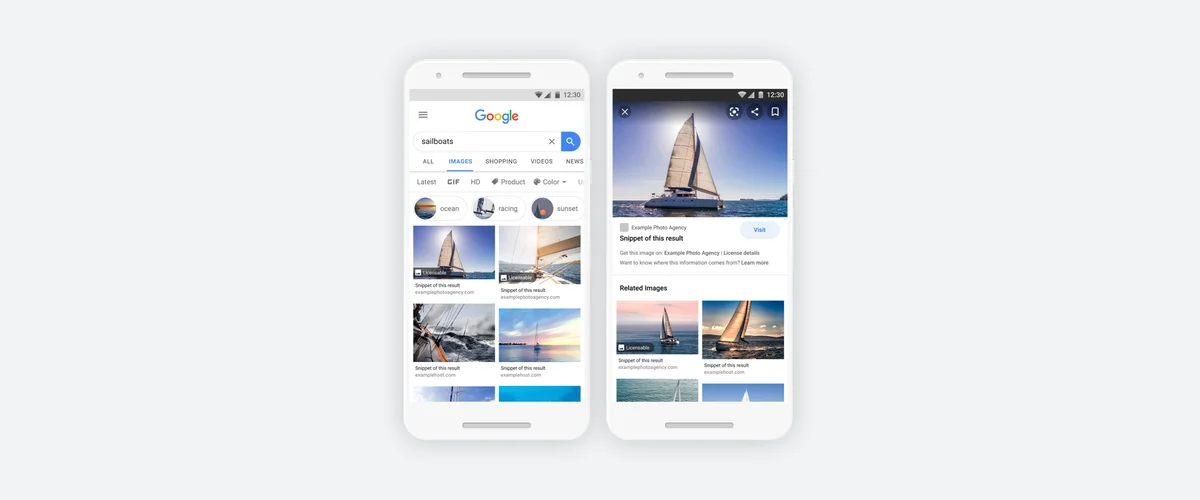 Google Images is a great place to find visual inspiration and useful web pages to help make your ideas a reality. Sometimes, bringing your ideas to life requires finding an image you can use—like when you're looking to communicate a message, decorate a space or do something creative on the web. But with a seemingly infinite number of images online, finding the right image to use, and knowing how to use that image responsibly, isn't always a simple task. 
After collaborating closely with image creators, stock image providers and digital content associations, we're launching several new features on Google Images to address this need. These features will make finding the right image to use, as well as guidelines for how to license an image for your business or personal project, much easier than before.
First, we're making it easier to find licensable images. For results where the publisher or image creator provided licensing information, we will display a "licensable" badge over the image. When you select a badged image to view, we will show a link to the license details of the image, and if provided by the publisher, you'll also find a link to where you can purchase or license the image. 
You can also filter results to only return those images that include licensing information. You can now select either images that have Creative Commons licenses, or those that have commercial or other licenses, in the Usage Rights dropdown menu on Google Images. For any of the license types, you can learn how to acquire a license for the image by clicking on the license details link provided.
These updates are part of changes we have made on Google Images in recent years to make it more clear who the creator or copyright holder of the image is. In addition to licensing information, you can also see information related to image credit, copyright and creator when you select an image to view on Google Images and it's made available by the publisher.
Image creators, licensors and publishers can learn more about these features, including implementation steps and highlights from participating publishers, on our
Webmaster blog
.